Go for the flamboyant nostalgia of Hollywood, performances and all the elements that make a Quentin Tarantino film a must-watch.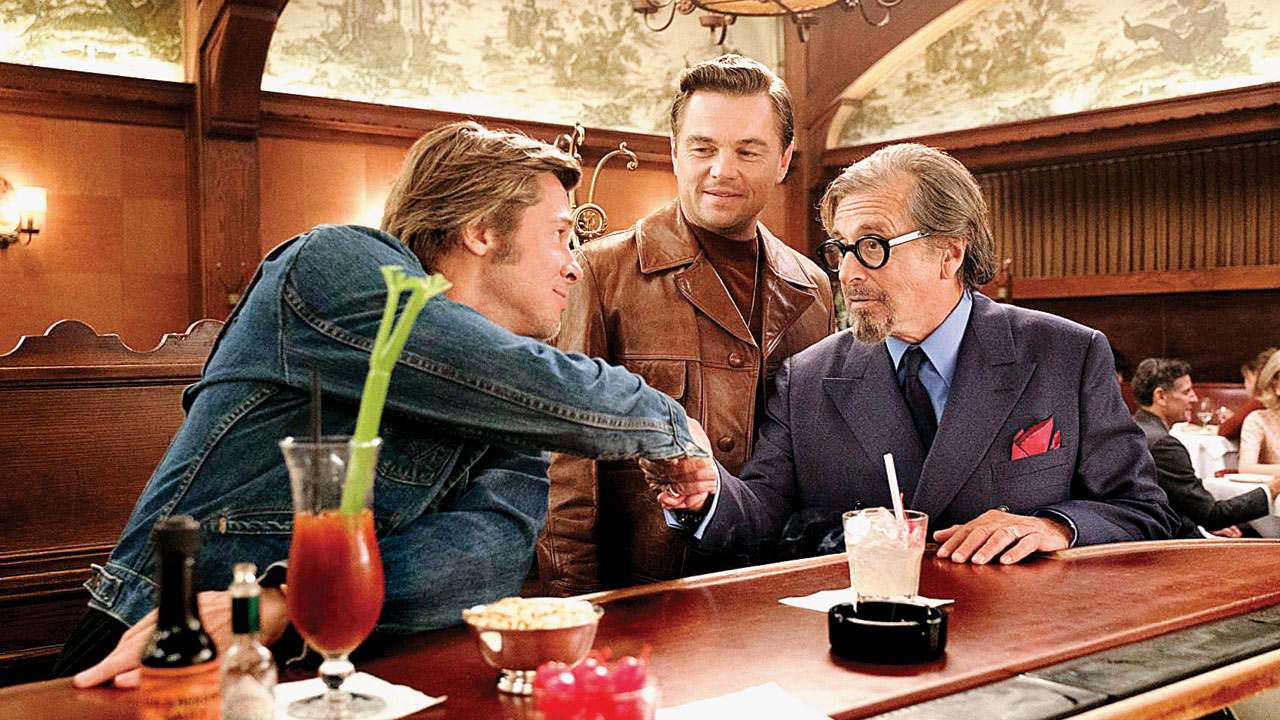 Film: Once Upon a Time in HollywoodCast: Leonardo DiCaprio, Brad Pitt, Margot Robbie, Al PacinoDirector: Quentin TarantinoGenre: Comedy-DramaDuration: 2 hours, 45 minutes
Story: It's 1969, the last year of Hollywood's Golden Age. A television cowboy Rick Dalton (Leonardo DiCaprio) is forewarned by a straight-from-the-shoulder producer Marvin Schwarzs (Al Pacino) that his career is spiralling down as a heavy (villain) who is being used to glorify newbie actors on screen. He and his stunt double, Cliff Booth, strive to get projects in the industry that's going through a significant change.
Review: The premise of the movie is a Western, and true to the genre, it is in parts languid as a sweltering and lazy afternoon. But there's also the other red-hot side of Hollywood —the raucous life of the rich and the famous, as well as the hippie counter culture as the Vietnam War, rages on. As Rick grapples with the thought that he's fast becoming a 'has-been', it's his 'more than a brother, less than a wife' on-screen and off-screen sidekick, Cliff, who constantly reminds him that he is still all that. Their bromance is uber charming — though they have contrasting lifestyles and outlook at life. Cliff is also someone who is believed to have murdered his wife and got away with it.
This is a quintessentially Quentin film — there are multiple stories, and non-linear, plotlines that he manages to tie together masterfully. The satire is in place as he takes a tongue-in-cheek look at Hollywood — going even to the extent of mocking Bruce Lee! Or Rick believing that he is just one pool party away from starring in a Roman Polanski movie when the filmmaker and his wife Sharon Tate (fabulously portrayed by Margot Robbie) move into his neighbourhood. How can one forget that he makes violence look so cool! Unlike most of his movies, the gore is minimal but when it does come on screen, it's aesthetic, paradoxical as that may sound. Typical to the director, the movie is also self-indulgent and you do wonder if some shots were required.
Though, in spite of its length, the narrative does not drag. Leonardo shines as the rich, alcoholic, insecure yet earnest actor. Cliff is the second fiddle that cannot be ignored; Brad, too, is understated when Leo is in the frame but on his own, he shows what he is really made of. There are so many surprising moments. One of them being Cliff visiting an old friend at the Spahn Ranch that's taken over by the hippies of the Manson Family. There are tonnes of cameos but you will remember all of them — Al Pacino, Margaret Qualley as the hippie, Damian Lewis as Steve McQueen, Dakota Fanning, Kurt Russell, but the most striking one is the eight-year-old precocious method actor Trudi (Julia Butters) who gives Leo a lesson in feminism when she objects to being called Pumpkin Puss.
Verdict: Go for the flamboyant nostalgia of Hollywood, performances and all the elements that make a Quentin Tarantino film a must-watch.