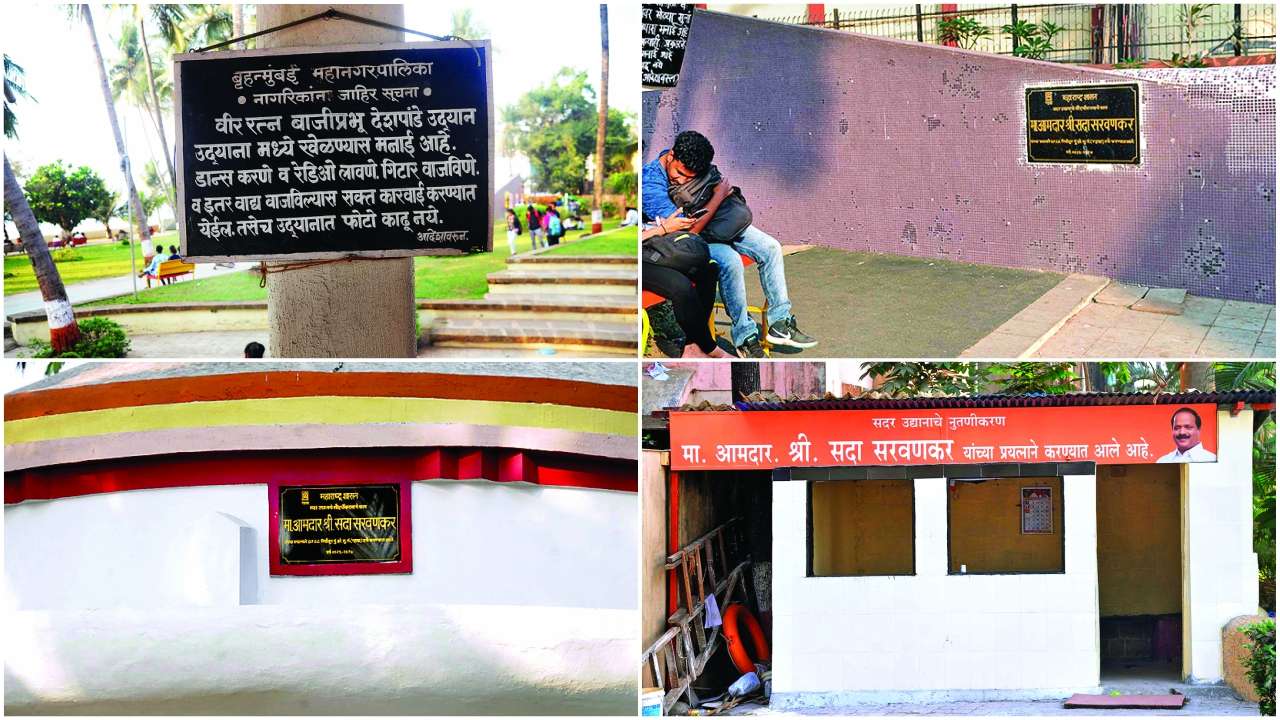 (Clockwise) A board at the Sant Dnyaneshwar and Veer Ratna Bajiprabhu Deshpande Garden reads that playing games, singing, dancing and clicking selfies is prohibited; banners credit MLA Sarvankar - Hemant Padalkar, DNA
Brihanmumbai Municipal Corporation's (BMC) Bajiprabhu Deshpande Garden in Shivaji Park seems to have become a publicity ground for local Shiv Sena MLA Sada Sarvankar. The garden was recently renovated with MHADA funds.
Sarvankar has displayed around five to six boards in the civic garden claiming wholesome credit for the garden's development. Right from its entry to the exit, the entire garden is replete with banners attributing credit to the local legislator. Sarvankar has also imprinted his name on the newly painted dome, walls behind the sitting area, and walls outside the garden.
Even the security cabin has not been spared of the MLA's narcissist streak as his publicity banner adorns its exterior wall. The Opposition is enraged and are crying hoarse over the MLA's antics in a public garden.
"It is a BMC garden which he has renovated taking an initiative as a public representative. He has not used his own money for the work but it is MHADA fund, which is public money," said Sandeep Deshpande, former corporator and local MNS leader. The garden faces the Arabian Sea, which thereby makes it a very popular visiting site among senior citizens for their morning walks, yoga classes and musical programmes on weekends.
"It is a BMC garden which is of the public, for the public and development is also done by the public money. If BMC ward office does not remove the boards and banners, we will remove them ourselves," Deshpande added. Sanjay Bhide, a resident of Shivaji Park, said, "The MLA should not take credit for that, and the ward office should look into it."
When questioned, MLA Sarvankar turned defensive and justified his actions. "If I have beautified the auspices with my MLA funds then what is the problem. When opposition beautified gardens they also promoted their name. I have done nothing wrong(sic)." said Sarvankar.
CLAIMING CREDIT