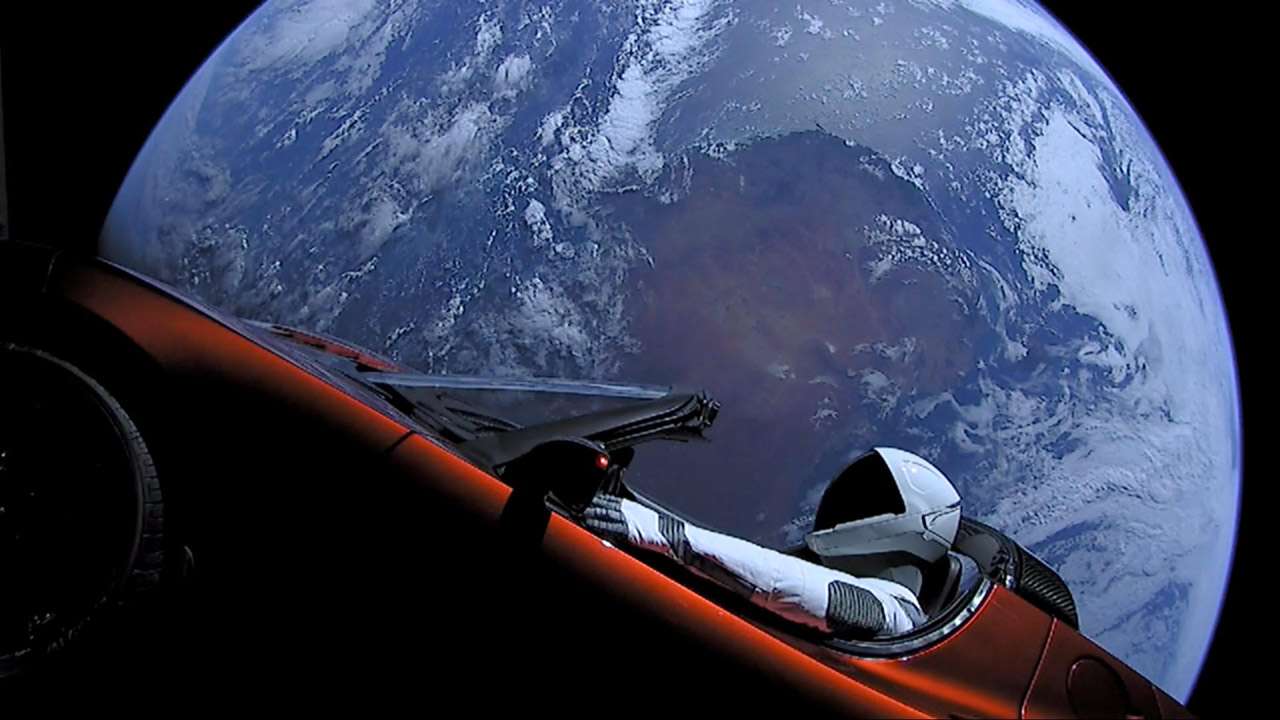 A cherry red Tesla Roadster automobile floats through space after it was carried there by SpaceXs Falcon Heavy in this image obtained by Reuters on February 9, 2018. - SpaceX, Reuters
The world's most powerful rocket, SpaceX's Falcon Heavy, roared into space through clear blue skies on its debut test flight on February 11 from a Florida launch site in another milestone for billionaire entrepreneur Elon Musk's private rocket service.
The 23-story-tall jumbo rocket, carrying a cherry red Tesla Roadster from the assembly line of Musk's electric car company as a mock payload, thundered off its launchpad in billowing clouds of steam and rocket exhaust at 3:45 p.m (2045 GMT) from the Kennedy Space Center in Cape Canaveral, where moon missions once began.
Astrophysicists have been tracking that Tesla Roadster's journey into deep space. And this Valentine's Day that car is ready to go beyond the reach of smaller telescopes.
According to a report in Newsweek, Virtual Telescope Project (VTP) will live stream this journey when the telescopes will try to catch the tail end of the car. Space enthusiast in India can watch the live stream that will begin at 5.45 pm (IST)
VTP astrophysicist Gianluca Masi told Newsweek: "As of now, the Tesla is gradually leaving us—constantly fading. In a couple of weeks or so, it will require large telescopes to be seen."
The video of Roadster as a tiny moving dot in the sea of shining stars in black space has been doing rounds of social media.
You can see the car blinking in our time-lapse from the 4.1-m SOAR telescope in Chile, taken in twilight on 2018-02-10. The car is already more than 1 million km away, tens of thousands of times fainter than can be seen with the unaided eye. pic.twitter.com/WPHTPjps57

— JJ Hermes (@jotajotahermes) February 11, 2018
The good people at SpaceX added their touch of eccentricities when they strapped a mannequin in that car. This is assumed to be an homage to David Bowie's Starman. Elon Musk also revealed that the stereo in the car is blasting Bowie's song Space Oddity. Musk hopes that the car will travel in the deep space for a billion years.
Payload will be my midnight cherry Tesla Roadster playing Space Oddity. Destination is Mars orbit. Will be in deep space for a billion years or so if it doesn't blow up on ascent.

— Elon Musk (@elonmusk) December 2, 2017
The reports suggest that the car has travelled 1.1 millions so far which is five times as distant as the moon.
"Looking at its orbit, the greatest distance between the Earth's and Tesla Roadster's orbits is around 250 million miles," Masi told the newssite.