RIFT VALLEY
By
James Munyeki

| Jun 8th 2022 | 2 min read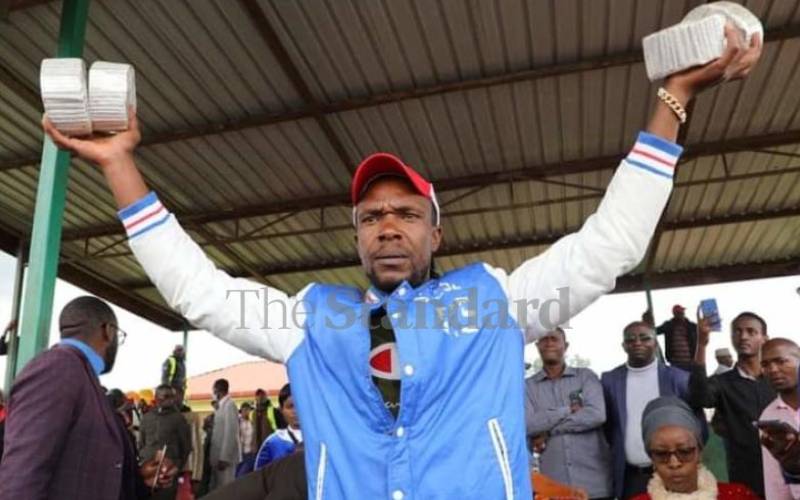 Reformed peddler Stephen Kamau displays samples of 20,000 rolls of bhang that he surrendered to Kinangop assistant county commissioner Peter Mutu at Engineer town. [James Munyeki, Standard]
A reformed drug peddler in Engineer, Kinangop Sub-County has surrendered bhang estimated at a street value of one million shillings to the authorities.
In a rare show during a meeting convened by Nyandarua Governor Francis Kimemia at Engineer town yesterday, Stephen Kamau surrendered 20,000 rolls of bhang to Assistant County Commissioner Peter Mutu who was in attendance.
He said that he had decided to do away with the business as he was now reformed. The man while surrendering the bhang prayed for forgiveness adding that he had ruined the lives of many youths in the region.
"I have decided to do away with the business and that is why I sought to surrender these drugs to the government for them to be destroyed," he said amid jubilations from residents.
The 32-year-old man said that he had now dedicated his life to Jesus after he was prayed for by religious leaders present.
The Assistant County Commissioner welcomed the move urging other peddlers to emulate him.
"We want to do away with the issue of drugs in this county once and for all. This is a bold move that the man had taken and others should emulate him," he said.
On his part, Kimemia said that his administration will help the man start a meaningful business to earn a living.
"This has never happened there before. Now that he is jobless, the county will help him start a business to fend for his young family," Kimemia said.
During the function, the governor distributed goodies such as motorcycle umbrellas, gas cookers, and blankets among other items to the needy.