…As CP reads the riot act to politicians
By Rotimi Ojomoyela
The Commissioner of Police, Ekiti State Command, Mr. Bello Ahmed on Monday disclosed that the policeman who fired the shots that injured Opeyemi Bamidele and five others at the welcome reception for the APC candidate, Dr. Kayode Fayemi has been dismissed.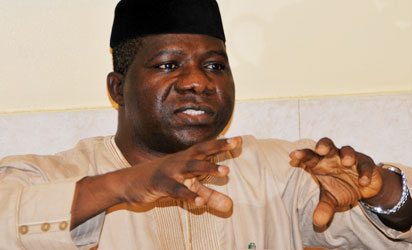 Bamidele
The CP made the disclosure while featuring on a live television programme on Monday. "The policeman involved is dismissed already and even though he's nursing some injury; and at the appropriate time, he will face the law of course. Nigerians will be briefed on the outcome of our actions."
Ahmed added that the politician that brought the erring policeman on illegal duty to the state has been detained and would be charged to court at the appropriate time. This was just as the CP read the riot act to politicians in the state to abide by the rules governing the conduct of elections to prevent anarchy in the state.
Ahmed who made the statement during a meeting with chairmen of political parties at the state police command said the command won't fold its arms and allow people to breach the 1999 constitution and the Electoral Act in the name of election.
The Police boss assured that his men will be neutral in the July 14 election and won't do anything that would make them look as if they were working for a certain political party.
"What I want from men is professionalism. We are going to be guided by the instrumentality of the law because this election is going to be a different ball game".
Chief Jide Awe, the chairman of the state chapter of the APC, described the meeting as fruitful, saying the police boss spoke frankly and expressed his feelings about the comportments of political parties.
His PDP counterpart Barr. Gboyega Oguntuase said what the police boss preached at the meeting was civility and decorum from all political parties, which he assured his party would stringently comply with.