By Chris Ochayi
ABUJA—SENATE Committee on Niger Delta Affairs has vowed to convene a public hearing to probe the circumstance that led to non-completion of the East West road projects, almost 12 years after it was awarded.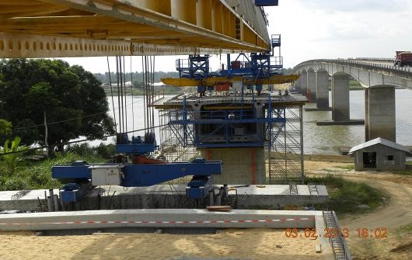 Consequently, the Committee directed that further payments on the entire project be suspended until a public hearing was carried out.
According to Nwaobochi, "We are going to do a public hearing, we will invite the people of the Niger Delta, all the stakeholders, the Rivers State Government, NDDC, Ministry of Niger Delta Affairs and the contractors involved, to brief us, so that Nigerians can see what is happening on the East-West Road."
The committee however, exonerated the Federal Government of any blame over the non-completion of road project, saying that FG has been honest in trying to help the people of Niger Delta.
Nwaobochi also countered the general belief that the Federal Government from the regime of former Presidents Olusegun Obasanjo, Late Umaru Musa Yar'Adua, Goodluck Jonathan and the incumbent, President Muhammadu Buhari, do not have the interest of the people of Niger Delta region at heart as far as the East-West Road was concerned.
He said, "The impression everywhere is that the government does not care about the East-West road and nobody wants to do anything about it, but our inspection in this oversight had revealed so much to us that the problem is not the government, it is the people who are not honest, who do not even have the interest of the government at heart, we are not very happy about it.
"Nobody is querying the budgetary provisions, it is the cost of the job. What we are saying is that even if you are paid, be good enough to do the job."
On the Kilometre 0-15 of Section 3 of the road from Onne to Eleme Junction in Port Harcourt, Rivers State Capital, the Senator said the committee wanted to know the real owner of the project, noting that the Niger Delta Development Commission, NDDC, told them that the commission constructed that portion of the road.
He disclosed that the committee also has it on good information that the Rivers State Government spent money on the same road, where the Ministry of Niger Delta Affairs had claimed to have spent billions of Naira.
A mild controversy however, ensued between the Ministry of Niger Delta Affairs' Contractor and that of NDDC over ownership of that portion of the road.
In his remarks after the oversight visit, the Minister of State for Niger Delta Affairs, Prof. Claudius Daramola who said he was not impressed by what he saw on ground, noted that it was imperative that all the parties involved looked at the way forward to ensure that the project was delivered to the people in no distant time.