North Korea to expel U.S. soldier Travis King
Travis King, the young American soldier who crossed the border on foot from South Korea into North Korea in July, was back in U.S. custody Wednesday, a U.S. official confirmed. North Korea announced earlier Wednesday that it would expel King and said he had confessed to illegally entering the country.
King appeared to be in "good health and good spirits as he makes his way home," a U.S. official said.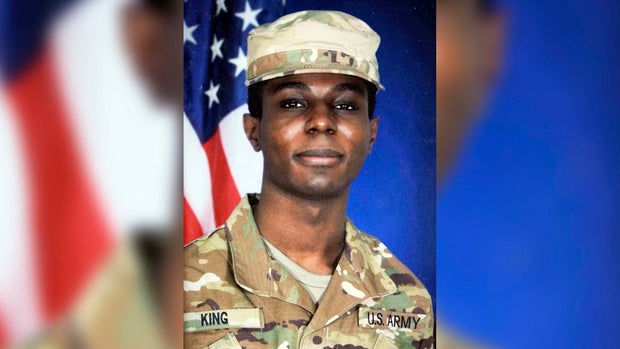 This family photo shows a portrait of American soldier Travis King displayed at the home of his grandfather Carl Gates, July 19, in Kenosha, Wisconsin.
Family Photo/AP
North Korea's KCNA released a statement earlier in the day saying: "The relevant agency of the Democratic People's Republic of Korea [North Korea] decided to expel Travis King, an American soldier who illegally intruded into the territory of the DPRK, in accordance with the laws of the Republic."
A U.S. official said King was first sent across North Korea's border into China, where he was transferred to U.S. custody.
King, a Private 2nd Class in the U.S. Army, entered North Korea while taking part in a guided tour of the border village of Panmunjom, which he joined after absconding from an airport in Seoul, South Korea, where he was supposed to have boarded a flight back to the U.S.
North Korea previously claimed that King had told investigators he crossed the border because he, "harbored ill feeling against inhuman maltreatment and racial discrimination within the U.S. Army."
The U.S. military said at the time that it could not verify those allegations.
The soldier had been scheduled to return to the U.S. after serving time at a South Korea detention facility for assaulting two people and kicking a police car while in the country. After parting ways from his U.S. military escort at the airport, King skipped his flight and joined the civilian tour of the border town, where he ran across into North Korea.
In an interview last month with The Associated Press, King's mother, Claudine Gates, said her son had "so many reasons" to want to come home.
"I just can't see him ever wanting to just stay in Korea when he has family in America. He has so many reasons to come home," she said.
The soldier has served in the U.S. Army since January 2021 and had not been deployed for active duty, but was in south Korea as part of the Pentagon's regular Korean Force Rotation.
King is likely to have proven "unsuitable for propaganda purposes" to North Korea, Professor Yang Moo-jin of the University of North Korean studies in Seoul told CBS News, because the soldier entered North Korea as a fugitive, making it "difficult" for the country's authorities to deal with him.
Yang also told CBS News the decision to deport the soldier was likely made due to the U.S.'s lukewarm response to the incident.
CBS News' Cami McCormick in Washington D.C. and Jen Kwon in Seoul contributed to this report.
In:

South Korea

North Korea

Demilitarized Zone
Thanks for reading CBS NEWS.
Create your free account or log in
for more features.