A 19-year-old armed robber fought officers in a Seattle convenience store and allegedly tried to grab one officer's gun during the scuffle, according to police bodycam footage released Monday.
Two officers responded to a gas station in the 600 block of Elliot Avenue West after identifying a car linked to an earlier armed robbery in the parking lot, Seattle Police said in a news release. Police bodycam video shows the officers confronting the armed suspect inside the store.
"Lay on the ground now! Don't grab the gun!" one officer yells as he enters the gas station store.
As the officers approach the suspect, the video shows that he jumps up from the ground and tries to flee the store. Security cameras at the store captured the scuffle spilling outside into the parking lot.
LOS ANGELES POLICE PURSUE SHIRTLESS MAN DRIVING STOLEN GOLF CART WITH DOG ON HIS LAP, VIDEO SHOWS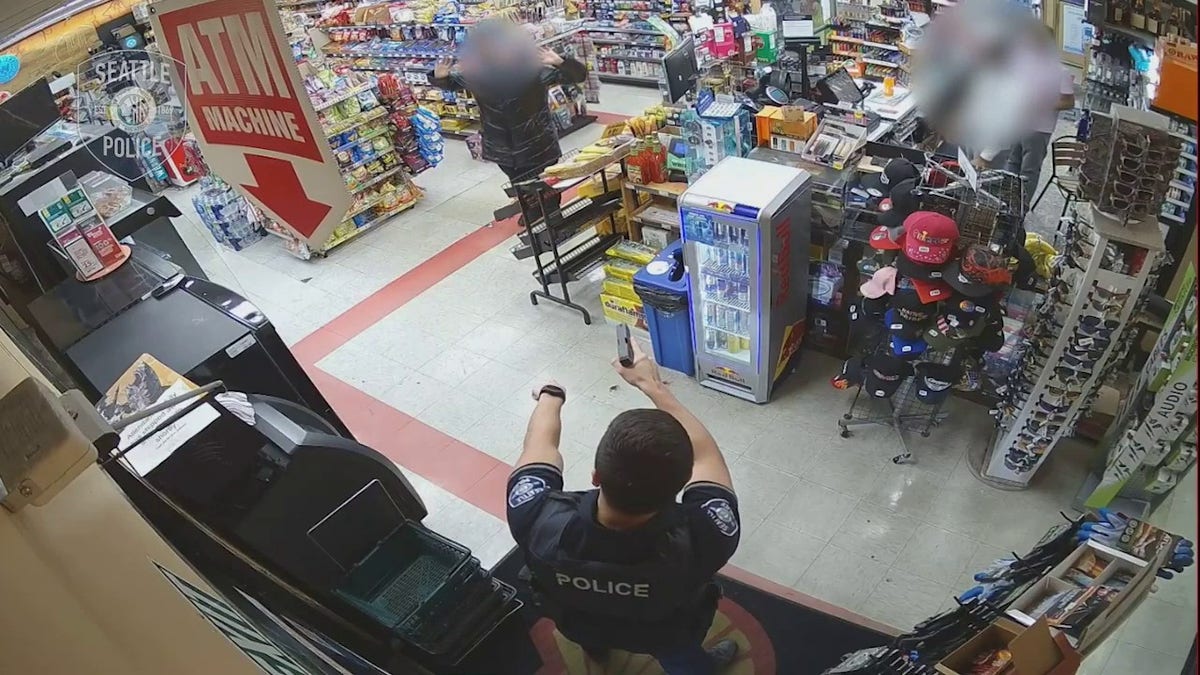 Police ordered the suspect to put his hands up and get on the ground inside the store. (Seattle Police Department)
While the suspect struggled to break free from the officer, police said that the 19-year-old tried to grab the officer's gun.
The officer blocks the suspect from taking his firearm and continues to chase after him, the video shows.
"Don't do it!" an officer yells just before tackling the fleeing suspect to the ground and placing him in handcuffs.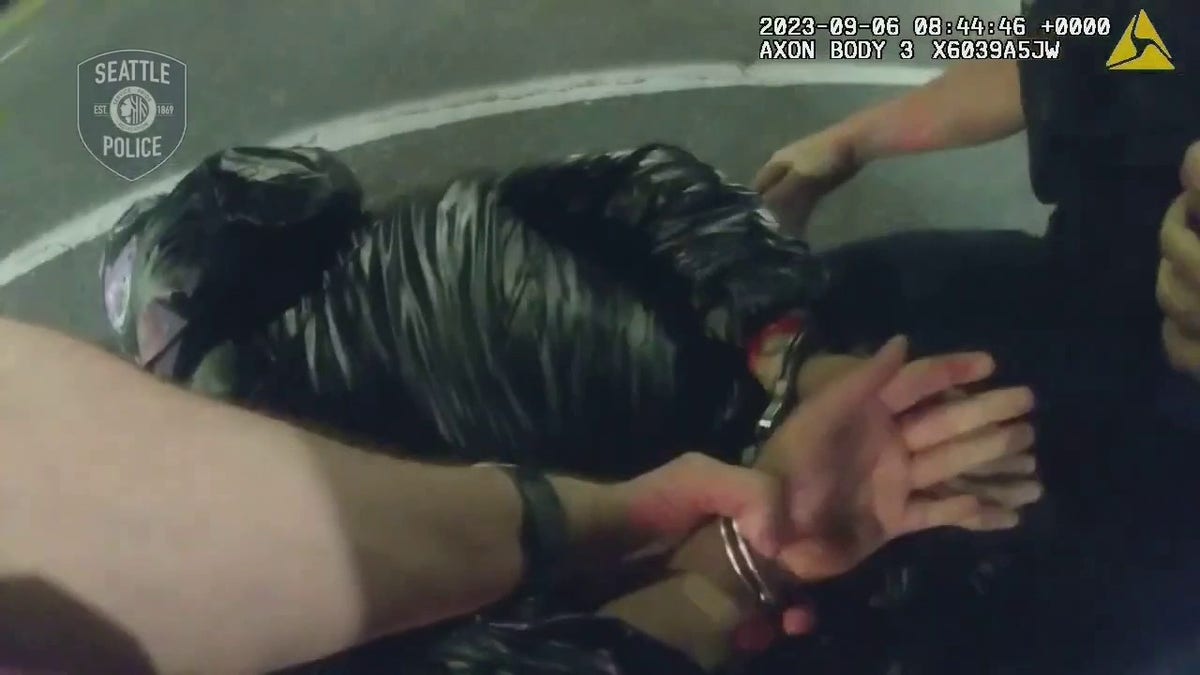 Police arrested the suspect and recovered a firearm and some stolen property, authorities said. (Seattle Police Department)
SEATTLE OFFICERS, ATTEMPTED CARJACKING SUSPECT STUNG BY SWARM OF WASPS DURING ARREST: BODYCAM VIDEO
The 19-year-old is one of two suspects connected with the armed robbery of two 35-year-old men who were walking home from a bar late at night, police said.
The second suspect sped away once officers arrived in the gas station parking lot, leaving the other suspect stranded inside the store.
The two victims identified the suspect arrested at the gas station as the male who robbed them at gunpoint, according to authorities. Officers recovered some of the victims' stolen property and returned it to them at the scene.
CLICK TO GET THE FOX NEWS APP
Police recovered a firearm during the arrest. The suspect was booked into King County Jail for Investigation of robbery. Meanwhile, officers continue to look for the outstanding suspect.