Understanding the Nagorno-Karabakh conflict
Armenia's Prime Minister Nikol Pashinyan accused neighboring Azerbaijan on Thursday of "ethnic cleansing" as tens of thousands of people fled the Azerbaijani region of Nagorno-Karabakh into Armenia. Pashinyan predicted that all ethnic Armenians would flee the region in "the coming days" amid an ongoing Azerbaijani military operation there.
"Our analysis shows that in the coming days there will be no Armenians in Nagorno-Karabakh," Pashinyan told his cabinet members on Thursday, according to the French news agency AFP. "This is an act of ethnic cleansing of which we were warning the international community for a long time."
Nagorno-Karabakh is internationally recognized as part of Azerbaijan, but it has been populated and run by ethnic Armenian separatists for several decades. About a week ago, Azerbaijan launched a lightning military offensive to bring the breakaway region — home to fewer than 150,000 people before the exodus began — fully under its control.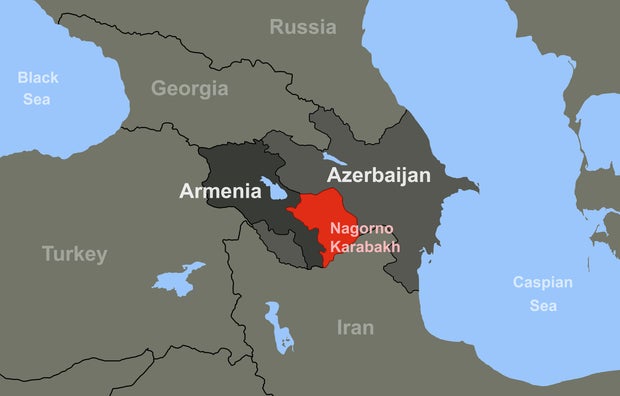 The breakaway region of Nagorno-Karabakh, recognized internationally as part of Azerbaijan, is seen in red.
Getty/iStockphoto
Over the last week, amid what Azerbaijan calls "anti-terrorist" operations in Nagorno-Karabakh, almost a quarter of its population has fled to Armenia.
Armenian government spokeswoman Nazeli Baghdasaryan said in a statement that some "65,036 forcefully displaced persons" had crossed into Armenia from the region by Thursday morning, according to AFP.
Some of the ethnic Armenian residents have said they had only minutes to decide to pack up their things and abandon their homes to join the exodus down the only road into neighboring Armenia.
"We ran away to survive," an elderly woman holding her granddaughter told the Reuters news agency. "It was horrible, children were hungry and crying."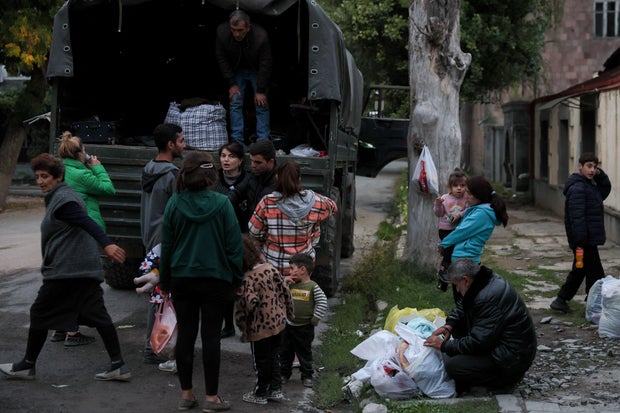 Refugees load a truck in Goris, Armenia, Sept. 26, 2023, before leaving to the capital Yerevan. A continuous stream of vehicles crept along the only road out of the Nagorno-Karabakh region toward Armenia, carrying tens of thousands of refugees.
ALAIN JOCARD/AFP/Getty
Samantha Powers, the head of the U.S. government's primary aid agency, was in Armenia this week and announced that the U.S. government would provide $11.5 million worth of assistance.
"It is absolutely critical that independent monitors, as well as humanitarian organizations, get access to the people in Nagorno-Karabakh who still have dire needs," she said, adding that "there are injured civilians in Nagorno-Karabakh who need to be evacuated and it is absolutely essential that evacuation be facilitated by the government of Azerbaijan."
The conflict between the Armenian separatists in Nagorno-Karabakh and Azerbaijan had simmered for years, but after the recent invasion was launched, the separatists agreed to lay down their arms, leaving the future of their region and their people shrouded in uncertainty.
In:

Armenia

Azerbaijan

ethnic cleansing
Chris Livesay

Chris Livesay is a CBS News foreign correspondent based in Rome.
Thanks for reading CBS NEWS.
Create your free account or log in
for more features.