In pockets of Europe's Alpine mountains, glaciers are abundant enough that ski resorts operate above the snow and ice.
Ski lifts, resorts, cabins and huts dot the landscape — and have done so for decades. But glaciers are also one of the most obvious and early victims of human-caused climate change, and as they shrink year by year, the future of the mountain ecosystems and the people who enjoy them will look starkly different.
Glaciers — centuries of compacted snow and ice — are disappearing at an alarming rate. Swiss glaciers have lost 10% of their volume since 2021, and some glaciers are predicted to disappear entirely in the next few years.
At the Freigerferner glacier in Austria, melting means the glacier has split into two and hollowed out as warm air streamed through the glacier base, exacerbating the thaw.
Gaisskarferner, another glacier that forms part of a ski resort, is only connected to the rest of the snow and ice by sections of glacier that were saved over the summer with protective sheets to shield them from the sun.
But the losses go beyond a shorter ski season and glacier mass.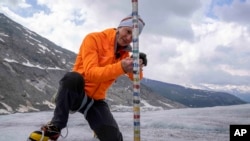 FILE - Matthias Huss, a Swiss Federal Institute of Technology glaciologist, checks the thickness of the Rhone Glacier near Goms, Switzerland, on June 16, 2023.
Andrea Fischer, a glaciologist with the Austrian Academy of Sciences, said the rate of glacier loss can tell the world more about the state of the climate globally and how urgent curbing human-caused warming is.
"The loss of glaciers is not the most dangerous thing about climate change," said Fischer. "The most dangerous thing about climate change is the effect on ecosystems, on natural hazards, and those processes are much harder to see. The glaciers just teach us how to see climate change."
From a vantage point above the mountains in a light aircraft, the changing landscape is obvious. The glaciers are noticeably smaller and fewer, and bare rock lies in their place.
Much of the thawing is already locked in, so that even immediate and drastic cuts to planet-warming emissions can't save the glaciers from disappearing or shrinking in the short term.
While the extent of glacier melt can create awareness and concern for the climate, "being only concerned does not change anything," Fischer said.
She urged instead that concern should be channeled into "a positive attitude toward designing a new future," where warming can successfully be curbed to stop the most detrimental effects of climate change.