At least 23 people were killed when tornadoes swept through Mississippi Friday night, the Mississippi Emergency Management Agency said.
Dozens more were injured and four people were missing, and the agency warned in a tweet Saturday that "these numbers are expected to change."
More tornadoes possible in the South over the weekend
The line of storms that produced the severe weather across the South on Friday night may bring more tornadoes and storms to the region over the weekend.
The storms, which have weakened significantly, are pushing through the Carolinas and Georgia Saturday morning, creating a marginal risk for severe weather through early Saturday afternoon from South Carolina to north Florida as storms may produce damaging winds and a brief tornado.
Additional thunderstorms are forecast to develop across the Southeast on Sunday, with a slight risk impacting 5 million from east Texas to South Carolina. This includes Montgomery, Alabama; Columbus and Macon in Georgia and Jackson, Mississippi, where storms could produce damaging winds, hail, and more tornadoes.
Although the strongest storms on Sunday will stay south of Friday night's tornado damage, additional rain, lightning, and wind will impact clean up efforts in places like Rolling Fork and Silver City in Mississippi.
At least 12 tornadoes hit Mississippi and Alabama, National Weather Service reports
At least 12 tornadoes have hit Mississippi and Alabama since Friday night, according to the National Weather Service.
That number is expected to change as damage is surveyed over the next couple of days. One of the strongest tornadoes that the National Weather Service field office in Jackson will survey today will be in Rolling Fork, Mississippi. Radar data suggests the tornado was so strong that it sent debris 30,000 to 35,000 feet into the air. At least 13 people were killed there.
The agency said it received a total of nearly 80 severe weather reports since Friday night across eight different Southeastern states.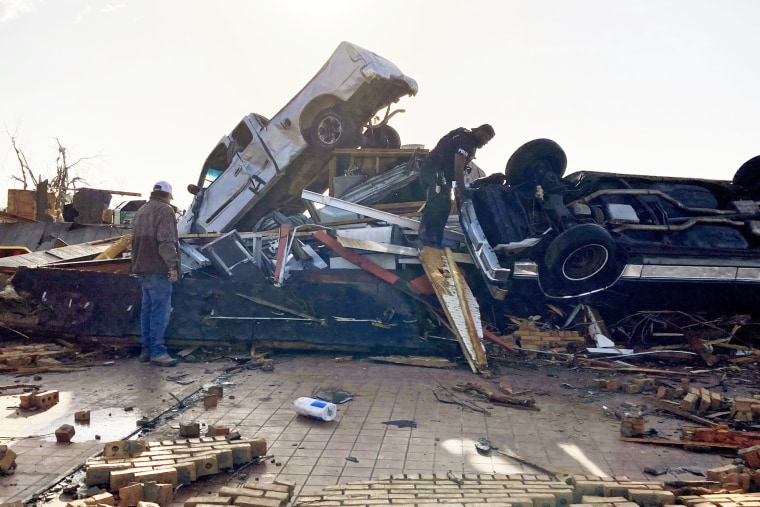 Law enforcement officers look for survivors in Rolling Fork, Miss., on Saturday.
Rogelio Solis / AP
National Weather Service in Jackson deploys teams to assess damage in four Mississippi counties
The National Weather Service field office in Jackson has deployed three survey teams Saturday morning to assess the damage from Friday's tornadoes, according to a tweet from the agency.
The teams will be surveying damage in Sharkey County, where at least 13 people were found dead, Humphreys County and Holmes and Montgomery Counties. This process "may take a couple of days" the agency said.
"Our hearts, thoughts, and prayers are with everyone affected by the terrible storms yesterday. Please stay safe out there today!" the agency wrote.
Mississippi volunteer service asks residents not to self-deploy in rescue effort
The Mississippi Commission for Volunteer Service is asking residents not to self-deploy in the rescue effort, according to a tweet from the Mississippi Emergency Management Agency.
"If you would like to donate water or resources the Rolling Fork Civic Center is open to receive them," the agency wrote.
Among the 23 dead in Mississippi, 3 found in Carroll County and 2 in Humphreys County
Among the 23 people dead as a result of tornadoes in Mississippi, five were found in Carroll County and nearby Humphreys County.
The coroner's office in Carroll County confirmed that three people were found dead in a destroyed house, while in Humphreys County, coroner Samuel Irving said two men had died as a result of a tornado in Silver City, a community of around 220 that's about 30 miles east of Rolling Fork, where at least 13 people have been killed.
None of the victims had been identified by Saturday morning.
Tens of thousands remain without power across the South
As of 10 a.m. ET Saturday, tens of thousands of people remained without power across the South due to tornadoes in Mississippi, according to poweroutage.us.
In Mississippi, 13,457 customers were without power, while in Tennessee, 35,817 were without power. Around 19,231 were still without power in Alabama.
A father and his little girl among at least 23 people killed
A man and his daughter were killed in the house they were sheltering in with his wife and two other children, Monroe County Coroner Alan Gurley told NBC News.
He said that their bodies were found at the property in Wren, a large unincorporated community around 180 miles north of Jackson. The man's wife and two other children were taken to a hospital, he said.
At least 21 other people were killed when tornadoes swept through Mississippi Friday night, Gov. Tate Reeves said, warning that "many more are injured."