A Border Patrol agent was left bloodied and injured by a migrant smuggler earlier this month in Texas, sources told Fox News.
The incident occurred on Sept. 14, as agents were trying to make an arrest in Mercedes, Texas, located minutes from the U.S.-Mexico border, a spokesperson for U.S. Customs and Border Protection told Fox News Digital.
Law enforcement sources told Fox News the agent was assaulted by a migrant smuggler and that it took three agents to get him down. The agent fought with the migrant until backup arrived.
RAZOR WIRE FAILS TO DETER MIGRANTS AS THOUSANDS TRY TO CROSS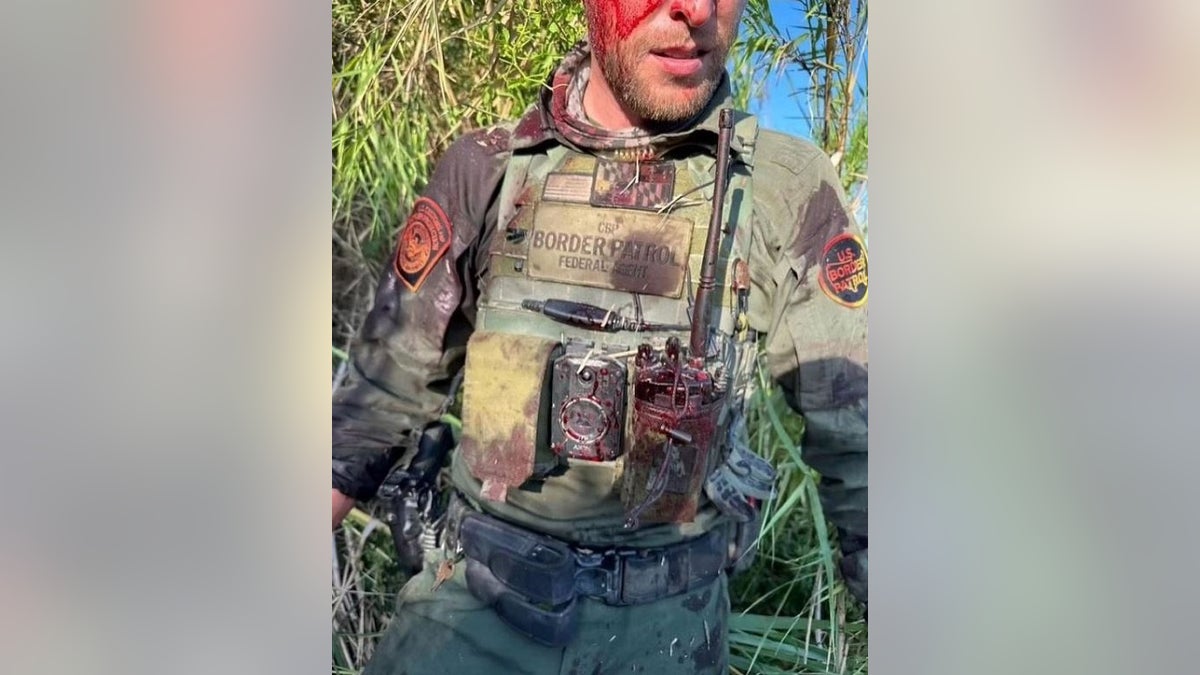 A Border Patrol stands bloodied after fighting with a suspected migrant smuggler in Texas. (Law enforcement sources)
Images provided by sources to Fox News show the agent with a bloodied face and blood on his Border Patrol protective vest, radio and what appears to be a body camera.
The migrant had "RATA" Spanish for rat, tattooed on his forehead, possibly meaning he had been branded by drug cartels as a snitch.
The incident is being reviewed, CBP said.
Migrants and smugglers are increasingly assaulting and confronting U.S. border personnel as the dangerous escalations of violence increase along the border.
WHITE HOUSE SAYS HOUSE GOP PROPOSED CR WOULD ELIMINATE BORDER PATROL AGENTS, TRIGGER 'WINDFALL' FOR DRUG CARTELS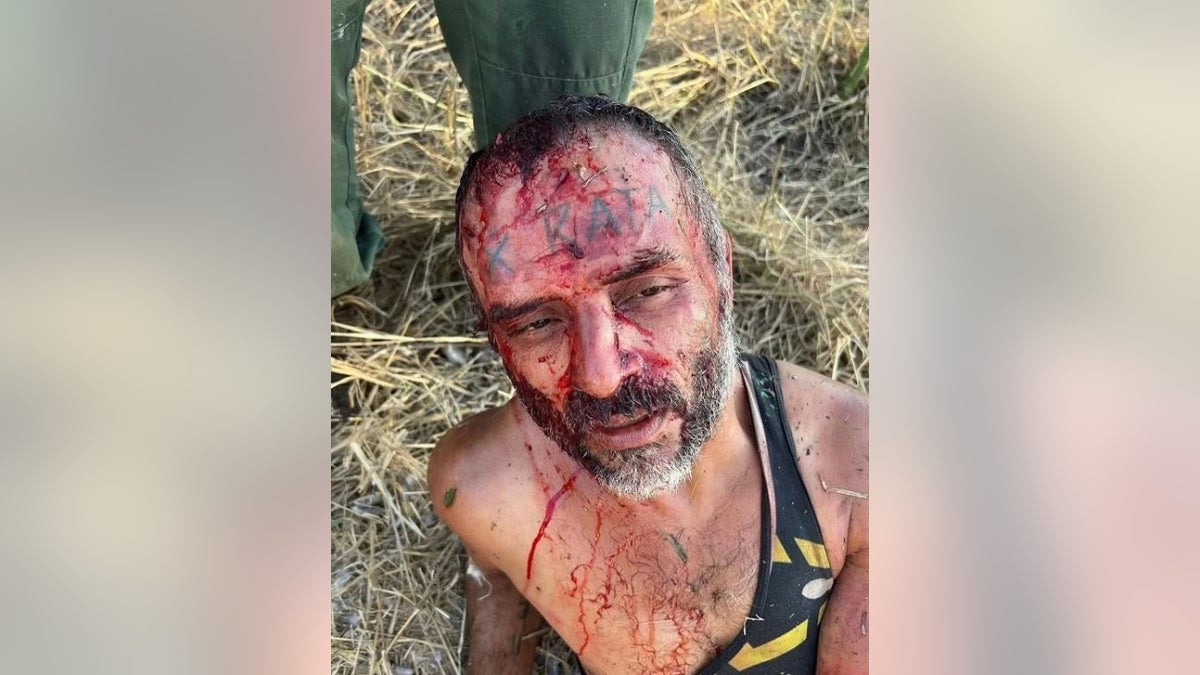 A suspected migrant smuggler has "RATA," Spanish for rat, tattooed on his forehead. (Law enforcement sources)
Earlier this month, a Border Patrol agent in the Otay Mountain Wilderness area encountered a group of migrants. The agent attempted to apprehend the migrants and an unidentified assailant began firing shots.
A group of women married to Border agents voiced concern over the increasing violence against their husbands.
"Our agents are always dealing with non-compliant and combative illegals," Alison Anderson said Tuesday on "Fox & Friends."
She added that her husband recently took down an illegal migrant who was in a bush with a "long rifle" and said many have weapons and most have knives.
Ashley Di Bella said her husband now works along the northern U.S. border but spent most of his career on the Mexican border.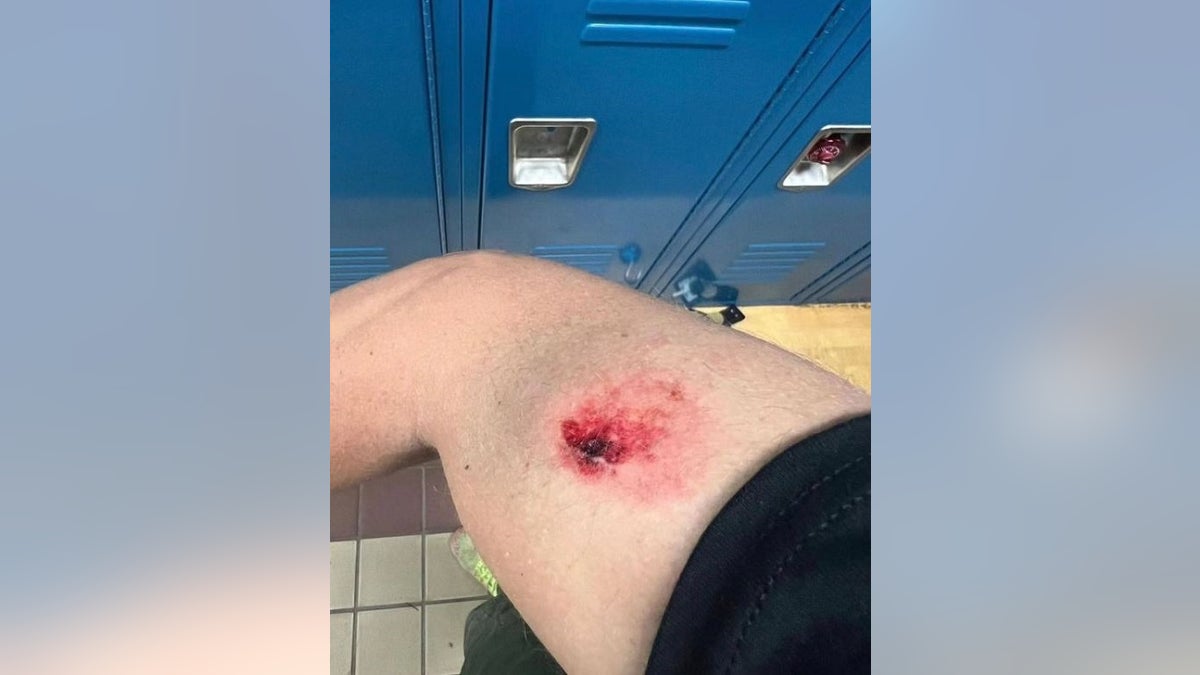 A Border Patrol agent sustained a leg injury during the encounter with the suspected migrant smuggler. (Law enforcement sources)
CLICK HERE TO GET THE FOX NEWS APP
"We actually were in McAllen, Texas. My husband has been assaulted multiple times. The thing that I believe is the biggest issue is there are zero consequences," she said.
Mayra Flores, who is running to regain her Texas congressional seat as a Republican and is married to a Border Patrol agent,
"These brutal attacks continue to happen here in South Texas and throughout the country because we have fewer agents out in the field and more processing because the Biden administration continues to reward illegal immigration," Flores, who was born in Mexico, said.
Fox News Digital's Elizabeth Heckman contributed to this report.