The Amazon rainforest in Brazil is facing a severe drought that may affect around 500,000 people by the end of the year, authorities said Tuesday.
Many are already struggling to access essential supplies such as food and water, because the principal means of transportation in the region is waterways, and river levels are historically low. Droughts also impact fishing, a means of subsistence for many riverside communities.
Amazonas state declared an environmental emergency two weeks ago in response to the prolonged drought and launched a response plan valued at $20 million. Authorities will also distribute food and water supplies as well as personal hygiene kits, the state's civil defense agency said in a statement.
BRAZIL, OTHER AMAZON RAINFOREST COUNTRIES TO MEET FOR THE FIRST TIME IN 14 YEARS OVER ENVIRONMENTAL THREATS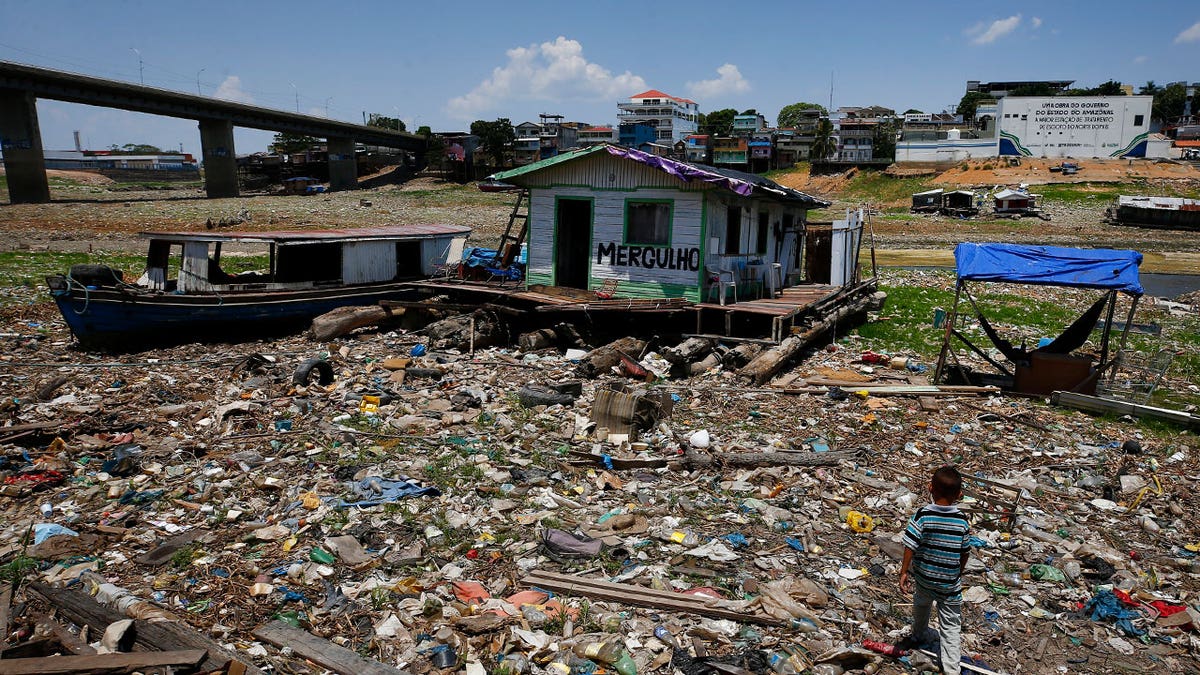 Boys walk next to a floating home stranded on what used to be the water´s edge of the Negro River during a drought in Manaus, Brazil, on Sept. 26, 2023. (AP Photo/Edmar Barros)
Gov. Wilson Lima was in Brazil's capital, Brasilia, on Tuesday to meet with representatives of the federal government. Lima spoke with President Luiz Inácio Lula da Silva to discuss the drought.f
The different levels of government will "coordinate measures in support of the people living in the affected municipalities," Lima said on X, the platform formerly known as Twitter, on Sunday.
DEFORESTATION IN BRAZIL INCREASED 30% IN 12 MONTHS, AGENCY SAYS
Fifteen municipalities were in a state of emergency on Tuesday, while 40 others were on a state of alert, the civil defense authority said.
According to the port of Manaus, which monitors water levels, the river stood at 55 feet on Tuesday, around 20 feet below the same day last year. The lowest level of water was recorded on Oct. 24, 2010, when the river dropped to about 45 feet.
CLICK HERE TO GET THE FOX NEWS APP
The drought is forecast to last longer and be more intense because of El Niño climate phenomenon, which inhibits the formation of rain clouds, the civil defense authority said.
Climate change exacerbates droughts by making them more frequent, longer and more severe. Warmer temperatures enhance evaporation, which reduces surface water and dries out soils and vegetation.