Courtney Kube
Courtney Kube is a correspondent covering national security and the military for the NBC News Investigative Unit.
Mosheh Gains
Mosheh Gains is a Pentagon producer for NBC News.
A Chinese fighter jet flew directly in front of the nose of a U.S. reconnaissance plane over the South China Sea on Saturday, the Pentagon said Tuesday, another in a rising number of incidents involving Chinese military aircraft and ships.
The "unnecessarily aggressive maneuver" by the Chinese J-16 forced the U.S. RC-125 to fly through the fighter jet's wake turbulence, according to the Pentagon, which released video of the encounter.
The Pentagon said that the U.S. plane was "conducting safe and routine operations … in international airspace, in accordance with international law."
A senior Defense Department official said, "We have seen an alarming increase in the number of risky aerial intercepts and confrontations at sea by PLA aircraft and vessels. As leaders have said, actions such as these have the potential to create an unsafe incident or miscalculation."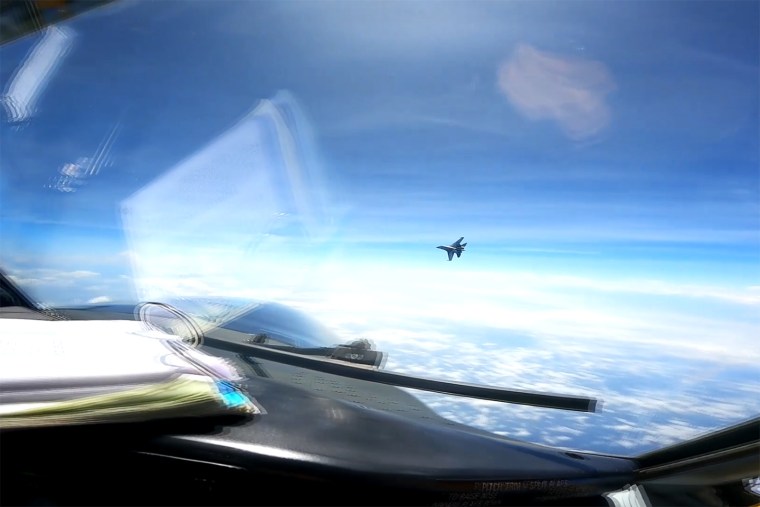 A People's Republic of China J-16 fighter pilot performs an intercept of a U.S. Air Force RC-135 aircraft, on May 26, 2023.
U.S. Air Force
The official said the video was not released until Tuesday because of the declassification process.
A spokesperson for U.S. Indo-Pacific Command said that U.S. concerns about the interaction "will be addressed through the appropriate, established diplomatic and military channels."
Late Monday, the Pentagon reported that China had rejected a U.S. request for Defense Secretary Lloyd Austin to meet with his Chinese counterpart in Singapore. The Pentagon had suggested a meeting between Austin and Li Shangfu on the sidelines of the Shangri-La Dialogue, an annual security forum held from June 2 to June 4.
Past incidents
In February, a Chinese J-11 fighter jet appeared about 500 feet off the left wing of an American P-8 Poseidon maritime patrol aircraft and remained for well over an hour. The U.S. plane was flying above mostly uninhabited islands that are claimed by both China and its neighbors.
A voice from a Chinese military ground station warned the U.S. plane, "No approaching any more or you will pay full responsibility."
In December 2022, a Chinese plane passed within 10 feet of a U.S. aircraft.
Two months ago, China's military said that it had driven away the USS Milius after the U.S. guided missile destroyer "illegally intruded into China's Xisha territorial waters without the approval of the Chinese government." The U.S. said the ship was conducting routine operations and was not expelled.