Migrant crossings into U.S. near record level
United Nations — The number of migrants and asylum seekers crossing the U.S. border from Mexico has soared in the past six months, leading several U.S. cities near southwest border entry points to declare emergencies. The United Nations refugee chief believes a pilot program in southern Mexico, while still running on a small scale, could eventually help relieve migration pressure on American communities by helping people long before they reach the U.S. border.
"Take Mexico, for example, which is the last country of transit before people arrive in the U.S," United Nations High Commissioner for Refugees (UNHCR) Filippo Grandi told CBS News on the sidelines of the U.N. General Assembly last week: "In Mexico, we have initiated ourselves incredible programs to employ refugees that come from countries upstream so that they don't feel the need to go further, because they get opportunities in Mexico, with Mexico's support and agreement."
Grandi was referring to a pilot asylum program in the city of Tapachula, in the southern Mexican state of Chiapas, which is set to receive 140,000 applications this year. The program is designed to process applications and give people with legitimate asylum claims the option of employment, health care and housing services in Mexico, rather than pushing further north toward the U.S. border.
How does the "refugee integration program" work?
Mexico's Foreign Minister Alicia Bárcena told CBS News at the U.N. that the program is being paid for by Mexico and coordinated with both the UNHCR and the U.S.
"It's an investment, basically, of Mexico, because what we're doing with the help of UNHCR… is putting up the money to give them a stipend and money — a cash transfer — for them to stay, and we are trying to find jobs for them inside Mexico," Bárcena told CBS News.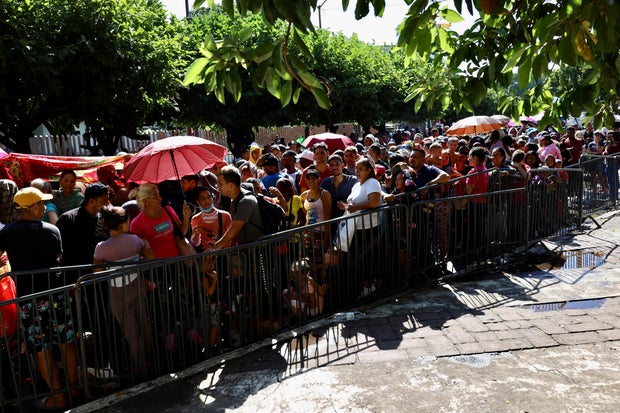 Migrants line up at an immigration checkpoint, Sept. 21, 2023, in Tapachula, Mexico.
Agencia Press South/Getty
Launched in 2016, the program in Tapachula has so far placed about 31,000 refugees in new jobs with affordable housing and access to education and health services.
Mexico houses asylum seekers in a hotel for three days and gives them a cash grant to cover a month's rent, while representatives from the U.N. refugee agency meet with them to process their documents and discuss their cases.
The U.N. refugee agency said the "integration program" in Tapachula seeks to place migrants in 11 cities in central and northeast Mexico.
The program had already been expanding when the number of people arriving in Mexico from other countries spiked in recent years.
Getting away from the "refugee camp" model
The refugee agency said that by mid-2022, "42% of new asylum applications in the world were made by nationals of Latin America and the Caribbean countries," including some 2.5 million Venezuelans seeking protection.
The agency, swamped by new arrivals, pleaded for more international support and lamented that, "despite efforts by host countries to regularize and integrate refugees and migrants from Venezuela, more than 4 million people still face difficulties accessing food, shelter, health care, education and formal employment in Latin America and the Caribbean."
Already the number of applications is causing Mexican officials some anxiety.
"Can you imagine the processing of 140,000 people at the border in the small town called Tapachula?" Bárcena said, warning that the pilot progam's centers have been "overwhelmed."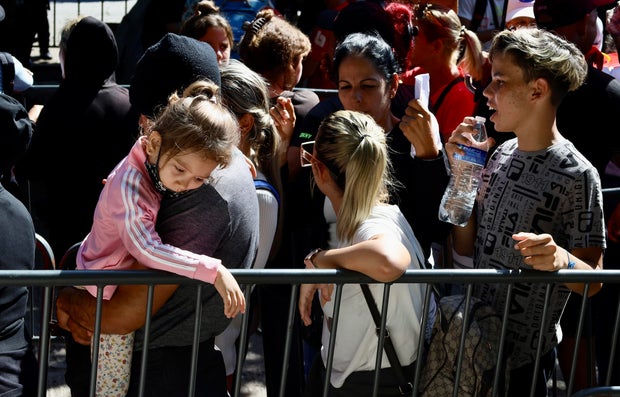 Migrants line up at an immigration checkpoint, Sept. 21, 2023, in Tapachula, Mexico.
Agencia Press South/Getty
She said Mexico was working with U.N. agencies and the U.S. to understand what skills the newly arrived asylum seekers have, with the idea being to take advantage of the growing trend of "nearshoring" — a push by some U.S. companies to move manufacturing closer to their consumers in the U.S. and away from Asia.
Grandi said the Tapachula program was being expanded to other cities as the U.N. tries to move away from the "refugee camp" model.
The Kakuma Refugee Camp in the desert of northwest Kenya is a prime example of that model — and its shortcomings. Some refugees have been there for 25 years after fleeing other African nations.
"Now, of course, this is small," acknowledged Grandi of his agency's efforts in Tapachula. But he added that if such programs "in Mexico and elsewhere could be scaled up," he believed the migration crisis along the southern U.S. border could be "contained, stabilized."
Some experts agree the program in Mexico holds promise, but others believe the prospect of jobs and safety in the U.S. remains too great a lure, and finding some refugees employment south of the border will do little to stem the flow, and could even backfire.
"A small initiative that is dwarfed" by the numbers
"The vast majority of people want to come to the U.S., and anything that makes it easier to be in Mexico will make it easier to come to the U.S.," David J. Bier, the associate director of immigration studies at the Cato Institute, told CBS News. "Anyone who stays would be far outnumbered by those who stay for a bit, and leave."
Edward Alden, senior fellow on immigration policy at the Council on Foreign Relations, told CBS News the Tapachula pilot program does, at least, give the U.S. and Mexico solid ground to work from.
"The good news here is growing cooperation between the U.S. and Mexico, and greater U.N. involvement in dealing with the migrant crisis," said Alden. "There is a common goal — not very successful so far, but the right goal — of providing alternative paths that discourage migrants from making the long, dangerous journey to the U.S. border."
He was skeptical, however, about the impact the program could have in the shorter term.
"It is a small initiative that is dwarfed by the number of people currently on the move in the region seeking protection," he said. "More and more are remaining in Mexico, but the numbers continuing on to the United States remain at or near record levels."
He said what's really needed are "broader regional responses" to address the root reasons people are fleeing from Venezuela, Honduras, Haiti, Ecuador and many other countries, "but the mechanisms for regional cooperation are the weakest they have been in decades."
Dealing with the root causes of migration
Bárcena said she met last week during the General Assembly with Amy Pope, the former Biden administration senior advisor on migration who was just appointed to be the Director General of the U.N.'s migration agency, the International Organization for Migration (IOM), starting October 1.
Bárcena said she hoped to work with the IOM to address the root causes of mass migration closer to where it starts, including in South and Central America.
Every country that migrants and asylum seekers leave has its own problems driving them out. The U.N. refugee agency pointed to gang violence in Honduras as one example, and both Bárcena and Grandi said more needs to be done in-country to stop the "push" of people seeking asylum.
Noting the dramatic increase of refugees and migrants trying to forge through the perilous jungle passage between Colombia and Panama known as the Darién Gap, Grandi said the U.N. was working to better understand what's driving people out of their countries. He's traveled to the region several times and said many of the people he encounters have experienced persecution.
"People that come from Honduras or Guatemala or El Salvador... have gone through unspeakable violence, especially women, especially children, especially members of the LGBT community — people that are more vulnerable," Grandi said, adding that the refugee agency was "working very closely with the U.S. government and other organizations to try to unpack this."
Solutions to deep-rooted problems such as gang violence, political unrest and poverty require longer-term fixes, but Grandi said the Tapachula pilot program, if scaled-up, could be one way to reduce the number of people trying to make a "dangerous journey," and to ease the "rush of migrants at the U.S. southern border."
In:

Immigration

Mexico

United Nations

Refugee

U.S.-Mexico Border

Asylum Seekers

Migrants

Title 42
Pamela Falk

Pamela Falk is the CBS News correspondent covering the United Nations, and an international lawyer.
Thanks for reading CBS NEWS.
Create your free account or log in
for more features.