Deion Sanders has taken the college football world by storm in just nine months as head coach of the Colorado Buffaloes.
After taking over a team that went 1-11 in 2022, Sanders had his team in the AP top 25 before coming back down to Earth against the Oregon Ducks in Week 4.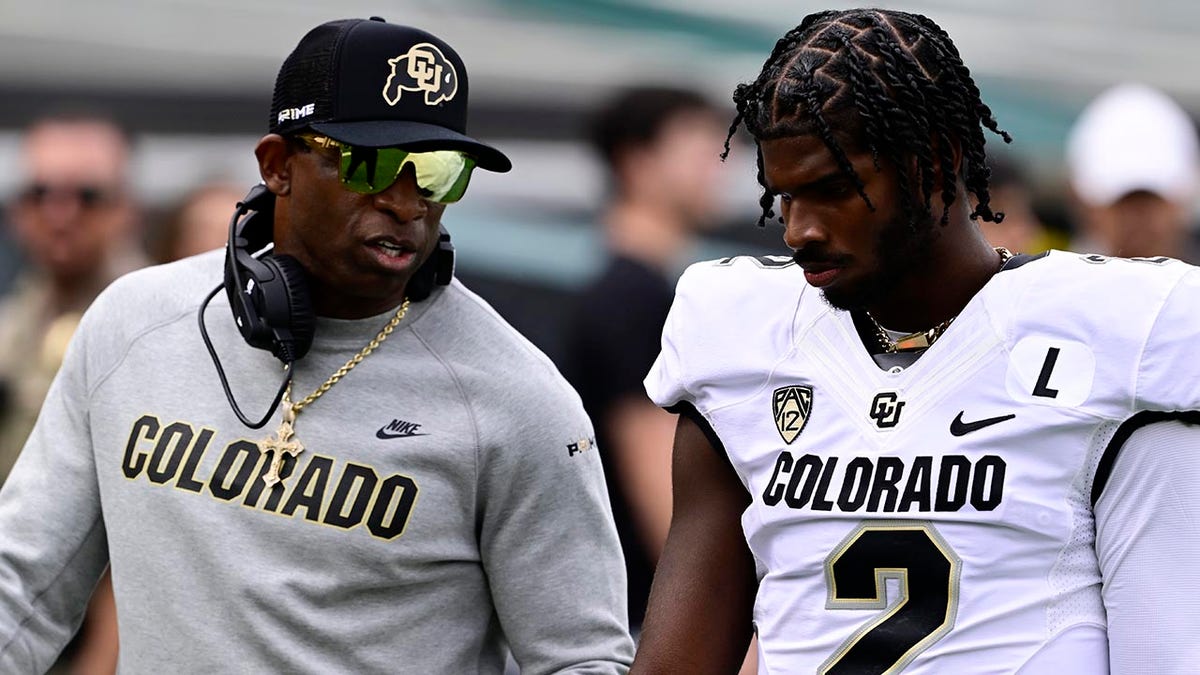 Colorado Buffaloes head coach Deion Sanders, left, talks with his son Shedeur Sanders before the game against the Oregon Ducks at Autzen Stadium Sept. 23, 2023. (Andy Cross/MediaNews Group/The Denver Post via Getty Images)
Following the 42-6 drubbing in Eugene, Sanders had a message for the college football world.
DEION SANDERS' SON HOSPITALIZED FOR 'PEEING BLOOD' AFTER COLORADO'S BRUTAL LOSS TO OREGON
"One thing I can say honestly and candidly: You better get me right now," Sanders said in his postgame press conference. "This is the worst we going to be. You better get me right now."
Sanders is looking to build in Boulder with the help of his two sons, Shedeur and Shilo.
While attending a Denver Broncos game after defeating Colorado State in Week 3, the elder Sanders made it clear he expects to have his two sons on the roster following the 2023 college football season.
"We kind of got into it once we came here," Sanders said. "Shilo said, 'Oh, wow, Shedeur, look. You're going to be in the NFL next year.' I said, 'No, he ain't.'"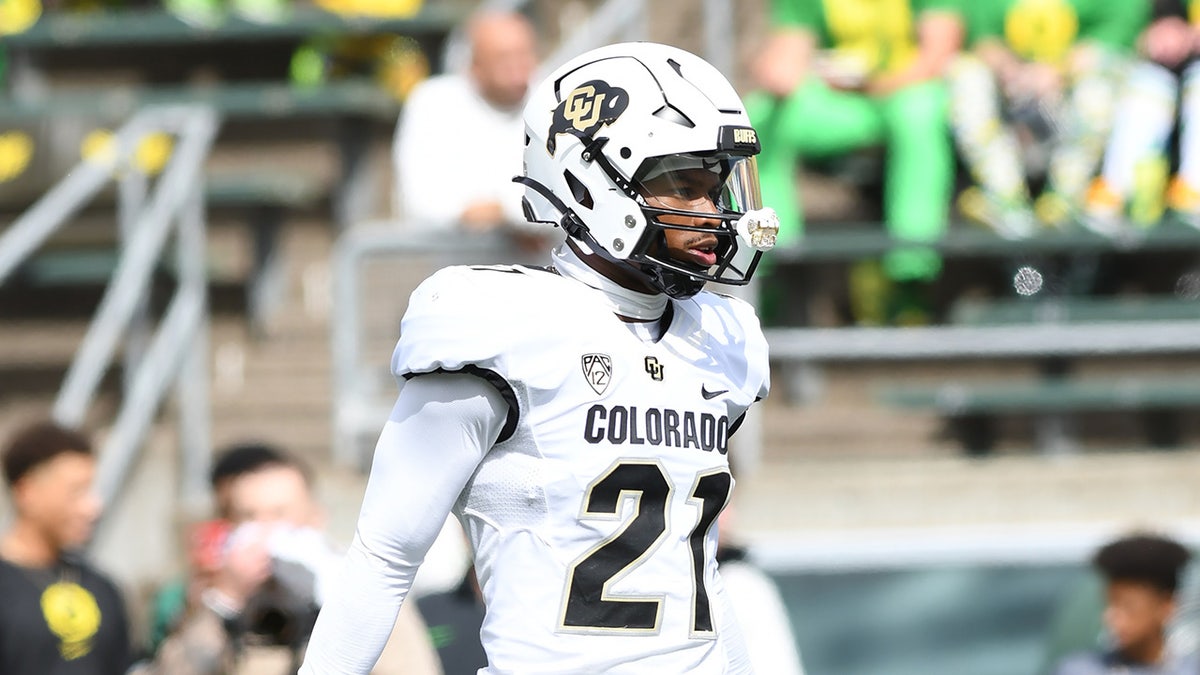 Colorado Buffaloes safety Shilo Sanders, #21, warms up during a PAC-12 conference football game between the Colorado Buffaloes and Oregon Ducks on Sept. 23, 2023 at Autzen Stadium in Eugene, Oregon. (Brian Murphy/Icon Sportswire via Getty Images)
"That y'all ain't going nowhere," Sanders responded when asked by his son Shedeur to clarify what he was trying to say.
CLICK HERE FOR MORE SPORTS COVERAGE ON FOXNEWS.COM
"I'm always gonna do what's best for my kids," Sanders said. "Let's believe that. So whatever that entails, we're gonna make the decision that suits them."
The cameras are always rolling around Sanders and the Colorado program, allowing fans to gain an inside look at the conversations between Sanders and his two sons.
"A lot of times you don't know if it's serious or we joking," Sanders told USA Today. "We just love to have fun. We just allow you in on our private conversations. So that's the way we really act … We just was joking about it, but it was serious."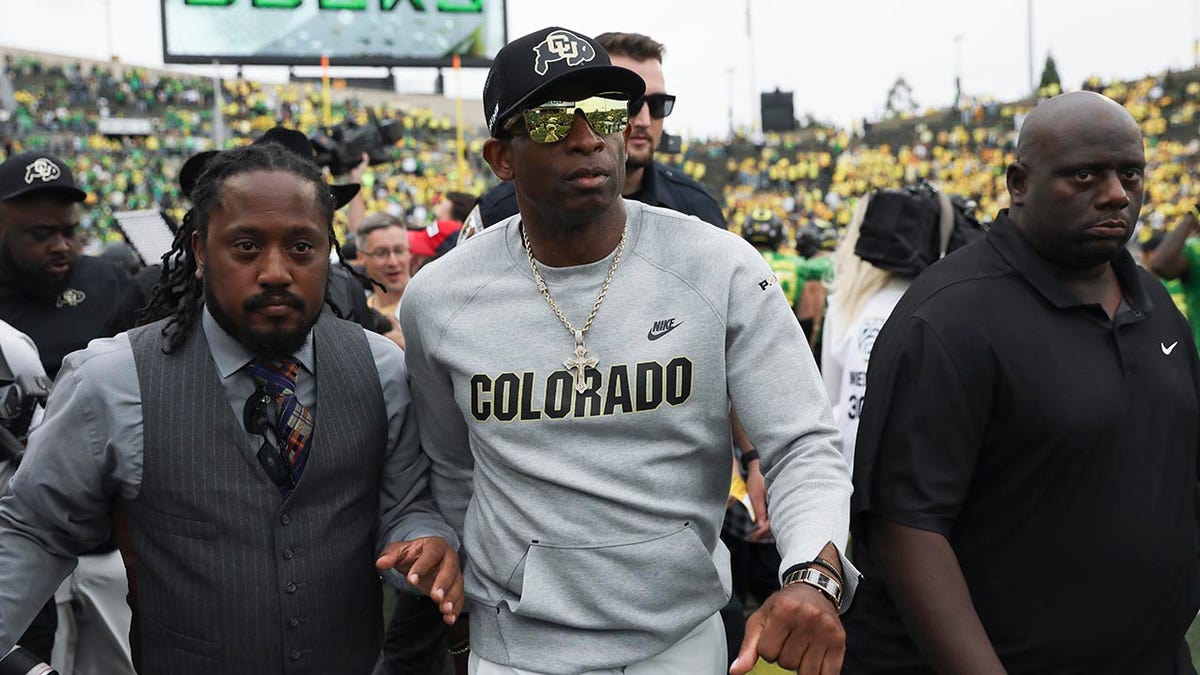 Colorado head coach Deion Sanders, center, exits the field following an NCAA football game against Oregon, Saturday, Sept. 23, 2023, in Eugene, Oregon. (AP Photo/Amanda Loman)
CLICK HERE TO GET THE FOX NEWS APP
Shedeur is a junior who could leave after the season, while Shilo is a graduate student with two years of eligibility remaining, according to Denver Sports.
Whether the two young players decide to be one-and-done at Colorado or return for another year, both face a tall task on Saturday when the Buffaloes welcome the No. 8 USC Trojans to Boulder.
USC is coming off a tight win over Arizona State in Week 3, dropping the Trojans three spots in The Associated Press Top 25.
Joe Morgan is a Sports Reporter for Fox News.