GOP presidential candidate Ron DeSantis finished the second Republican primary debate and immediately suggested another: a one-on-one face-off with former President Donald Trump.
"Since the former president didn't come here, maybe he would be willing to do one with you and I," DeSantis told Fox News host Sean Hannity. "I think he owes it to our voters to come and make the case."
"Here's the thing though, you owe it to the voters to come and make the case. No one's entitled to anything. You can say, 'Oh, some poll months before,' no. You gotta make the case. You owe it to the voters," DeSantis added from the Reagan Library.
DeSantis' idea for a Hannity-moderated event with Trump was inspired by the upcoming 90-minute debate that the Florida governor will be having with Democratic California Gov. Gavin Newsom on Nov. 30. Newsom attended the GOP California debate Wednesday night as surrogate for President Biden's re-election campaign.
TRUMP FIRES BACK AFTER GOP OPPONENTS TAKE TURNS BASHING HIM IN REPUBLICAN DEBATE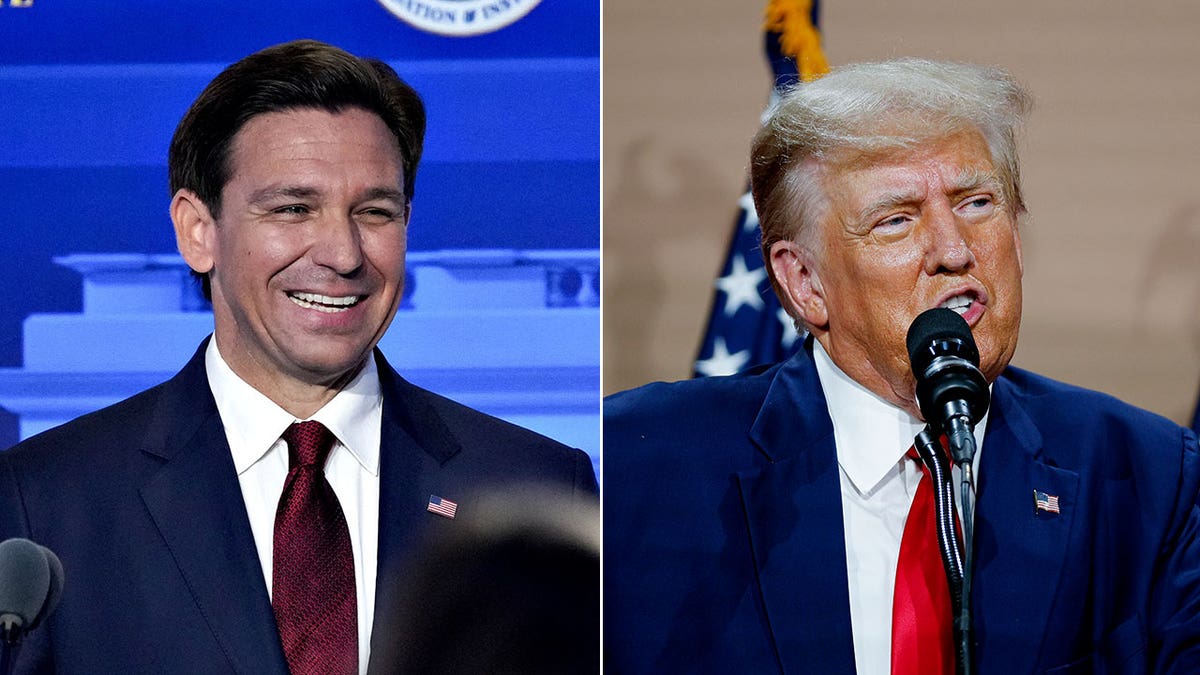 Florida Gov. Ron DeSantis challenged former President Donald Trump to a one-on-one debate. (Getty Images/AP)
Reached for comment Thursday, the Trump campaign rejected the notion.
"Rob DeSanctimonious? The loser in 5th place in New Hampshire? His pathetic campaign is over. Good night, sweet prince," Jason Miller, a senior adviser for the Trump campaign, told Fox News Digital.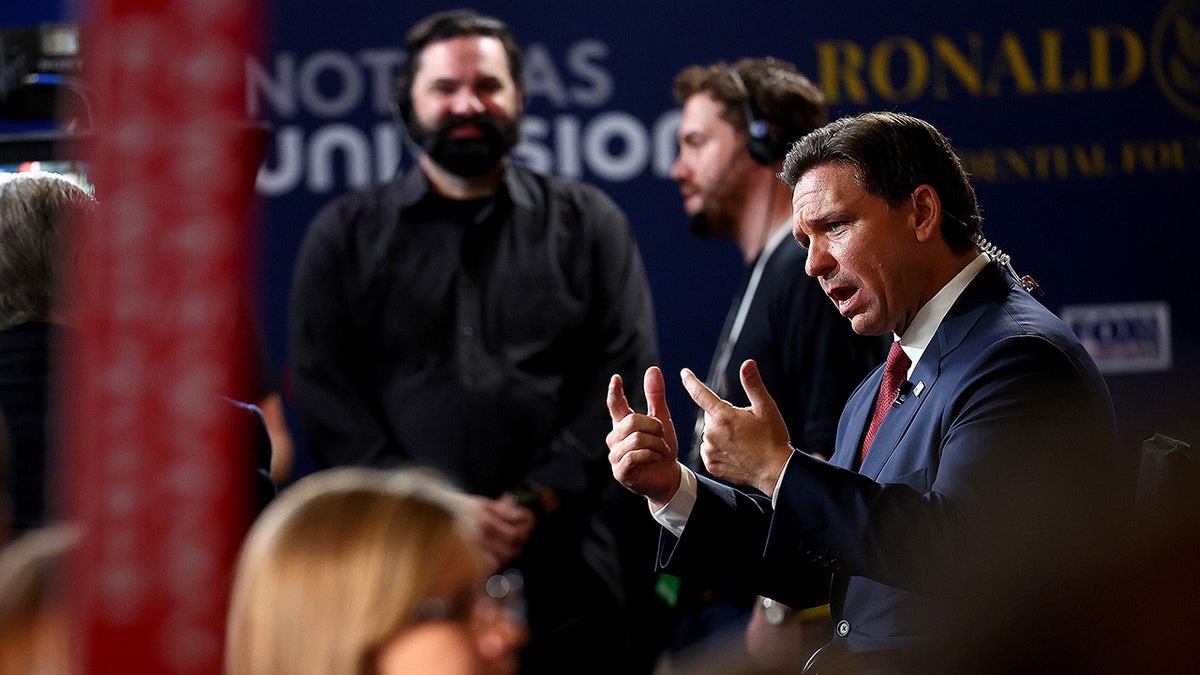 Florida Gov. Ron DeSantis talks to reporters in the spin room at the FOX Business Republican Primary Debate at the Ronald Reagan Presidential Library on Sept. 27, 2023, in Simi Valley, California. (Mario Tama/Getty Images)
Trump again opted out of participating in the second GOP debate, instead holding a rally in battleground Michigan to blast President Biden for pushing electric vehicles amid an autoworkers strike. On the stage Wednesday, DeSantis argued that both President Biden and Trump were "missing in action."
"Where's Joe Biden? He's completely missing in action from leadership," DeSantis said on stage. "And you know who else is missing in action? Donald Trump is missing in action. He should be on this stage tonight. He owes it to you to defend his record, where they added $7.8 trillion to the debt that set the stage for the inflation that we have."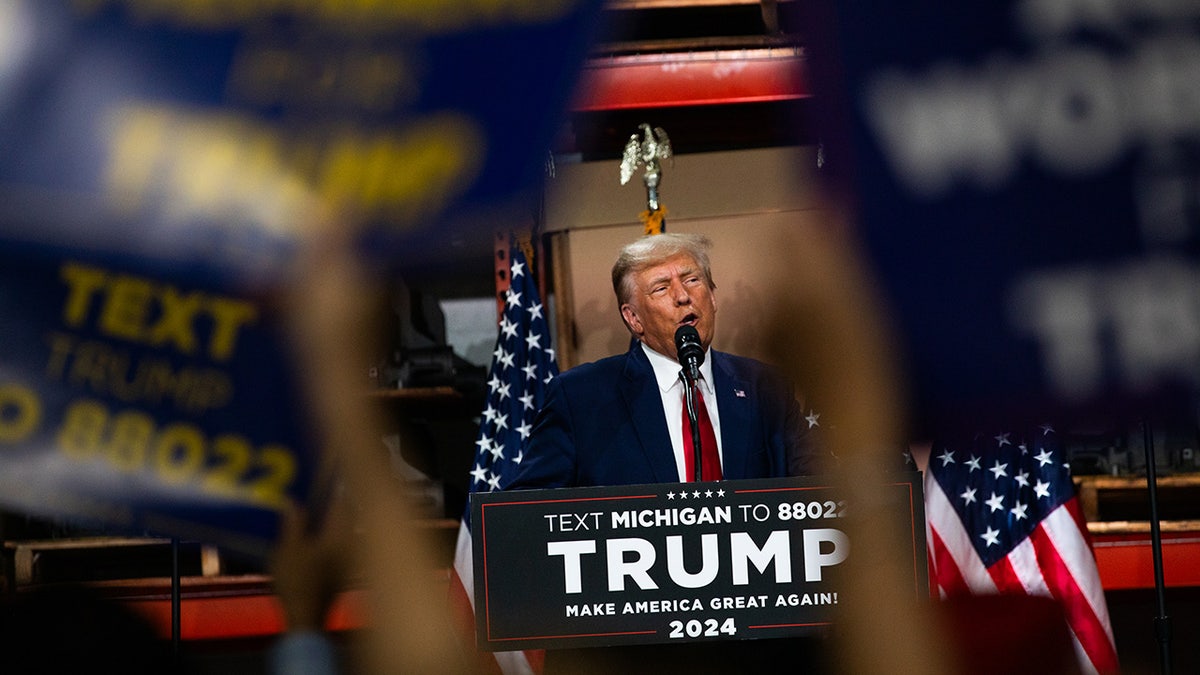 Former President Donald Trump speaks during a campaign event at Drake Enterprises in Clinton Township, Michigan, on Wednesday, Sept. 27, 2023. (Emily Elconin/Bloomberg via Getty Images)
Former New Jersey Gov. Chris Christie also called out the former president for not participating in the debate.
CLICK HERE TO GET THE FOX NEWS APP
"Joe Biden hides in his basement and won't answer as to why he's raising the debt the way he's done. And Donald Trump, he hides behind the walls of his golf clubs and won't show up here to answer questions like all the rest of us are up here to answer," Christie said during the debate. "He put $7 trillion on the debt. He should be in this room to answer those questions for the people you talk about who are suffering."
Danielle Wallace is a reporter for Fox News Digital covering politics, crime, police and more. Story tips can be sent to danielle.wallace@fox.com and on Twitter: @danimwallace.