The liberal media are portraying the late California Sen. Dianne Feinstein as a "centrist Democrat" despite her progressive voting record.
Feinstein, who died Thursday night at age 90, is being widely remembered as a trailblazer for women in the Congress.
According to FiveThirtyEight's congressional voting tracker last updated at the conclusion of the 116th Congress in January, Feinstein's record was "100%" aligned with President Biden.
However, obituaries published by several news organizations are raising eyebrows for how they describe her politics.
CNN DECLARES MCCARTHY PUSHED 'UNPROVEN CLAIMS' ON BIDEN IMPEACHMENT INQUIRY, QUIETLY ADMITS THEY WERE 'TRUE'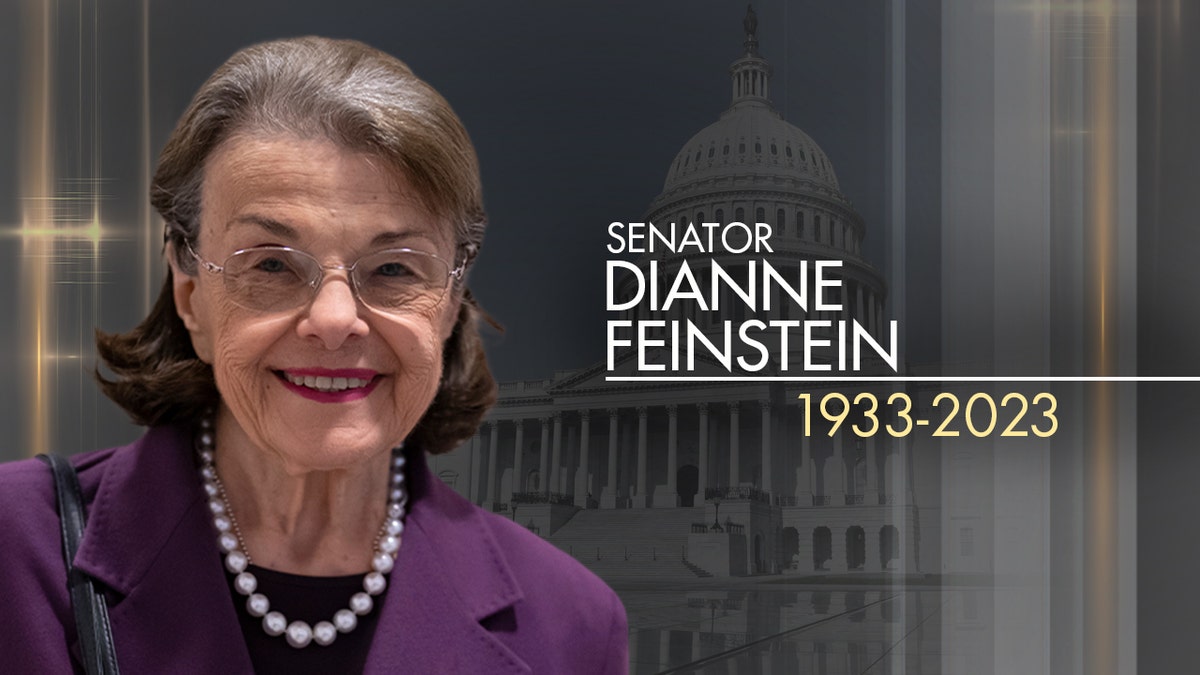 Senator Dianne Feinstein has died at age 90. (Fox News)
The Washington Post ran the headline "Dianne Feinstein, centrist stalwart of the Senate, dies at 90" while also calling her a "centrist Democrat" on social media.
In the obituary, The Post declared she was "centrist from the start," citing the fact that "for a time, Mrs. Feinstein owned a handgun" and quoting her biographer who once said how early in her career she "started talking about how the center is so important." The Post then quickly pivoted to her work pushing the federal assault weapons ban in the 1990s.
The New York Times similarly reported that Feinstein "called herself a political centrist" but went even further by saying she "often embraced conservative ideas."
BRUTAL WAPO COLUMN URGING BIDEN TO BOW OUT OF 2024 BECOMES LATEST IN LIBERAL MEDIA PILE-ON OF EMBATTLED POTUS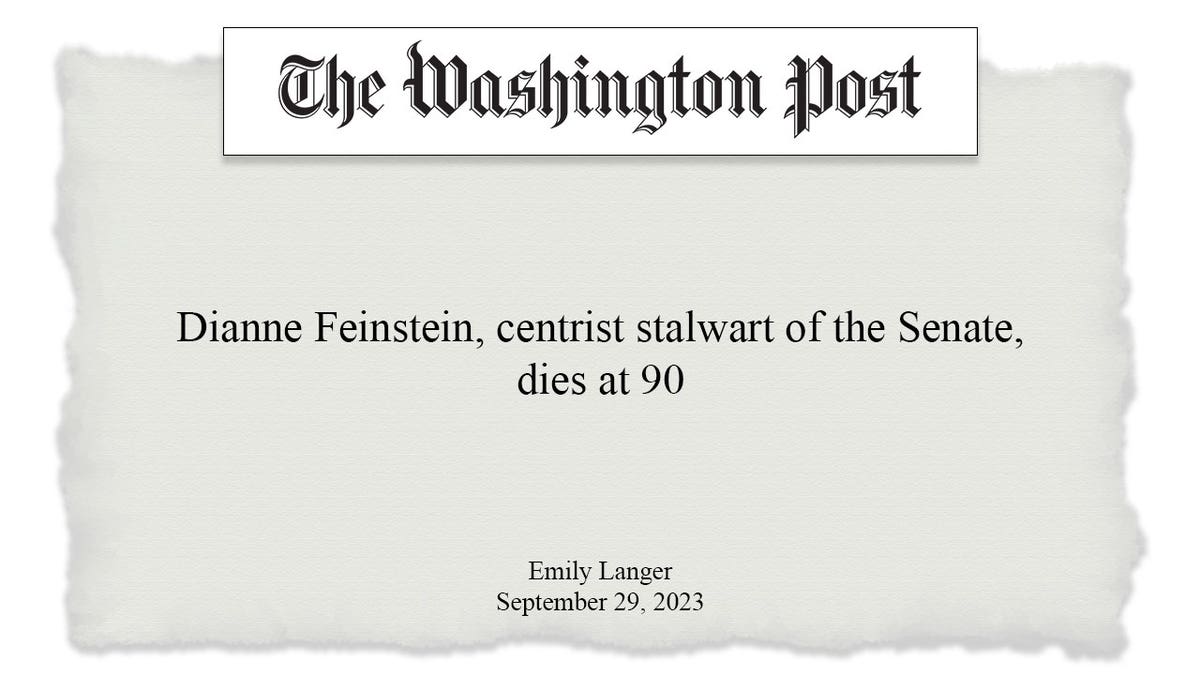 The Washington Post declared Feinstein the "centrist stalwart of the Senate" in its obituary of the Democrat lawmaker. (Fox News Digital)
NBC News wrote about Feinstein, "A centrist Democrat, she was known for trying to find common ground with Republicans, sometimes drawing criticism from her party's liberal members."
The Daily Beast alleged Feinstein was "steeped in centrist policies no longer fit the times," citing her "warm embrace" of Sen. Lindsey Graham, R-S.C., during the contentious 2020 Supreme Court confirmation of Justice Amy Coney Barrett as an example.
The Associated Press tried to have it both ways, calling her a "centrist Democrat" who was a "passionate advocate for liberal priorities." The AP's report was aggregated by several news outlets including PBS NewsHour.
BIDEN'S FICTIONAL TALES FACT-CHECKED BY WAPO, NY TIMES BUT OUTLETS STOPPED SHORT OF DECLARING THEM 'LIES
The Los Angeles Times said she "was a centrist who leaned left."
"She often irked Democratic constituencies. Her party moved sharply to the left on immigration over her time in the Senate, but Feinstein maintained more centrist positions," the California paper wrote. "She favored stiffer security at the border, punishment for those who illegally employed migrants, and penalties for the so-called coyotes who smuggled them into the United States."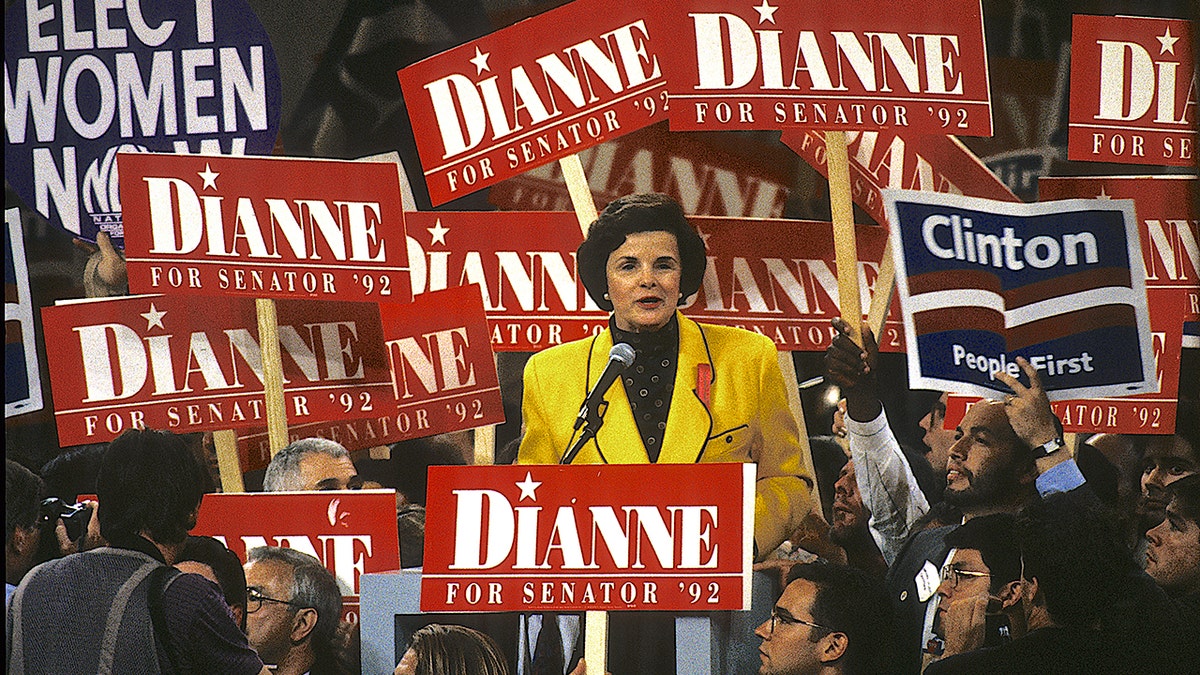 Dianne Feinstein the Mayor of San Francisco at the Democratic National Convention in 1992 running for Senate. (Mark Reinstein/Corbis via Getty Images)
CLICK HERE TO GET THE FOX NEWS APP
Politico cited a 2015 profile of Feinstein from The New Yorker in its obituary, quoting, "Feinstein is sometimes described as a centrist, but it is because her views are varied, not because they are mild; she thinks of herself, more accurately, as a pragmatist."
Other outlets suggested there was a debate over Feinstein's politics among critics. ABC News wrote, "Her independence was often seen in more recent years as too moderate compared to other Democrats, especially as a representative of one of the country's most reliably blue states," despite her 100% voting record with Biden.
Deadline Hollywood called her a "moderate Democrat" in its report but wrote on social media she was "considered by some to be a centrist Democrat and to the Right a far-left advocate."
For more Culture, Media, Education, Opinion and channel coverage, visit foxnews.com/media
Joseph A. Wulfsohn is a media reporter for Fox News Digital. Story tips can be sent to joseph.wulfsohn@fox.com and on Twitter: @JosephWulfsohn.