FIRST ON FOX — The New York City bodega clerk who had murder charges dropped after video showed he acted in self-defense is suing District Attorney Alvin Bragg and NYPD for civil rights violations.
Jose Alba, an ex-bodega worker who was attacked behind the counter on July 1, 2022, by 35-year-old Austin Simon and his girlfriend, Tina Lee, filed a lawsuit in the Southern District of New York on Friday alleging he was wrongfully prosecuted because of the Manhattan district attorney's "racial equity" policies. The complaint names Bragg, NYPD Detective William Garcia, and unidentified arresting officers and detectives of the NYPD as defendants in the case.
"New York County District Attorney Alvin Bragg and/or his subordinates, following Bragg's policy to achieve 'racial equity' in the Manhattan criminal justice system, charged Plaintiff with murder in the second degree and asked for high bail at Plaintiff's arraignment," the complaint states.
"Despite the fact that Simon and Lee were the initial aggressors, it was Plaintiff who was arrested, incarcerated, and wrongfully prosecuted. While in theory, Bragg's 'racial equity' policies are a well-intentioned attempt by him to implement even-handed justice, the means and methods employed by Bragg have instead had an opposite effect and resulted in discrimination against certain defendants based on race."
BODEGA CLERK JOSE ALBA LEAVES NYC 'AFRAID FOR HIS LIFE,' MULLS MOVE BACK TO DOMINICAN REPUBLIC: REPORT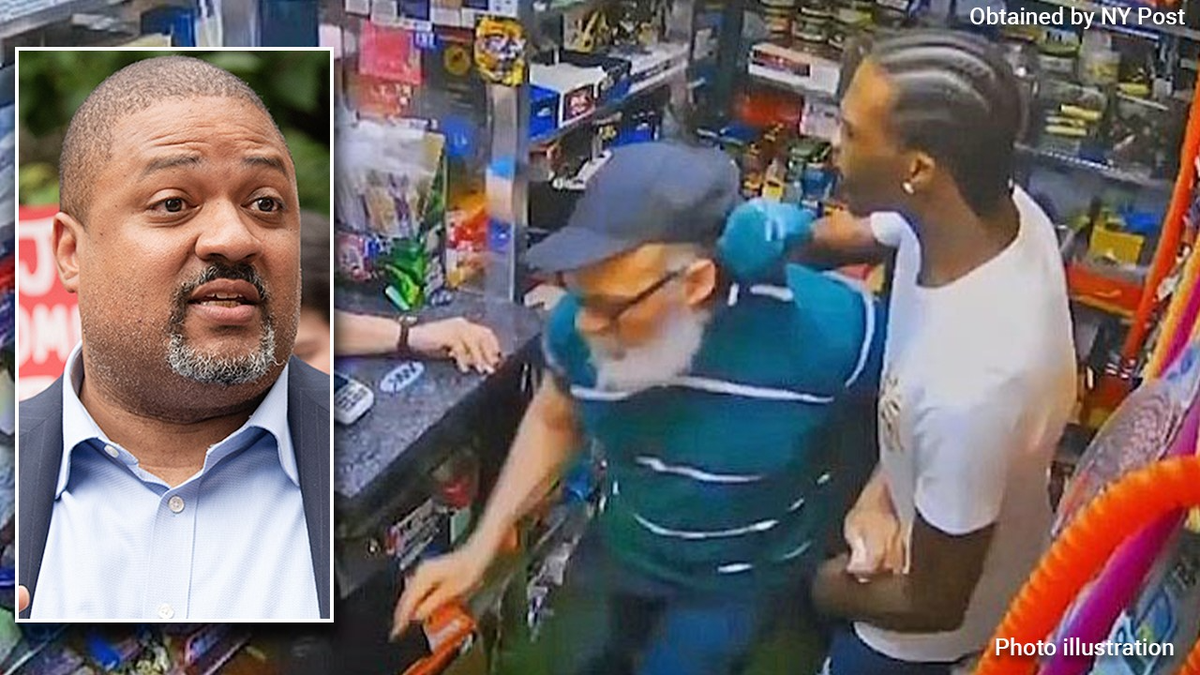 A photo of Alvine Bragg embedded in a screenshot of surveillance video obtained by the New York Post showing Jose Alba's deadly confrontation with ex-convict Austin Simon. (Barry Williams via Getty/NYPost video)
The lawsuit also names Department of Corrections Commissioner Louis Molina and other DOC officials as defendants "responsible for the unconstitutional conditions of confinement and inadequate medical care at Rikers Island."
Alba's attorney, Richard Carinale, told Fox News Digital Alba is seeking justice and compensatory and punitive damages against the city.
READ THE LAWSUIT BELOW. APP USERS: CLICK HERE
Alba's case grabbed national headlines for months after he was charged with second-degree murder for killing Simon, who was seen on surveillance video first coming behind the cashier's desk at the Blue Moon convenience store in Manhattan and attacking him. Despite claiming self-defense, Alba was sent to Riker's Island prison and initially given $250,000 bail, outraging the city's Dominican community.
"After the video of Simon and Lee's attack on Plaintiff was shown by the news media, and Plaintiff's arrest, prosecution and incarceration at Rikers Island Correctional Facility became a national story, there was widespread outrage against Bragg and his office for charging a law-abiding, older working man for lawfully defending himself during the crime wave in New York City, caused in part by the massive resignations of New York City Police Officers, and legislation and policies that frustrate the ability for law enforcement to combat crime," the complaint states.
NYC JUDGE DROPS MURDER CHARGE AGAINST BODEGA WORKER AFTER MANHATTAN DA BACKTRACKS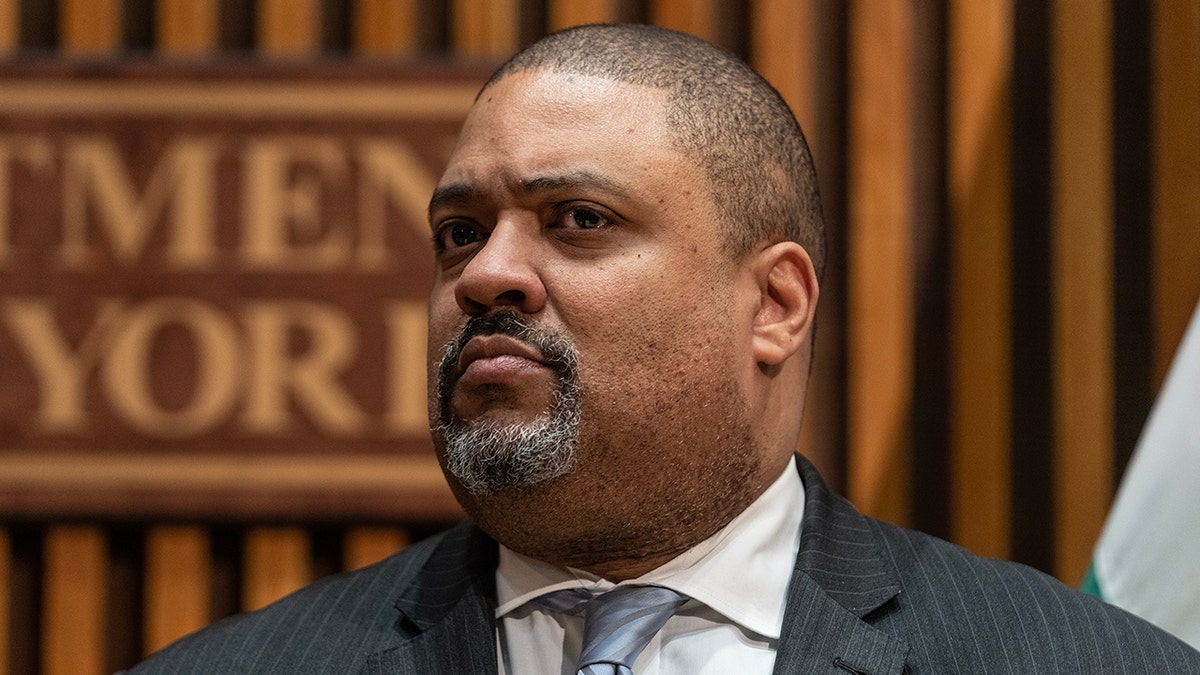 Manhattan District Attorney Alvin Bragg was named in a lawsuit alleging racial discrimination against Jose Alba, a bodega worker who was wrongfully charged with murder after the lawful self-defense killing of Austin SImon. (Lev Radin/Pacific Press/LightRocket via Getty Images)
"Defensively, Bragg responded that he was still investigating the incident, while Plaintiff, who could not pay the high bail for murder in the second degree, suffered at Rikers Island, unaware whether he was facing a long prison sentence for lawful self-defense."
Bragg's office faced widespread condemnation for bringing charges against Alba, as footage strongly suggested that the bodega worker grabbed a knife and fatally stabbed his assailant only after he had been attacked first.
Among many other supporters, New York City Mayor Eric Adams and former NYPD Commissioner Bill Bratton had publicly decried the initial charging decision, saying Alba acted in self-defense to thwart what appeared to be either an attempt on his own life or a robbery in progress.
Under intense public pressure, the district attorney dropped the murder charge on July 19, 2022.
BODEGA CLERK JOSE ALBA TO TESTIFY AT HOUSE JUDICIARY FIELD HEARING ON VIOLENT CRIME UNDER NYC DA ALVIN BRAGG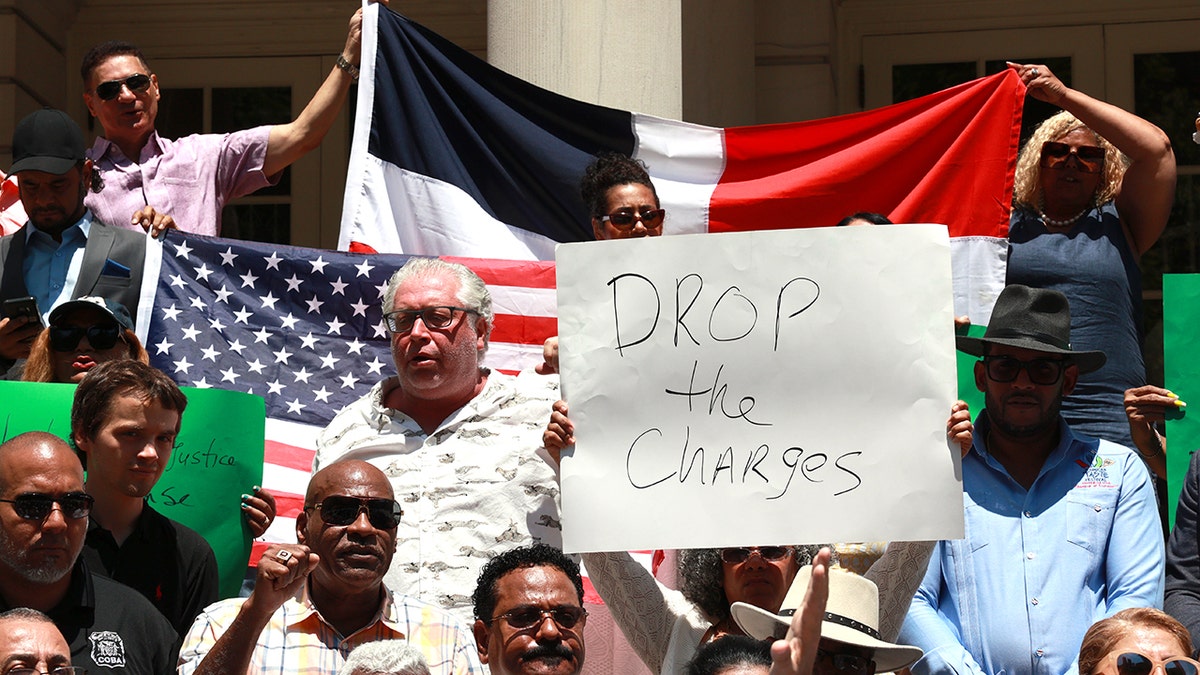 Members of the Dominican Republic Community, Bodega owners and different associations are pictured on the steps of City Hall during a July 13, 2022, press conference asking Manhattan D. A. Alvin Bragg to drop charges against bodega worker Jose Alba accused of killing a robber during a fight at a bodega where he worked. (Luiz C. Ribeiro for NY Daily News via Getty Images)
Alba had declared his intention to sue the city in February, but the case was delayed while his attorney negotiated a pre-lawsuit settlement with the city. However, the parties could not reach an agreement, Cardinale told Fox News.
"The case is strong because it relies on defendants' own documents and statements and papers filed in the criminal case," Cardinale said. "This is not a case based on a lawyer or client's unsupported speculation."
The District Attorney's Office and an NYPD spokesperson did not immediately respond to requests for comment.
CLICK HERE TO GET THE FOX NEWS APP
As a candidate for district attorney, Bragg said racial equity must be a priority and stated his belief that thievery should not be prosecuted because it was a "crime of poverty."
"I grew up with friends disappearing over charges like that (theft) and even if there is an alternative [to incarceration, such as diversion programs, there is a] consequence of disruption for the family. We need to asking, 'Does something make us safer?' And prosecuting a young person, even if it doesn't end in incarceration [such as in diversion programs], in my view does not make us safer," Bragg said. "I think we need to move away from what I would call a crime of poverty."
Bragg was speaking to a group from Young New Yorkers in May 2021. The organization "applies a racial justice framework to… all levels of operations" as it diverts individuals facing charges under the age of 25 from the criminal justice system.
Bragg said his overall intention was to "Shrin[k] the footprint" of the criminal justice system.
He has since been criticized for taking a soft-on-crime approach as Manhattan's top prosecutor.
Fox News Digital's Danielle Wallace contributed to this report.