Scott Hall, an Atlanta bail bondsman who is one of former President Donald Trump's 18 co-defendants in the Georgia 2020 election interference case, pleaded guilty Friday.
He is the first defendant to take a plea deal.
Hall, 59, pleaded guilty to misdemeanor charges of conspiracy to commit intentional interference with performing election duties. Prosecutors had accused him of trying to steal sensitive information from Coffee County, Georgia. He pled down from felony charges of racketeering and six conspiracy counts.
Under the agreement reached with prosecutors, Hall will receive five years probation and must testify in further proceedings. He was given a $5,000 fine, ordered to complete 200 hours of community service and is prohibited from administering elections again.
GEORGIA INDICTMENT: FIRST TRUMP CO-DEFENDANT PLEADS 'NOT GUILTY'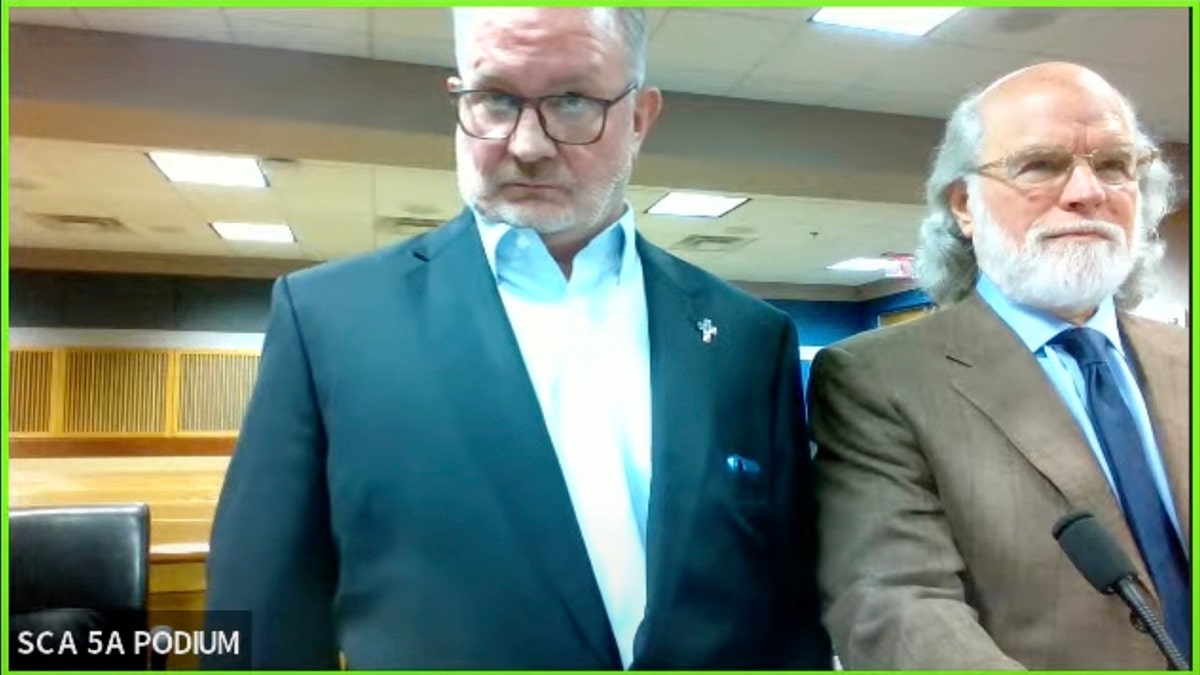 In this image made from video from Judge Scott McAfee's virtual Zoom hearing, Scott Graham Hall, left, stands with his attorney, Jeff Weiner, right, in Superior Court of Fulton County before Judge McAfee, not pictured, in Courtroom 5A on Friday, September 29, 2023, in Atlanta. Hall, a bail bondsman charged alongside former President Donald Trump and 17 others in the Georgia election interference case, pleaded guilty to misdemeanor charges on Friday, becoming the first defendant to accept a plea deal with prosecutors. (USA Today via AP, Pool)
Hall must also write a letter of apology to the citizens of the state of Georgia and is under a gag order prohibiting him from speaking to the press.
He is a minor figure in the grand plot that District Attorney Fani Willis alleges Trump orchestrated to overturn Democrat Joe Biden's victory and stay in power. Still, the plea deal is a win for Willis as she advances her racketeering case against Trump.
Hall's attorney Jeff Weiner, who was in court with him Friday, said that under the deal, his client's record will be wiped clean after he completes probation. The agreement allows Hall to avoid the stress of "living under a serious felony indictment" without knowing when he might go to trial, the attorney told the Associated Press.
"This way, it's over," Weiner said. "He can sleep well and get on with his life."
TRUMP DEMANDS COURT IGNORE DOJ REQUEST FOR GAG ORDER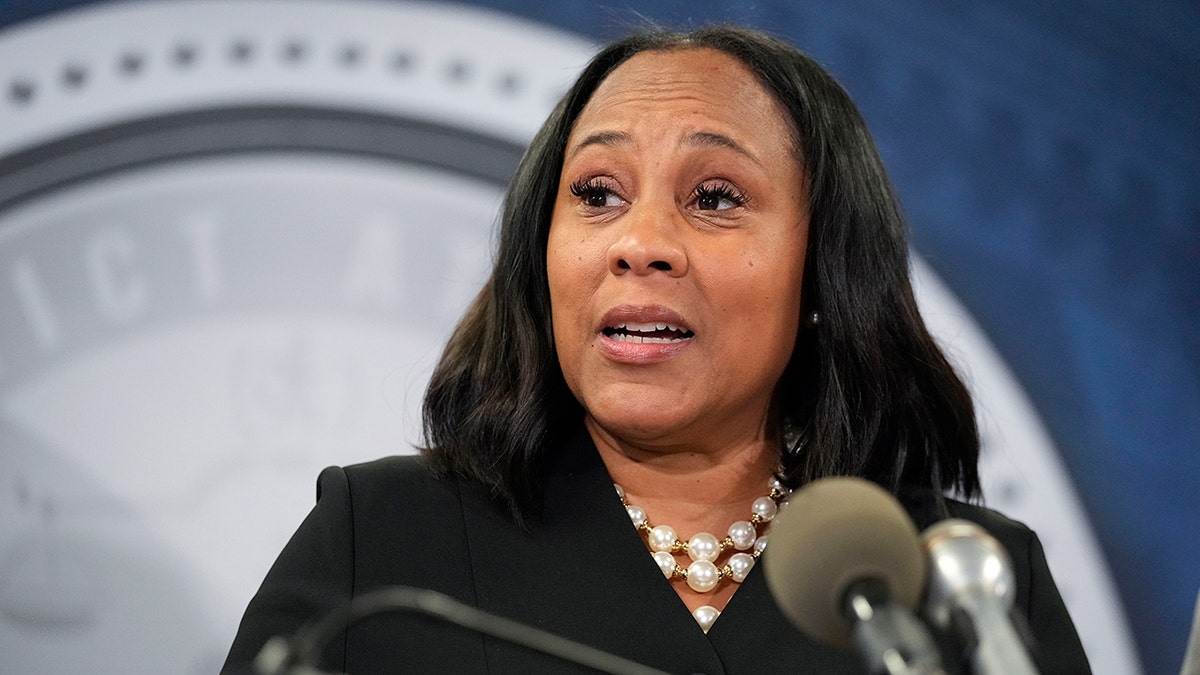 Fulton County District Attorney Fani Willis speaks in the Fulton County Government Center during a news conference August 14, 2023, in Atlanta. (AP Photo/John Bazemore, File)
Weiner told the Associated Press that his client does not know much about the alleged conspiracy and said he would be surprised if prosecutors were to call him to testify.
The 98-page Fulton County indictment describes Hall as an associate of longtime Trump adviser David Bossie.
Hall is accused of conspiring to unlawfully access voter data and ballot counting machines at the Coffee County Election office on January 7, 2021. Trump allies had sought access to voting systems to support their claims that voting systems had been tampered with to steal the election.
Authorities say that Hall and co-defendants conspired to allow others to "unlawfully access secure voting equipment and voter data." This included ballot images, voting equipment software and personal vote information that was later made available to people in other states, according to the indictment.
SIDNEY POWELL AND KENNETH CHESEBRO TO BE TRIED SEPARATELY FROM TRUMP, 16 OTHER DEFENDANTS IN GEORGIA CASE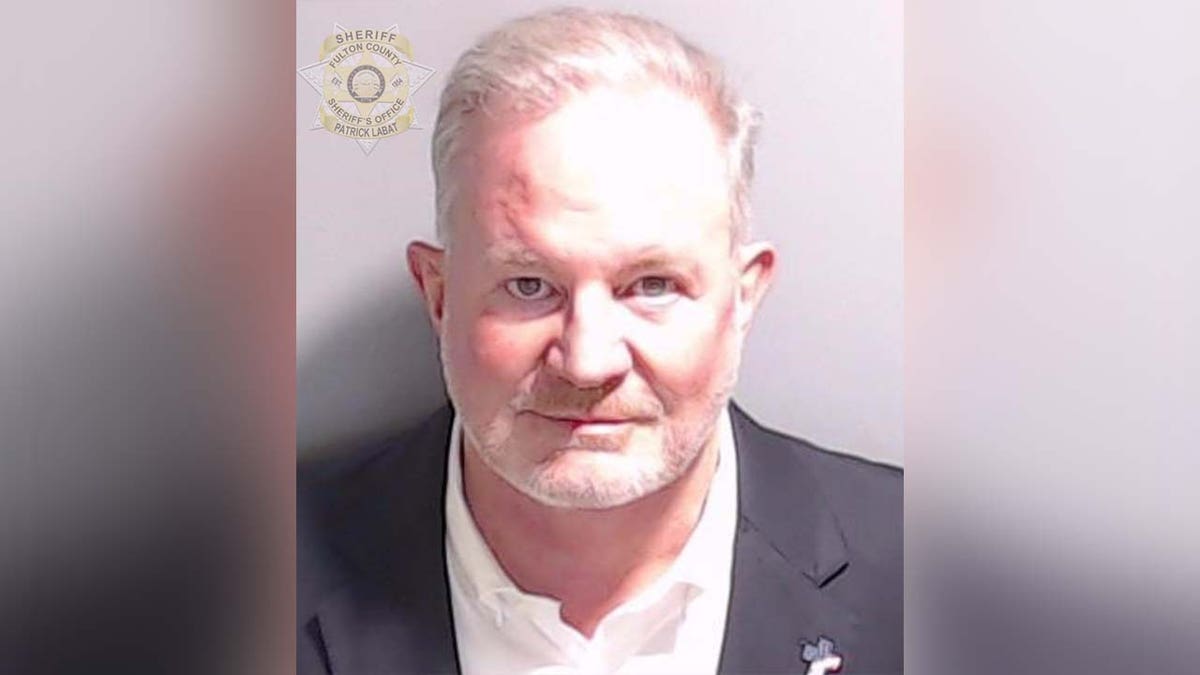 Former Republican poll watcher Scott Hall mugshot. Hall is a bail bondsman from the Atlanta area who is alleged to have helped Trump allies access voting equipment. (Fulton County Sherriff's Office)
The District Attorney's office has not commented on the plea deal.
Trump spokesman Steven Cheung did not immediately respond to a request for comment.
At another hearing Friday, prosecutor Nathan Wade revealed that the district attorney's office planned to offer plea deals to lawyers Sidney Powell and Kenneth Chesebro. The pair are due to be tried in court on October 23, even though their lawyers have argued that they do not know each other and are not accused of participating in the same acts, the Associated Press reported.
Powell faces charges related to a breach of election equipment in rural Coffee County. She allegedly hired a computer forensics team that copied data and software from the election equipment without authorization.
CLICK HERE TO GET THE FOX NEWS APP
Chesebro was indicted in connection to a plan to have 16 Georgia Republicans falsely declare themselves "duly elected and qualified" electors and name Trump the winner of the state's 2020 presidential election.
Finally, on Friday, U.S. District Judge Steve Jones rejected requests by four other defendants, including former Justice Department official Jeffrey Clark, to move the charges against them from state court to federal court.
Clark is charged with one count of racketeering and one count of criminal attempt to commit false statements.
Fox News' Timothy H.J. Nerozzi and The Associated Press contributed to this report.