A video has been circulating this week on social media showing people celebrating Oktoberfest near the East German town of Bautzen, in Saxony, seemingly giving the salute associated with Adolf Hitler and the Nazi regime. Police in Saxony and the State Security Service have launched investigations.
Police were alerted to the video circulating on the platform X, formerly known as Twitter, a spokesman confirmed.
Three men and a woman in traditional Oktoberfest costumes can be seen in the video, shot on September 24, seemingly giving the Hitler salute several times. In the background, the marching song "Erika" can be heard playing, which was popular among the military forces of Nazi Germany.
While showing Nazi symbols and most other public displays of support for Nazism is illegal in Germany today, the song itself is not forbidden.
The song's composer, Herms Niel, was a member of the Nazi Party and personally conducted the marching bands at the regime's Reich Party congresses in Nuremberg.
There was no statement from the Oktoberfest organizers in Bautzen about why the song was being played at the annual festivities.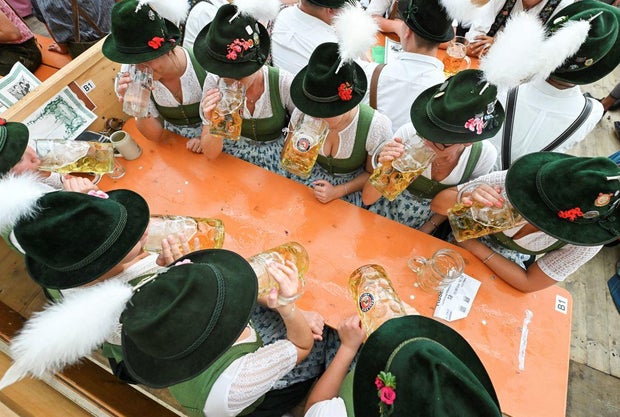 Visitors celebrate the world's largest beer festival, the 188th Oktoberfest, in Munich, Germany, in a Sept. 17, 2023 file photo.
REUTERS/Angelika Warmuth
On September 22, just a couple days before the video in Bautzen was shot, five youths in the larger city of Chemnitz, also in Saxony, gave the Hitler salute on a street and chanted "Heil Hitler."
Investigations were launched into the suspected use of symbols of unconstitutional organizations.
Parts of Saxony have seen a political shift to the right in recent years, with nationalist tendencies growing.
According to recent polls, the right-wing, populist AfD party currently has the support of about 35% of the electorate in the state.
In:

Adolf Hitler

Nazi

European Union

Germany
Thanks for reading CBS NEWS.
Create your free account or log in
for more features.