4 min ago
Analysis: Biden impeachment inquiry creates a new political twist in an unprecedented election
From CNN's Stephen Collinson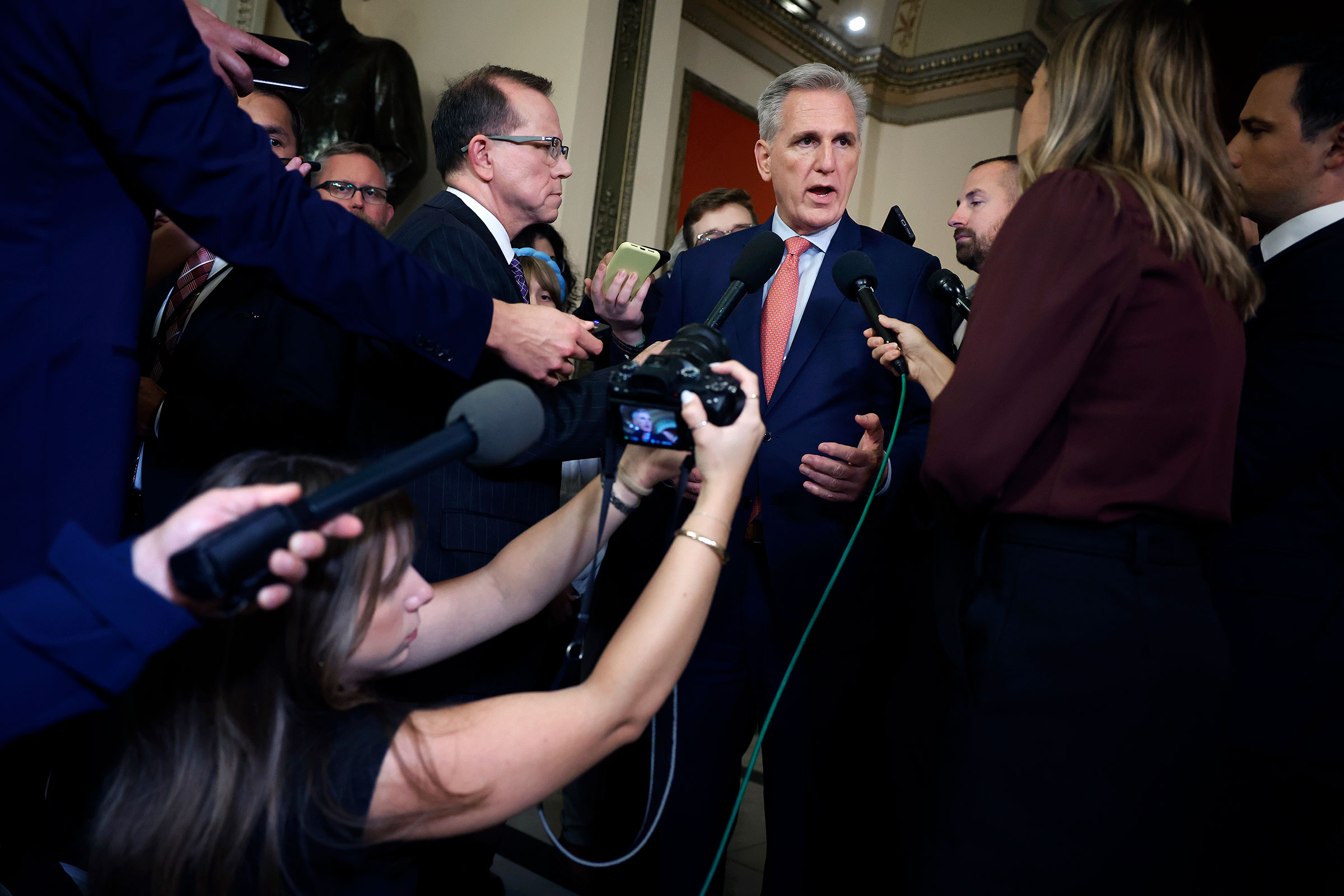 Speaker of the House Kevin McCarthy pauses to talk to reporters as he heads to the House Chamber for a vote at the US Capitol on September 27, 2023 in Washington, DC. Chip Somodevilla/Getty Images
By opening an impeachment investigation into President Joe Biden, House Speaker Kevin McCarthy unleashed an unpredictable and treacherous new political force into what is already the most abnormal election of modern times.
McCarthy effectively set up partisan counterprogramming to the looming criminal trials of his patron, former President Donald Trump, who's the front-runner for the GOP nomination to take on Biden.
The key question heading into the third impeachment effort in three and a half years should be whether this attempt to effectively reverse a democratic election by ousting Biden is justified. The GOP failure so far to provide much more than innuendo — that Biden corruptly used his power while vice president to profit from his son Hunter's business ventures – suggests it is not.
There is a crazed sense of irony and history coming full circle this week in Washington.
Trump was impeached the first time for effectively using presidential power and the prospect of military aid to try to coerce Ukrainian President Volodymyr Zelensky to initiate a criminal investigation into Biden, his future opponent in a presidential election. Now, his proxies in the House GOP are effectively weaponizing an impeachment inquiry of Biden to try to again destroy Trump's potential opponent in the next presidential election.
And if Trump wins back the White House, Zelensky may find that the 47th president's revenge for his failure to act the first time is a cut off of military aid Ukraine needs to remain a sovereign nation after an invasion by Russian President Vladimir Putin, whom Trump has praised.
That is not to say that Hunter Biden did not create a perception of a conflict of interest by earning millions of dollars in places like Ukraine and China while his father had a large role in those foreign policy portfolios in the Obama administration. Some of Joe Biden's own statements on his son's activity are less than candid. And Republicans have established that Hunter Biden flew on Air Force Two and met foreign business associates on his father's foreign trips. Then-Vice President Biden attended two dinners with his son and his business associates in Washington, DC, although one of Hunter's associates testified that no business was discussed. Still, there was always the possibility that Hunter Biden's activity could embarrass his father politically or be seen as an attempt to peddle access.
The White House insists that the president did nothing wrong — and Republicans haven't provided solid evidence that he has. That's already making their impeachment probe look like a politicized circus — one that's being used as a political tool rather than a constitutional remedy of last resort.
The pitched political battle in the weeks to come could go a long way toward settling which version of two dueling narratives solidifies in the public mind — that's if America is not so deeply polarized that the facts of a case simply depend on one's partisan viewpoint.
Read the full analysis.
19 min ago
House Oversight panel set to hold first Biden impeachment inquiry hearing this morning
From CNN's Annie Grayer
Rep. James Comer leaves a House Republican caucus meeting at the Capitol on September 19, 2023 in Washington, DC. Kevin Dietsch/Getty Images
House Republicans are taking their next official steps in their impeachment inquiry of President Joe Biden by preparing a hearing and subpoenas to members of the Biden family, as well as scheduling the first hearing in the investigation for September 28.
A committee spokesperson told CNN that the hearing will focus on the constitutional and legal questions Republicans are raising about Biden.
While the witnesses are still being finalized, House Oversight Chairman James Comer told CNN he plans to have a financial expert speak to the bank records he has uncovered pertaining to the Biden family's business dealings and a constitutional expert to discuss why an impeachment inquiry is warranted.
"It's an informative hearing where we're going to have some experts in different areas of the law that can answer questions pertaining to specific crimes, as well as to educate and inform exactly what an impeachment inquiry is, and why you do an impeachment inquiry," Comer, a Republican from Kentucky, told CNN.
The Oversight panel is also poised to issue its first subpoenas to the president's son and brother, Hunter and James Biden, as early as this week, according to the spokesperson. The subpoenas are the first direct outreach to members of the Biden family and are expected to be for their personal and business records.
Republicans have made Hunter Biden's business dealings a central component of their impeachment inquiry, but there is no public evidence to date that the president personally received any money.
The White House slammed the committee for its plans to hold the hearing next week, accusing the GOP are prioritizing a "political stunt" over attempts to avert a government shutdown.
"Extreme House Republicans are already telegraphing their plans to try to distract from their own chaotic inability to govern and the impacts of it on the country," White House spokesman Ian Sams said in a statement. "Staging a political stunt hearing in the waning days before they may shut down the government reveals their true priorities: to them, baseless personal attacks on President Biden are more important than preventing a government shutdown and the pain it would inflict on American families."
Read more.
24 min ago
Biden advisers created an impeachment response plan ahead of inquiry announcement
From CNN's Kevin Liptak, Betsy Klein and Arlette Saenz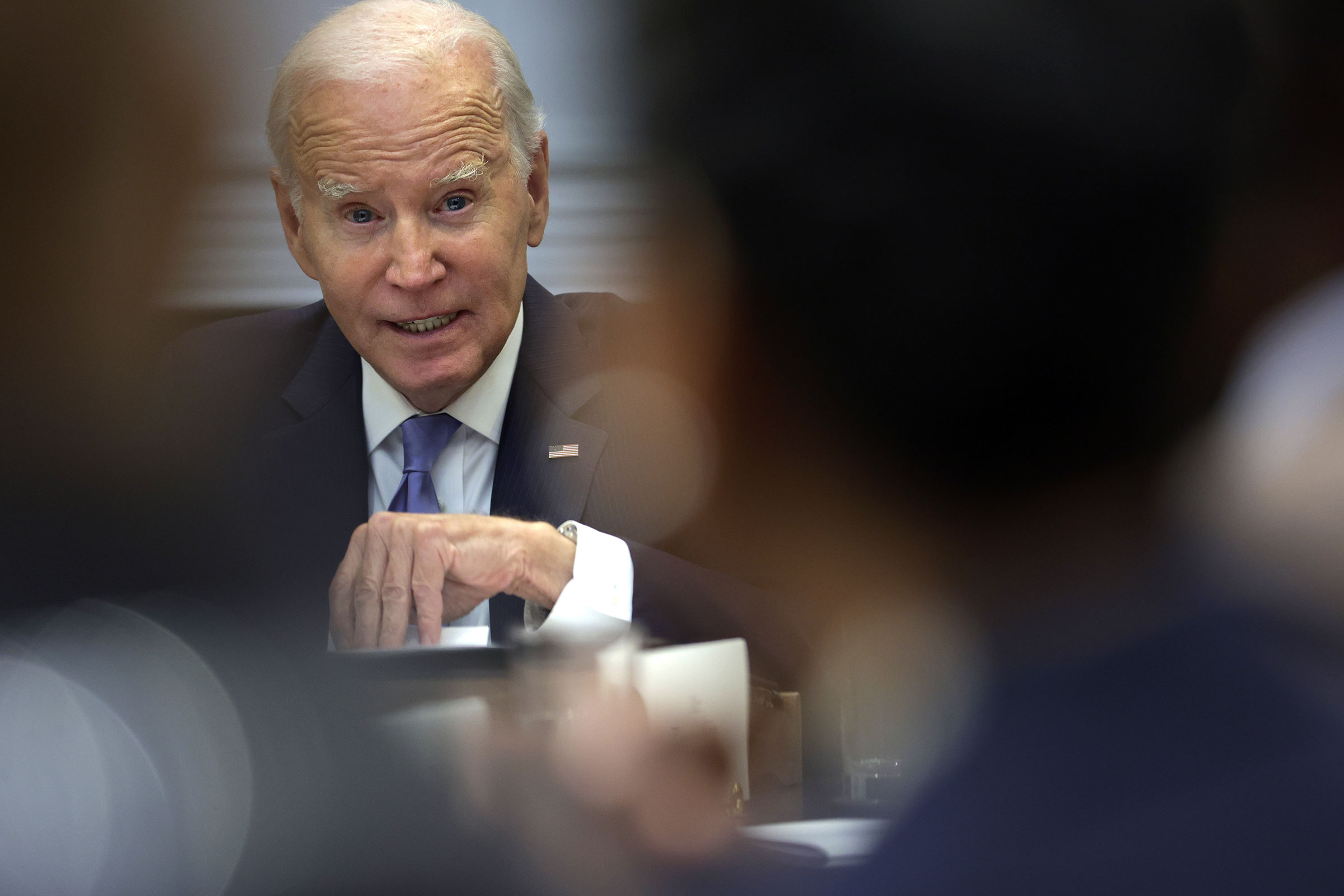 President Joe Biden meets with members of the President's Board of Advisors on Historically Black Colleges and Universities at the Roosevelt Room of the White House on September 25, 2023 in Washington, DC. Alex Wong/Getty Images
President Joe Biden's team has begun to execute an impeachment playbook more than a year in the making: Discredit the investigators while sticking to the business of governing.
Biden's aides spent the August congressional recess honing their plans after House Speaker Kevin McCarthy suggested in late July he was likely to open an impeachment inquiry.
But they'd been hiring staff and gaming out possible scenarios for months before that, consulting veterans of past impeachments and determining the contours of their response.
The principal objective for Biden's team is countering what many Democrats fear could become an ingrained narrative of self-dealing about the president — despite a lack of any evidence so far of wrongdoing.
"If you don't answer it, it can sink into the voter psyche. They're walking that line," a person familiar with White House thinking said.
On September 13, Biden made his first public comments on McCarthy's impeachment inquiry, linking the inquiry to the upcoming showdown over funding the government. Congress faces a September 30 deadline to keep the government open and McCarthy is facing deep divisions within his own conference about how to handle the matter.
"Well, I tell you what, I don't know quite why, but they just knew they wanted to impeach me. And now, the best I can tell, they want to impeach me because they want to shut down the government."
"So look, look, I got a job to do. Everybody always asked about impeachment. I get up every day, not a joke, not focused on impeachment. I've got a job to do. I've got to deal with the issues that affect the American people every single solitary day."
The impeachment inquiry comes at a fragile political moment for the president. Widespread concern about his age and reelection prospects have caused jitters in Democratic circles. Some allies have voiced private concern at how intense attention on his son Hunter Biden could become a drag on him, politically and emotionally.
But Biden's advisers believe the inquiry announced by McCarthy could be used to their advantage if Republicans are viewed as overstepping in their claims or shirking their governing responsibilities, according to officials who laid out their plans.
Read more about how Biden prepared for the inquiry.