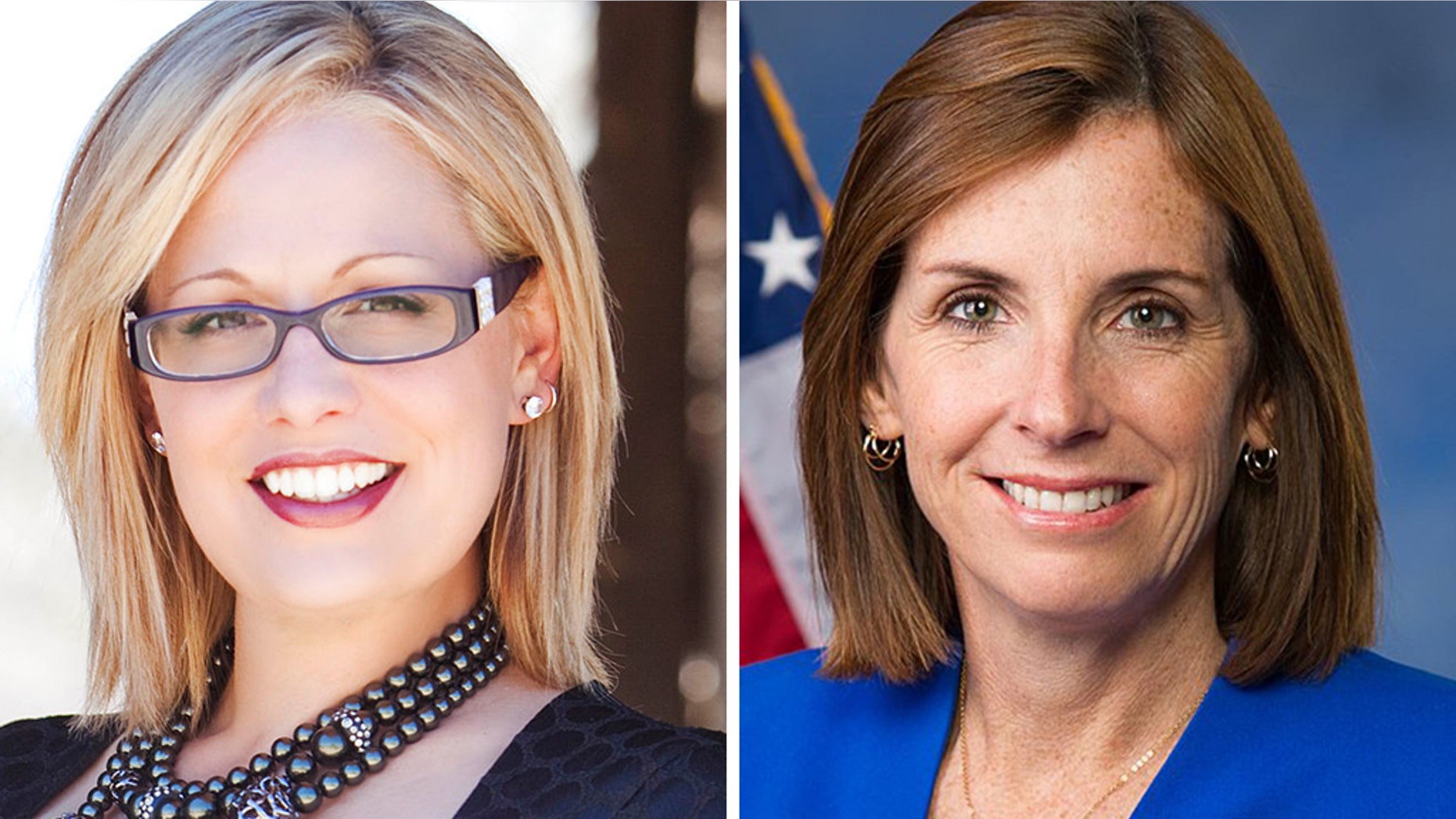 Recent polls show the Republican Senate candidate in Arizona continues gaining ground, suggesting the circus-like Kavanaugh hearings could help the GOP hold Congress.
Polls show Republican Congresswoman Martha McSally has a slight advantage and higher favorability ratings than her Democratic opponent, Kyrsten Sinema.
"Whether they disliked Trump or had issues with the establishment," pollster Mike Noble told the Phoenix ABC affiliate, "now what we've seen is [the] Kavanaugh confirmation process has really brought all those Republicans home and has solidified the Republican base, hence why you're seeing all the favorable numbers toward McSally."
The two women are virtually in a dead heat, but the heated hearings over Brett Kavanaugh's Supreme Court nomination seemed to favor McSally.
"Donald Trump is very much on the ballot although his name does not appear," said Arizona State University public policy professor Joseph Garcia. "Those who support him, those who do not. And it depends on who gets to the polls. If it's going to be Trump supporters. It should be big for McSally. If it's some people who are not happy with the direction the country, or Donald Trump's policies, they probably will go Sinema."
The Arizona Senate race is one of six nationwide considered too close to call. So far, outside groups dumped $24 million into the Arizona race to replace retiring incumbent Jeff Flake. Most of the outside money is being spent on ads attacking the other candidate.
"While we were in harm's way in uniform, Kyrsten Sinema was protesting us in a pink tutu and denigrating our service," said an ad paid for by Defend Arizona, a group of companies supporting McSally.
An ad supporting Sinema counters by criticizing McSally's vote to repeal parts of Obamacare, saying "Martha McSally supported a health care bill with a crippling age tax."
Tuesday the pro-abortion rights group Emily's List launched a $1 million Spanish-language TV ad campaign attacking McSally's Obamacare vote. While McSally and Sinema are tied with white voters, Sinema enjoys a 20 point edge with Hispanics. The Democratic candidate for governor is David Garcia, a professor-turned-activist, which should also boost Hispanic turnout.
"The Democrats know that if they have any chance to flip the Senate majority it essentially goes to Nevada and Arizona," McSally said at a recent rally. "So I am literally the firewall race to make sure that Chuck Schumer and Elizabeth Warren and Bernie Sanders and all their friends are not in charge come January."
McSally paints Sinema as a fraud, a far-left Democrat disguised as a moderate. Sinema calls McSally a threat to Medicare and Social Security, portraying herself in ads – not as a lifelong Democrat, but independent.
"Arizonans are looking for someone who's independent, who's going to stand up for them and not just do what party bosses say," the three-term congresswoman told Fox News at a rally last week at ASU.
Despite each other's attempt to portray the other as radical, their voting records show Sinema is center left, McSally center right. Out of 1,043 congressional votes, the two competitors voted identically in half, according to a study by ProPublica.
Another study "Tracking Congress in the Age of Trump" by the political website 538.com found McSally supported President Trump's agenda in 98 percent of her votes, Sinema 62 percent – a point higher than West Virgina's moderate Sen. Joe Manchin and considerably higher than minority leaders Chuck Schumer (25) and Nancy Pelosi (18).
"This race is wide open and so people are going to have to wade through the attack ads to see which candidate appeals to the most," said Garcia. "You know McSally has kind of sided more with the Donald Trump side and of course Sinema has not. But she's reached across the aisle. She is more of a moderate Democrat, for sure. So it's going to be interesting to see that middle ground, who's going to attract the independent voters who will attract the moderate voters because the lines are going to be pretty clear."
According to Project Vote Smart, for all their similarities, there are key policy differences.
Sinema favors federal education mandates, McSally prefers state control.
Sinema supports government subsidies for renewable power, McSally does not.
Sinema is yes on gun control, McSally no.
McSally opposes Obamacare, Sinema doesn't.
McSally is pro-life, Sinema pro-choice. McSally favors a border wall with Mexico, Cinema does not.
"I voted for your tax cut, I'm voting to roll back regulations," McSally said. "She is trying to reinvent herself to be that way. But when it really matters, she puts on her Nancy Pelosi jersey and votes against the people of Arizona."
In the money race, Sinema has spent almost twice as much as McSally, $10.3 million to $5.7 million, according to Open Secrets. Sinema received most of her money from PACs and large contributors, specifically lawyers and the securities industry and interest groups like the American Civil Liberties Union and Planned Parenthood. McSally's largest contributors are retirees. She also received a large infusion from a group of local Arizona businessmen and the National Republican Senate Committee.
"What Arizonans care about is who's going to help them solve their problems," Sinema said. "What I think our campaign brings to the table is my own experience growing up in poverty and overcoming challenges in my own life."
This week is critical for both candidates, but especially McSally. Mitt Romney arrives Friday to shore up moderate Republicans along with former President George W. Bush next week. Monday is the candidates' one and only debate.
For McSally, a little known Tucson Republican, it's a critical statewide introduction, whereas Sinema is better known after years in the state legislature and three terms representing Phoenix.
Early voting began Wednesday. Arizona's Secretary of State expects 80 percent of those voting to vote before Election Day, making the next four weeks critical.