Impact of climate change on invasive species
Flathead catfish are invading another Georgia river, state officials warn, a predator that would threaten native fish including the prized redbreast sunfish.
The Georgia Department of Natural Resources said that systematic sampling in August found more than a dozen flathead catfish in a stretch of the Ogeechee River just upstream from Interstate 95.
Wildlife officials are urging anglers to catch as many flathead as they can and report them to the state Wildlife Resources Division, but not to release them back into the Ogeechee.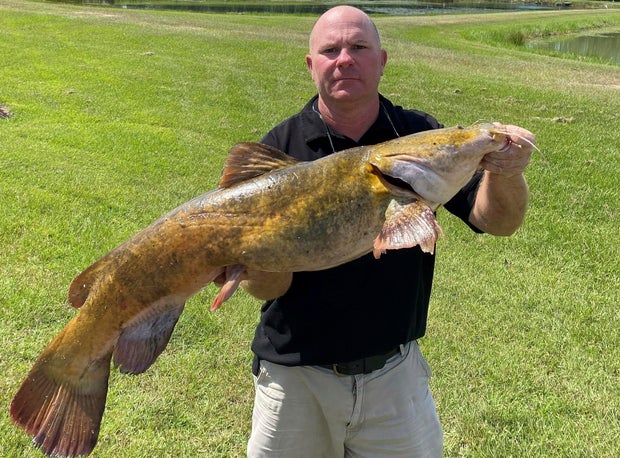 This photo provided by the Georgia Department of Natural Resources shows Joel Fleming holding a flathead catfish on Monday, Sept. 25, 2023, at the department fisheries regional office in Richmond Hill, Ga.
/ AP
"They are going to be one of the apex predators around every system once they establish those populations," Wildlife Resources biologist Joel Fleming told The Telegraph of Macon. "If they can fit it in their mouth, they're going to eat it."
A commercial fisherman had caught one flathead in the river in December 2021, but none of the fish had been found since then, despite extensive sampling.
"Staff have monitored the river and hoped it was a lone occurrence," the Georgia Department of Natural Resources said. "Unfortunately, in August 2023, flathead catfish were captured during sampling efforts. Since then, over a dozen have been removed from the Ogeechee."
"It's just physically impossible to take them all out"
The flathead catfish is native to many rivers that drain to the Gulf of Mexico, including the Coosa River drainage in northwest Georgia. But the fish has become established in multiple Georgia rivers that drain to the Atlantic Ocean, including the Satilla, Altamaha, and Savannah rivers.
"Flatheads can pose a significant ecological risk when introduced into new waterbodies, primarily through predation on native species," the Georgia Department of Natural Resources says.
Georgia officials have waged a long-running war against the flathead in the Satilla River, which drains parts of southeast Georgia before discharging into the Atlantic north of Brunswick, removing 64,000 flathead catfish from the river between 2007 and 2016. Wildlife biologists believe predatory flatheads, which can grow to more than 100 pounds, have suppressed populations of native fish in the Satilla basin.
In 1998, a man in Kansas caught a record-breaking 121-pound flathead catfish. And just three months ago, a man caught a 66-pound flathead in Pennsylvania, breaking the state record.
Fleming said that about 20 flatheads had been pulled from the Ogeechee as of Monday. The average size of the flatheads pulled was about 17 inches at the end of August, Fleming said, but one flathead removed by a two-person crew Monday was longer than 38 inches.
Fleming said biologists believe the flatheads caught in the Ogeechee may have "wandered in" from the Savannah River through coastal waterways when the rivers were high.
About six or seven people are using electrical current to stun fish on the Ogeechee and count different catfish species. Sampling crews can't tell for sure how far upstream flathead catfish have spread because they're removing the fish and killing them, instead of tagging them and releasing them.
Tim Barrett, coastal region fisheries supervisor for the Department of Natural Resources, said crews can only hope to hold down the population of flathead catfish in the Ogeechee.
"It's just physically impossible to take them all out," Barrett said.
Thanks for reading CBS NEWS.
Create your free account or log in
for more features.