Little Big Town are excited to put on their hosting hats.
During an interview with Fox News Digital, the group explained how honored they are to be hosting the inaugural People's Choice Country Awards. Band members Karen Fairchild, Kimberly Schlapman, Phillip Sweet and Jimi Westbrook promise it will be a "very special night" at the Grand Ole Opry House, which Fairchild called "the greatest place to play music in the world."
In addition to sharing their excitement about their hosting gig, the band revealed themselves to be the ultimate Swifties, joking they were members of the fan club since Taylor Swift "was a little Swiftie."
"She used to come in our dressing room and play videos games with the boys, and look through lip glosses, and we'd be talking," Fairchild said. "And she wrote her high school graduation paper about us as a band. And so we go way back."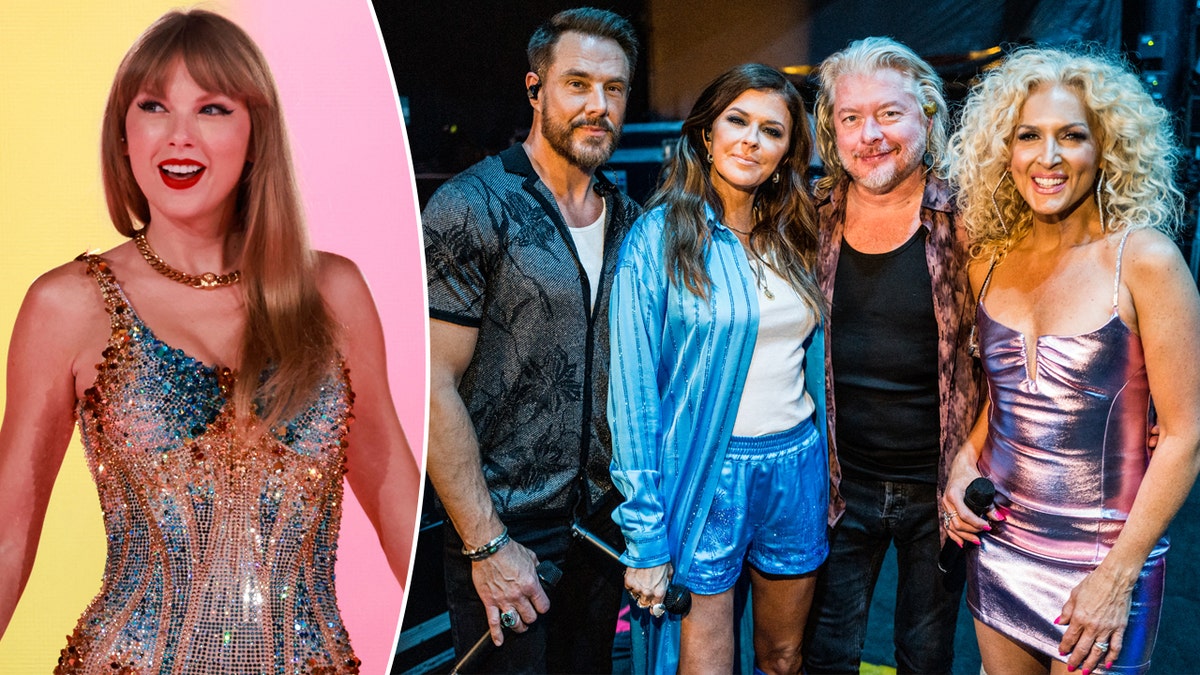 Little Big Town told Fox News Digital that they were Swifties when Taylor Swift "was a little Swiftie." (Getty Images)
KEVIN COSTNER 'BLOWN AWAY' BY TAYLOR SWIFT CONCERT: 'I'M OFFICIALLY A SWIFTIE'
Fairchild then recalled her experience seeing Swift in concert during the Eras Tour, calling it "just a moment in time [she'll] never forget." She was amazed by the length of the show, saying, "[Swift] doesn't stop for three hours and 20 minutes," with Westbrook commenting her show is "unreal."
WATCH: Little Big Town says they've been Swifties since the beginning
The "Sugar Coat" singer explained it was amazing to see Swift enjoying herself on stage and witnessing the "deep cult-like…fandom" she has created. Even the rain couldn't get in the way of Fairchild enjoying the show, as she told Fox News Digital that it was raining for four hours, but "[she] was still there in [her] poncho 'til 2 a.m. with a bunch of moms."
"I went on the night that it rained here in Nashville," she explained. "It's just funny to look over at all the football moms and all of our friends, and they're just like, 'Big reputation, big reputation' [she sang]. They were just dancing and singing, and they know every word, just like their kids. It was very special."
Westbrook was quick to point out that The Eras Tour not only impressed Fairchild, but has also led to Swift getting recognition from people in other industries as well. "When you didn't think she was able to take another level up, she did again," he said.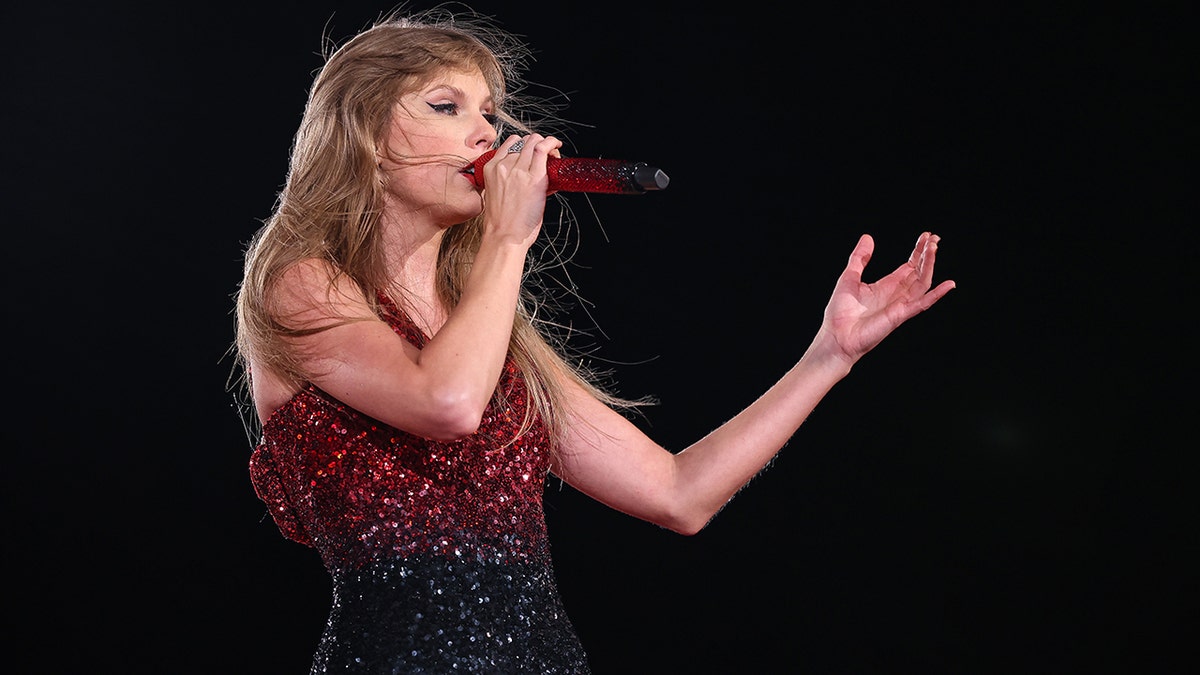 Karen Fairchild attended the Taylor Swift concert in Nashville where it rained. (Hector Vivas/TAS23/Getty Images for TAS Rights Management)
"Stephen Smith is one of my favorite analysts, and he had to come on his show and declare Taylor is the greatest," Westbrook explained. "It's that kind of thing like she is, where now I'm seeing in other genres that aren't even related."
WATCH: Karen Fairchild talks about her experience at the Taylor Swift concert
Aside from being fans of her as a performer, Little Big Town has had the opportunity to work with Swift when she wrote "Better Man," the band's lead single for their 2017 album "The Breaker." The song went on to win a Grammy for best country duo/group performance, and received an additional Grammy nomination for best country song.
"That was a defining moment for us in our career. And she sent it to Phillip in an email one night, and luckily he checked his email, which is not always done," Fairchild said. "She sent it to us just as a writer saying, 'I could hear you guys singing this. I know you're making new record. If you like it, let me know.'"
WATCH: Little Big Town 'honored' to be hosting the 'People's Choice Country Awards'
Nominees for the first-ever People's Choice Country Awards include Morgan Wallen, Jelly Roll, HARDY, Luke Combs and Lainey Wilson, and the show will feature performances by Blake Shelton, Carly Pearce, Kelsea Ballerini, Little Big Town, Wynonna Judd and others.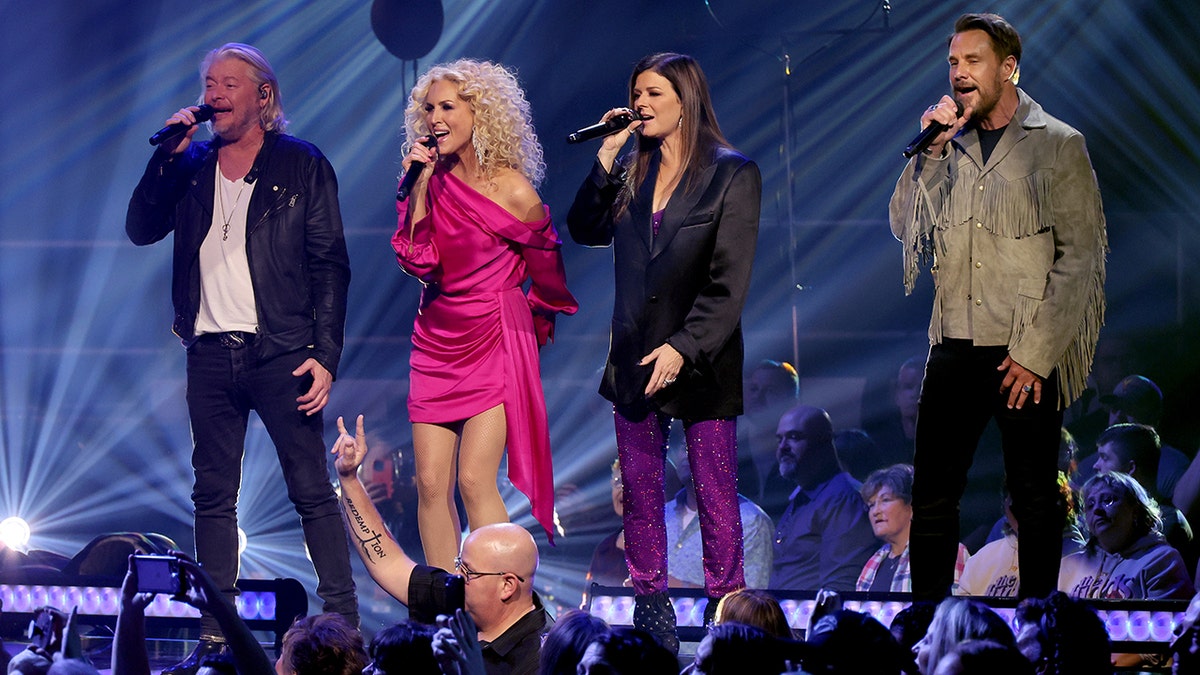 Little Big Town will host the People's Choice Country Awards. The group is pictured here during the CMTs. (Jason Kempin/Getty Images for CMT)
The People's Choice Country Awards are set to air Thursday on NBC and Peacock.
Lori Bashian is an entertainment production assistant for Fox News Digital.