34m ago
"If you decided to evacuate, now is not the time to return"
Officials in Charlotte County are urging residents who evacuated ahead of the storm to remain where they are. In a Facebook post shared Thursday morning, the county government said roadways "are extremely dangerous" and pose "many unknown hazards" due to flooding, debris and extreme wind conditions.
Located north of Fort Myers along Florida's western coast, Charlotte was one of the counties hardest hit by Ian when it made landfall as a hurricane on Wednesday, inundating the area with water and causing widespread power outages. Evacuation orders were put in place for some parts of the county on Monday.
"We hear your questions and concerns and are aware that Hurricane Ian was a powerful and devastating storm event," the Charlotte County government wrote in its Thursday morning post.
"Our entire Charlotte County family is ready to serve our community when we are able to get out and conduct a thorough safety assessment of our community," the post continued. "There is devastation. There are people in need. We need your help as well."
Emergency management crews, first responders, public works and utilities personnel had not yet been able to access damaged areas in Charlotte County when the social media message was posted, officials said, explaining that "the inundation of water, extreme wind conditions and debris in the roadways and waterways have made it difficult to do that safely."
"If you are trying to contact a loved one, please know that we are experiencing connectivity issues and many cellular service providers are down. Restoring communication is one of our top priorities," they added. "If you decided to evacuate, now is not the time to return regardless of where you live in Charlotte County. The roads are extremely dangerous with many unknown hazards."
49m ago
Chunk of Sanibel Causeway wiped out by Hurricane Ian
A chunk of the Sanibel Causeway, which links Sanibel Island to the Florida mainland, fell into the sea — cutting off access to the barrier island where 6,300 people normally live.
How many heeded mandatory evacuation orders before the storm surge washed over the island wasn't known.
Lee County, which is seeing "catastrophic damage" from the storm, said its Department of Transportation and law enforcement was on the scene at the causeway and in the Matlacha area, where "extensive damage occurred."
Here's a look at the causeway, in a photo from 2019: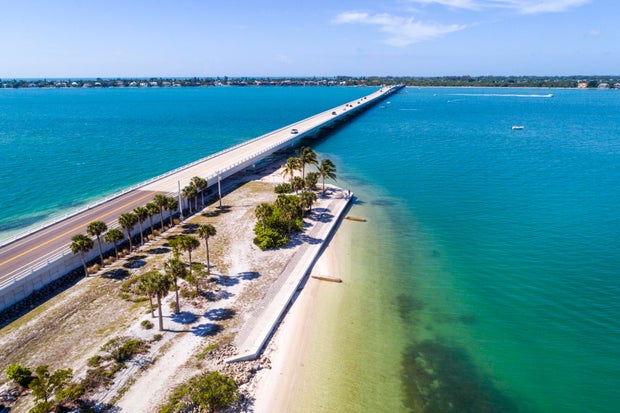 Florida, Sanibel Island Causeway, in 2019
Jeffrey Greenberg/Education Images/Universal Images Group via Getty Images
CBS/AP
98% of Lee County is without power
Almost all of Lee County - 98% - is without power Thursday morning and outages are expected to last for an "extended" period, officials said.
"It crushed us," Lee County Sheriff Carmine Marceno told ABC's "Good Morning America" about the storm. He said roads and bridges remained impassable, stranding thousands in the county where Ian made landfall just north of Fort Myers. "We still cannot access many of the people that are in need."
Marceno said that while he lacked any details, he believed the death toll would be "in the hundreds." Gov. Ron DeSantis later said that toll was not confirmed and was likely an estimate based on 911 calls.
The county is currently engaged in search and rescue efforts, "assessing infrastructure and structural damage and intensifying other response and recovery efforts in the wake of Hurricane Ian, which caused catastrophic damage throughout Lee County," officials said in a release.
All 15 shelters that were set up in the county before the storm are still open and will remain open.
CBS/AP
Utility crews standing by as millions wait for power to be restored
Utility companies had crews and trucks staged in St. Petersburg and The Villages ahead of Hurricane Ian, to be ready to respond to the widespread outages caused by the storm. Personnel and equipment from Texas, Alabama and other states were also dispatched to help.
Almost 2.6 million homes and businesses across a broad swath of Florida were without power Thursday morning, as tracked by poweroutage.us.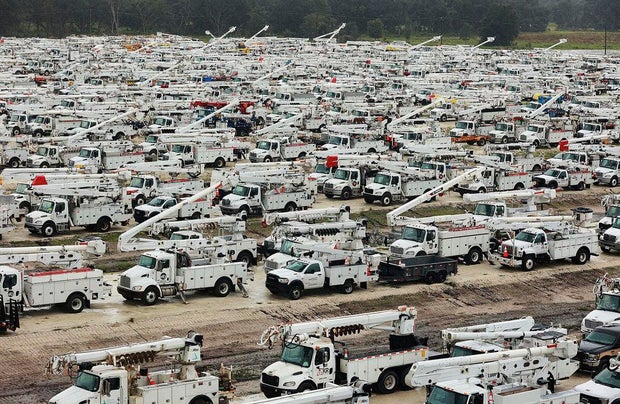 Utility trucks are staged in a rural lot in The Villages of Sumter County, Fla., Wednesday morning, Sept. 28, 2022, in preparation for Hurricane Ian.
Stephen M. Dowell/Orlando Sentinel via AP
One storm-related death confirmed
At least one storm-related death has been confirmed in Florida's Volusia County. A man died overnight as Ian poured heavy rain over central Florida, according to local authorities.
The Deltona resident, 72, apparently drowned after going outside to drain his pool around 1 a.m. Thursday, the Volusia sheriff's office said in a news release.
The man, who has not been publicly identified, was found unresponsive in a canal behind his residence, police said. Deputies arrived at the scene in response to a call from his wife, who reported his disappearance after leaving their house near Lake Bethel.
Officers said they discovered the man's flashlight before finding him in the canal.
"Several deputies pulled the victim from the water and performed CPR until paramedics arrived, but the victim could not be revived," the sheriff's office said. "He was later pronounced deceased at the hospital."
Police said their early investigation indicates that the man tried to use a hose to allow the pool to drain downhill into a canal measuring 30 feet across. The "steep decline" was "soft and slippery due to the heavy rain," they added.
Officials investigating at least 2 deaths possibly linked to Ian
Florida Gov. Ron DeSantis says the state is investigating two deaths that could be linked to Hurricane Ian.
"We don't know that they're linked to the storm, but our assumption is it likely is," he said at a briefing Thursday morning, adding that the Florida Department of Law Enforcement will make that assessment.
The fatalities were announced after Lee County Sheriff Carmine Marceno told "Good Morning America" Thursday that the county received thousands of 911 calls and people became trapped. He said there were fatalities.
At least one storm-related death has been confirmed in Volusia County. The sheriff said a 72-year-old man died after he went outside during the storm to drain his pool and he ended up unresponsive in a canal behind his home.
Southwest Florida, DeSantis said, was significantly damaged from the storm, particularly Charlotte and Lee counties, which are now "basically off the grid." Southwest Florida had more than 2 million power outages alone as of Thursday morning.
"The Charlotte and Lee reconnects are really likely going to likely have to be rebuilding of that infrastructure," he said, adding that linemen and crews are on their way but that it's going to "be more than just connecting a power line back to a pole."
Ian downgraded to a tropical storm overnight, but DeSantis said that doesn't mean the impacts are over. Central Florida, particularly Orange and Seminole counties, could see major flooding on Thursday.
"The amount of water that's been rising and will likely continue to rise today, even as the storm is passing, is basically a 500-year flood event," Desantis said.
"The impacts of this storm are historic and the damage that was done has been historic – and this is just off initial assessments," DeSantis said. "We've never seen a flood event like this. We've never seen storm surge of this magnitude."
He said it's going to take "years of effort" to recover.
Key West airport reopens, many others remain closed
Key West International Airport reopened early Thursday morning, but many other airports across the state remain closed in the aftermath of Hurricane Ian, which is now moving across the state as a tropical storm.
Airports along the Gulf Coast, including Tampa and Sarasota airports, are expected to largely be out of commission Thursday, CBS News' Kris Van Cleave reports from southwest Florida. Some airports - Miami and Fort-Lauderdale - are open, but say they are experiencing flight delays and cancellations.
A lot of airlines are offering refunds and flexibility to rebook tickets, Van Cleave reports.
Disney World, located in central Florida, is also closed, as are many hotels in the Orlando area.
Biden, DeSantis speak about response to Tropical Storm Ian
President Biden and Florida Gov. Ron DeSantis spoke Thursday morning to discuss the administration's efforts to help Florida in its response to Tropical Storm Ian, White House press secretary Karine Jean-Pierre said.
In a pair of tweets, Jean-Pierre said they discussed the president's declaration that a "major disaster exists" in Florida. Mr. Biden also told DeSantis that he is sending FEMA Administrator Deanne Criswell to Florida on Friday to monitor response efforts and see where more support is needed.
"The president and governor committed to continued close coordination," Jean-Pierre said.
Thursday's call between Mr. Biden and DeSantis is their second this week. The two also spoke Tuesday night as the storm barreled toward the state.

Warnings and watches in effect as of 8 a.m.
The National Hurricane Center said the following warnings and watches were in effect as of 8 a.m. ET:
A storm surge warning is in effect for:

A tropical storm warning is in effect for:
North of Bonita Beach to Indian Pass Florida
Jupiter Inlet Florida to Cape Lookout North Carolina
Lake Okeechobee

A storm surge watch is in effect for:

A hurricane watch is in effect for:
Pictures begin to show hurricane damage
Biden declares "major disaster" for Florida
President Biden approved a disaster declaration for Florida as the state reels from Tropical Storm Ian, unlocking federal funds to supplement recovery efforts in areas impacted by the storm, the White House said Thursday.
Mr. Biden's declaration specifically makes federal aid available to people in several counties along Florida's southwestern coast that felt the brunt of the storm as it came ashore: Charlotte, Collier, DeSoto, Hardee, Hillsborough, Lee, Manatee, Pinellas, and Sarasota.
In addition to grants for temporary housing and home repairs, low-cost loans for uninsured property losses and other programs for affected Florida residents and businesses, the assistance is available to help cover the cost of debris removal in the nine counties, according to the declaration.
Ian hits Port Charlotte hospital hard
Hurricane Ian swamped a Florida hospital from both above and below, the storm surge flooding its lower level emergency room while fierce winds tore part of its fourth floor roof from its intensive care unit, according to a doctor who works there.
Dr. Birgit Bodine spent the night at HCA Florida Fawcett Hospital in Port Charlotte, anticipating the storm would make things busy, "but we didn't anticipate that the roof would blow off on the fourth floor," she said.
Water gushed down Wednesday from above onto the ICU, forcing staff to evacuate the hospital's sickest patients - some of them on ventilators - to other floors. Staff members resorted to towels and plastic bins to try to mop up the sodden mess.
The medium-sized hospital spans four floors, but patients were forced into just two because of the damage.
Read more here.
CBS Fort Myers affiliate evacuated
The CBS affiliate in Fort Myers, Florida, WINK-TV, was being cleared out early Thursday, according to a tweet from a meteorologist at the station, Dylan Federico, who said, "212AM: Just woke up. We are being emergency evacuated from the WINK News building. I have no idea what's going on."
Fort Myers isn't far from where Hurricane Ian made landfall Wednesday.
But Wednesday night, he'd tweeted that, "The storm surge has peaked at WINK. Water has gone down about a foot, but the wind on the back side of this hurricane is unbelievably strong. We are safe in the 2nd floor."
He also said, "Fort Myers is pitch dark. Likely catastrophic failure of grid."
Hurricane hunter pilot discusses flights to track Ian
While most people try to flee from hurricanes, Captain Jason Mansour, who pilots a Gulfstream-IV Hurricane Hunter for the National Oceanic and Atmospheric Administration, flies into them. He spoke with CBS News' John Dickerson on "Prime Time" to discuss why.
"The Hurricane hunters go into harm's way to obtain the best possible information so the best possible forecast can be made," Mansour explained.
Biden to visit FEMA headquarters Thursday
As Hurricane Ian continues to batter Florida, the White House said President Biden would visit FEMA headquarters in Washington, D.C., on Thursday. While there, he will receive a "briefing on impacts from Hurricane Ian and ongoing Federal response efforts."
The president will then deliver remarks about the hurricane.