Authorities in North Carolina have made a breakthrough in a decades-old cold case involving a woman found by road crews on a highway near Jacksonville in 1990. After 33 years, the woman's remains were identified recently using updated DNA technologies and forensic genealogy tests, the Orange County Sheriff's Office, which is handling the case, wrote on Facebook.
The remains were identified as Lisa Coburn Kesler, who was 20 at the time of her death and previously spent most of her life in Jackson County, Georgia, Orange County Sheriff Charles Blackwood announced.
"Our vision statement talks about the ability to be able to visit and travel through our community safely," said Blackwood in a video message shared on Wednesday morning. "It took a long time to be able to solve this case. But the work, the diligence and not giving up, shows that we're staying true to our mission."
Kesler's body was originally discovered along the side of I-40 East near New Hope Church Road, about 50 miles west of Jacksonville in southeastern North Carolina. Officials have said they believe that someone strangled her about one week before the discovery in 1990, and dumped her body on the roadside.
The woman's identity was unknown for years, despite investigators' efforts to learn more about her through potential witness interviews, missing persons reports and facial reconstruction techniques that allowed them to create a bust of the victim and model of her skull. They generated digital illustrations and approximate images of her that were then sent out online, hoping someone would recognize her, and pursued "hundreds of leads" overall, the sheriff said.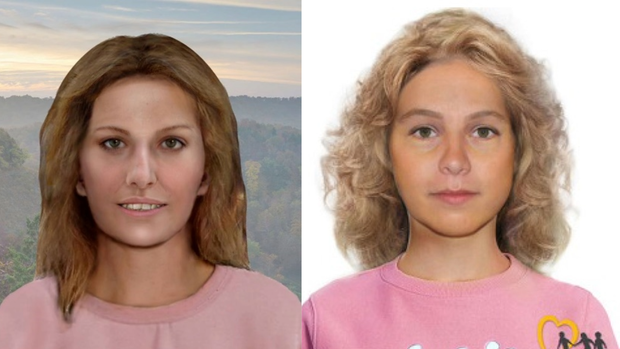 A digital illustration by Carl Koppleman (left) and a representation of Kesler's possible appearance created by the National Center for Missing and Exploited Children.
Orange County Sheriff's Office via Facebook
But the identity remained a mystery until a new investigator, Dylan Hendricks, took over the case in 2020 and collaborated with the State Bureau of Investigation in North Carolina. They collected a hair fragment from the remains and sent it to a forensics laboratory for DNA profiling. A forensic genealogist, Leslie Kaufman, who specializes in homicide cases involving unidentified human remains, used databases to link the resulting DNA profile to people whom she believed to be the victim's paternal cousins.
Subsequent interviews with those family members by investigators, plus additional tests cross-referencing the victim's DNA and a DNA sample taken from a maternal relative, eventually led them to confirm Kesler's identity.
"Essentially, there was a Lisa-shaped hole on a branch of the family tree right where the DNA told us Lisa should be, and no one knew where she was," Hendricks said in a statement. Clyde Gibbs, a medical examiner specialist with the office of the chief medical examiner, has since updated the National Missing and Unidentified Persons System to reflect the new development in Kesler's case. The chief medical examiner will also amend Kesler's death certificate to include her name and other details about her, according to the Orange County sheriff.
"Throughout the decades, some of our finest investigators kept plugging away. When you can't close a case, it gets under your skin. You might set the file aside for a while, but you keep coming back to it, looking to see something you didn't notice before, or hoping information gathered in ensuing cases has relevance to your cold case," Blackwood said in a separate statement.
The sheriff also detailed his office's work on Kesler's case, and what work still needs to be done to find her killer, in an editorial for The News of Orange County newspaper.
"I am very happy we solved the decades-old mystery of this young woman's identity, and I hope it provides solace to her remaining family members," Blackwood wrote, adding, "Our work on this case is not finished."
"Although we collectively demonstrated the value of dogged determination, we still need to identify Lisa's killer," the sheriff continued. "There is no statute of limitations on murder, and the investigation remains open."
Anyone with information potentially related to the case has been asked to report what they know to Hendricks by calling 919-245-2951. Tips can also be submitted anonymously on the Orange County Sheriff's Office website.
In:

Georgia

North Carolina

Cold Case

Missing Person

Crime
Thanks for reading CBS NEWS.
Create your free account or log in
for more features.