The third week of the 2023 NFL season had it all – a 70-point game, a few teams staying undefeated, a handful of others remaining winless and Taylor Swift mania taking of over the Kansas City Chiefs.
Swift has been rumored to be dating Chiefs star Travis Kelce, and she showed up to Sunday's game against the Chicago Bears. Kelce scored a touchdown as the team won 41-10.
The two left together, but it was not unclear if there were any romantic labels on their relationship.
CLICK HERE FOR MORE SPORTS COVERAGE ON FOXNEWS.COM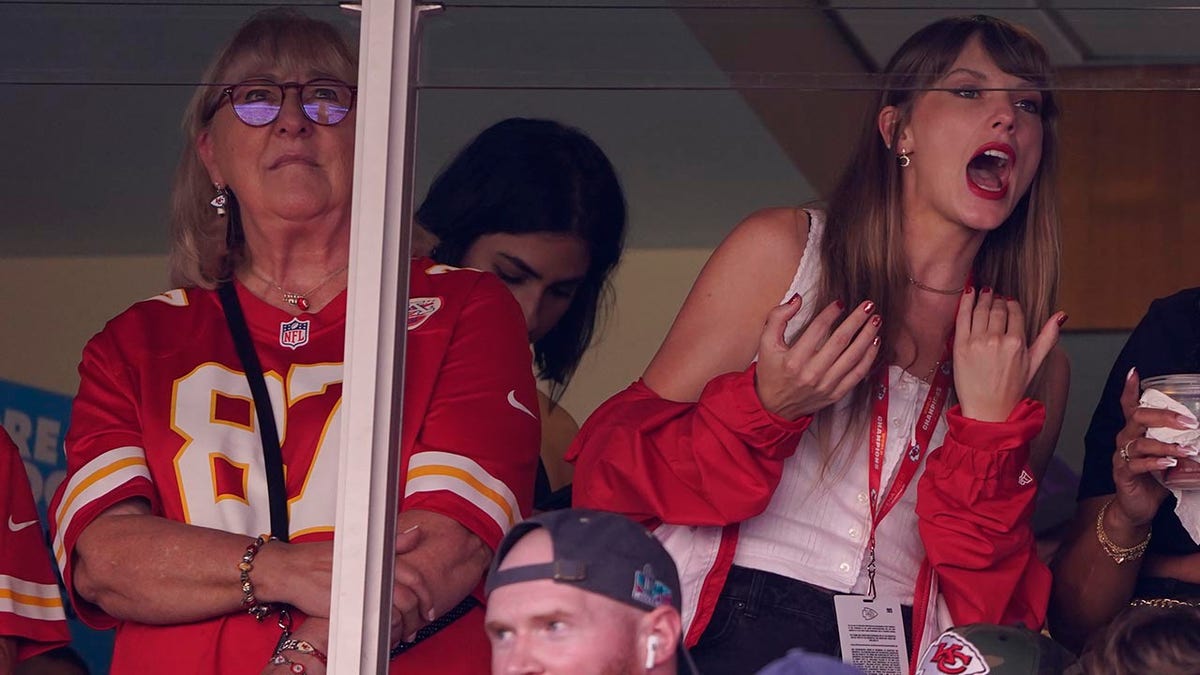 Taylor Swift, right, watches from a suite alongside Travis Kelce's mother, Donna Kelce, inside Arrowhead Stadium during the first half of an NFL football game between the Chicago Bears and Kansas City Chiefs Sunday, Sept. 24, 2023, in Kansas City, Missouri. (AP Photo/Ed Zurga)
Meanwhile, the Miami Dolphins trounced the Denver Broncos and became the first NFL team to reach the 70-point mark for the first time since 1966. Miami was just nine yards short of the all-time NFL record for most yards in a game. The Los Angeles Rams put up 735 against the New York Yanks in 1951.
The total also set a franchise record – which was broken in the third quarter once they had 56 on the board.
The Minnesota Vikings somehow remained winless despite having Kirk Cousins and Justin Jefferson. Strange play-calling at the end of the game against the Los Angeles Chargers.
Cousins was 32-of-50 for 367 yards and three touchdowns. He had a game-ending interception to Kenneth Murray. Jefferson had seven catches for 149 yards and a touchdown. The Chargers won the game 28-24 behind Justin Herbert's 405 passing yards and three touchdowns.
Here's how Week 3 shook out.
Week 3 scoreboard
49ers 30, Giants 12
Browns 27, Titans 3
Lions 20, Falcons 6
Packers 18, Saints 17
Dolphins 70, Broncos 20
Chargers 28, Vikings 24
Patriots 15, Jets 10
Bills 37, Commanders 3
Texans 37, Jaguars 17
Colts 22, Ravens 19 (OT)
Seahawks 37, Panthers 27
Chiefs 41, Bears 10
Cardinals 28, Cowboys 10
Steelers 23, Raiders 18
Eagles 25, Buccaneers 11
Bengals 19, Rams 16
--
NATIVE AMERICAN GROUP HOPES TAYLOR SWIFT'S INFLUENCE COULD END TOMAHAWK CHOP DURING CHIEFS GAMES
NFL standings through Week 3
AFC East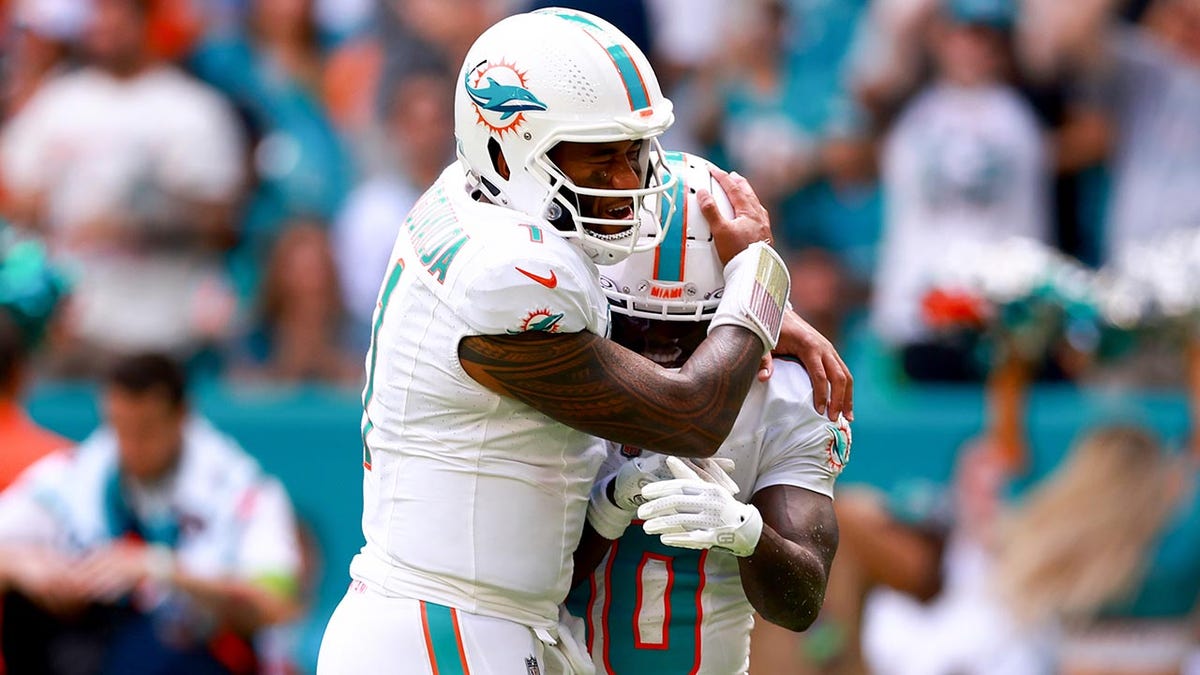 Tua Tagovailoa, #1 of the Miami Dolphins, and Tyreek Hill, #10 of the Miami Dolphins, celebrate after a Miami touchdown during the third quarter against the Denver Broncos at Hard Rock Stadium on Sept. 24, 2023 in Miami Gardens, Florida. (Megan Briggs/Getty Images)
Dolphins (3-0)
Bills (2-1)
Patriots (1-2)
Jets (1-2)
AFC North
Steelers (2-1)
Ravens (2-1)
Browns (2-1)
Bengals (1-2)
AFC South
Colts (2-1)
Texans (1-2)
Jaguars (1-2)
Titans (1-2)
AFC West
Chiefs (2-1)
Broncos (1-2)
Chargers (1-2)
Broncos (0-3)
NFC East
Eagles (2-0)
Cowboys (2-1)
Commanders (2-1)
Giants (1-2)
NFC North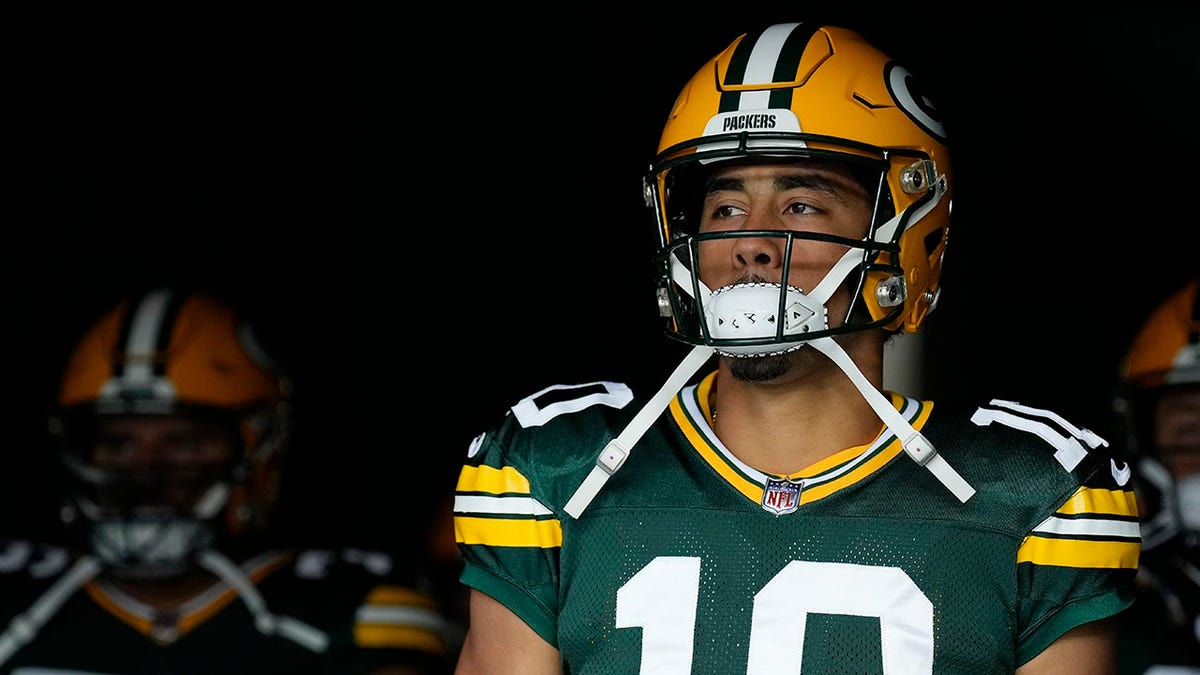 Jordan Love, #10 of the Green Bay Packers, takes the field prior to a game against the New Orleans Saints at Lambeau Field on Sept. 24, 2023 in Green Bay, Wisconsin. (Patrick McDermott/Getty Images)
Packers (2-1)
Lions (2-1)
Bears (0-3)
Vikings (0-3)
NFC South
Falcons (2-1)
Saints (2-1)
Buccaneers (2-1)
Panthers (0-3)
CLICK HERE TO GET THE FOX NEWS APP
NFC West
49ers (3-0)
Seahawks (2-1)
Rams (1-2)
Cardinals (1-2)
Ryan Gaydos is a senior editor for Fox News Digital.