We've wrapped up our live coverage for today. You can read more on Russia's invasion of Ukraine here, or scroll through the updates below.
55 min ago
Zelensky says summit pooled about $150M to help export Ukrainian grain to countries in need
From CNN's Mariya Knight
About $150 million was collected during a summit оn food security under the "Grain from Ukraine" initiative, Ukrainian President Volodymyr Zelensky said during a press briefing in Kyiv on Saturday.
Zelensky said that more than 20 countries showed their support for the initiative, which will export Ukrainian food products to countries in Africa.
According to Zelensky, Ukraine "plans to send at least 60 ships from Ukrainian ports to the countries most affected by the food crisis."
The president added that "one ship with Ukrainian grain provides for the needs of 90,000 people, and 60 ships will be able to prevent at least 5 million people from starvation."
Several countries have announced the amount of their financial support to the initiative.
President of the European Commission Ursula von der Leyen in a video message declared her full support for the cause and "welcomed the extension of the Black Sea Grain Initiative for 120 days."
Remember: Early this month, Russia said it was rejoining the Black Sea agreement, which guarantees safe passage for ships carrying vital grain exports from Ukraine.
"I am very pleased to announce the support of the European Commission to load two ships with grain," von der Leyen said about the Grain from Ukraine initiative. "We will pay to transport 40,000 tons of grain which is the remainder of the grain that you have made available. Whatever the costs are."
Further support:
1 hr 59 min ago
Zelensky and Belgium's prime minister sign declaration of support for Ukrainian EU and NATO membership
From CNN's Mariya Knight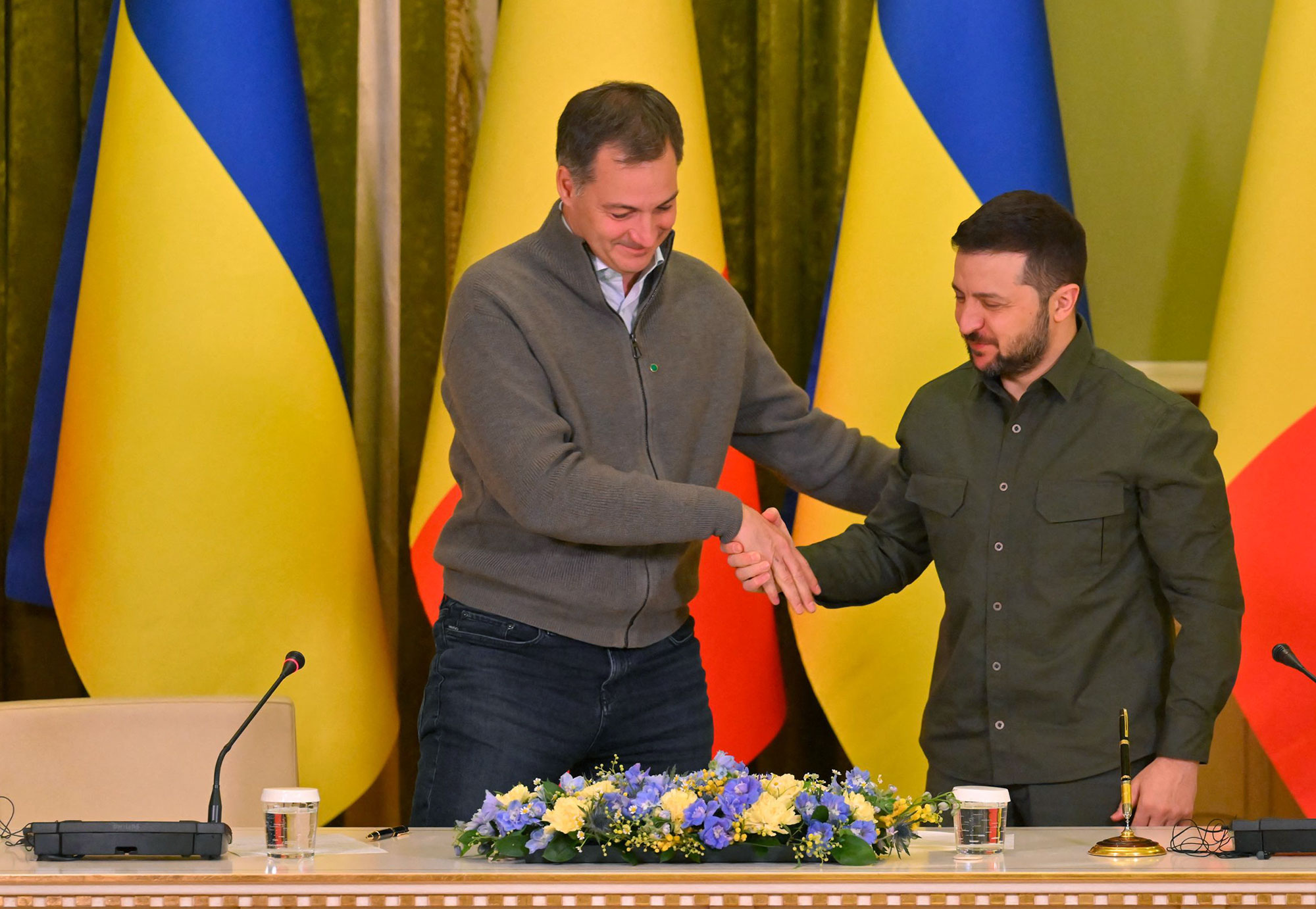 Belgian Prime Minister Alexander De Croo meets with Ukrainian President Volodymyr Zelensky in Kyiv, Ukraine, on Saturday, November 26. (Philip Reynaers/Belga Mag/AFP/Getty Images)
Ukrainian President Volodymyr Zelensky and Belgium's Prime Minister Alexander De Croo signed a declaration of support for Ukraine's membership to the European Union and NATO on Saturday during De Croo's working visit to Kyiv.
"I thank Belgium and the prime minister for the joint declaration signed today. This document testifies Belgium's support for our movement towards full membership in the European Union and NATO. We will definitely get this important result for us," Zelensky said.
Zelensky also expressed his gratitude to Belgium for "being ready to provide the necessary power generators and other equipment that is now vitally necessary for Ukrainian society" in the wake of Ukraine's power outages after Russian missile attacks.
Zelensky also praised Belgium's freeze on certain Russian assets.
"We appreciate that Belgium is the leader in the volume of frozen Russian assets – €50 billion, even more. It is important that the assets of the terrorist state are directed to compensation for the damage caused by its terror," he said.
De Croo said he hopes power generators and supplies sent to Ukraine for hospitals and schools would provide "resilience in these difficult times."
The pair also discussed the Grain from Ukraine initiative, and Zelensky thanked Belgium for its early support of the plan.
2 hr 51 min ago
Polish PM: Russia is failing on the battlefield, so it resorts to "death, starvation and hypothermia"
From CNN's Allegra Goodwin in London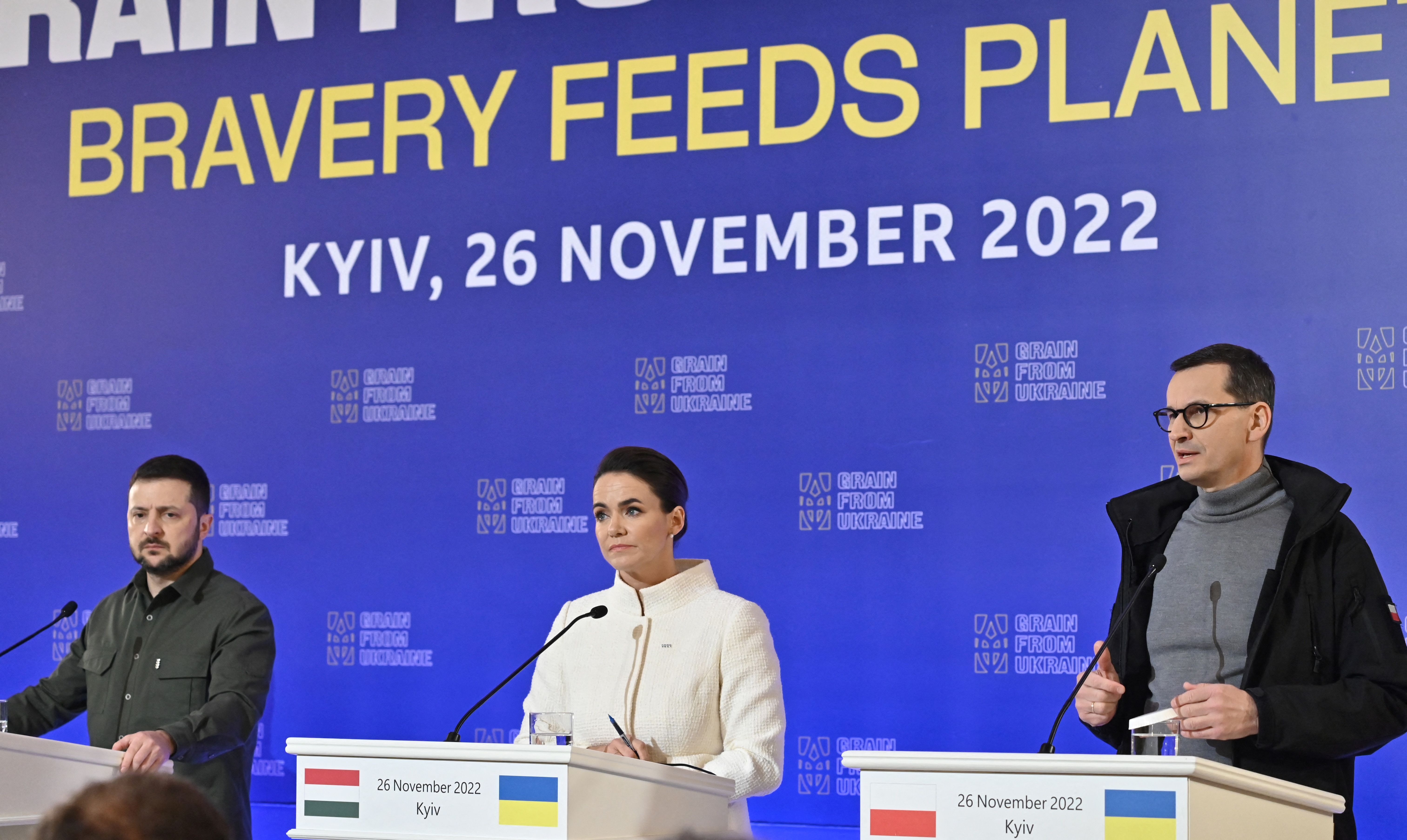 Polish Prime Minister Mateusz Morawiecki, right, speaks alongside Hungarian President Katalin Novak and Ukrainian President Volodymyr Zelensky in Kyiv, Ukraine, on November 26. (Genya Savilov/AFP/Getty Images)
Russia is cutting off vital infrastructure in its efforts to break Ukraine, Poland's Prime Minister Mateusz Morawiecki said on a visit to Kyiv Saturday.
In comments made at the International Summit of Food Security held in Ukraine's capital, Morawiecki said Russia had "overestimated its own military potential and already knows that victory on the battlefield may not be achievable."
"Therefore, Moscow is reaching for other methods to break Ukraine. Instead of fighting soldiers, Russia is bringing death, starvation and hypothermia to civilians," he continued.
"These methods of total warfare have long been in the Russian arsenal," Morawiecki said, on what is the 90th annual memorial day for victims of the Holodomor, a Soviet-era famine that killed millions of people during the winter of 1932-33.
"Russia is fighting to rebuild an empire and knows that an empire is built on bones and corpses of innocent people. Exactly like 90 years ago during the Holodomor times," he added.
Morawiecki's comments come not only as the world faces a global food crisis escalated by Russia's war, but as many Ukrainians are deprived of heating, water and electricity amid Russian strikes on civilian infrastructure.
3 hr 41 min ago
Residents without power are happy to get internet at connection points, though Zelensky has criticized rollout
From CNN's Andrew Carey, Maria Kostenko and Yulia Kesaieva
Interior of Invincibility Point in Kyiv, Ukraine. (Maria Kostenko/CNN)
Ukraine's President Volodymyr Zelensky has appealed to local authorities, including in the capital of Kyiv, to do more to build out his government's much-heralded "Invincibility Points" – which are popup stations offering shelter and services, such as power-charging facilities, internet connections and hot water.
The government announced plans to provide emergency support for civilians struggling without electricity and heating last week, just a couple of days before the latest round of Russian air strikes on Ukraine's energy infrastructure led to further significant disruptions.
But in his Friday night address, Zelensky criticized the program's rollout, especially in the capital, where he said only those points deployed at the railway station and at State Emergency Services facilities were working properly.
"Other points still need to be improved, to put it mildly," he added. "Kyiv residents need more protection."
Visiting the "Invincibility Points": CNN teams visited three of the government-advertised resource centers in the Ukrainian capital. Two of them, both SES-run facilities, were functioning, while a third located at a school was not.
At one location, in the Obolonskyi district in the north of the city, CNN spoke with Tetiana, who said her apartment had been without power and heat for more than 50 hours. During that time, she had also been without mobile phone service.
"We saw this ('Invincibility) Point' on the map and decided to try it," she said.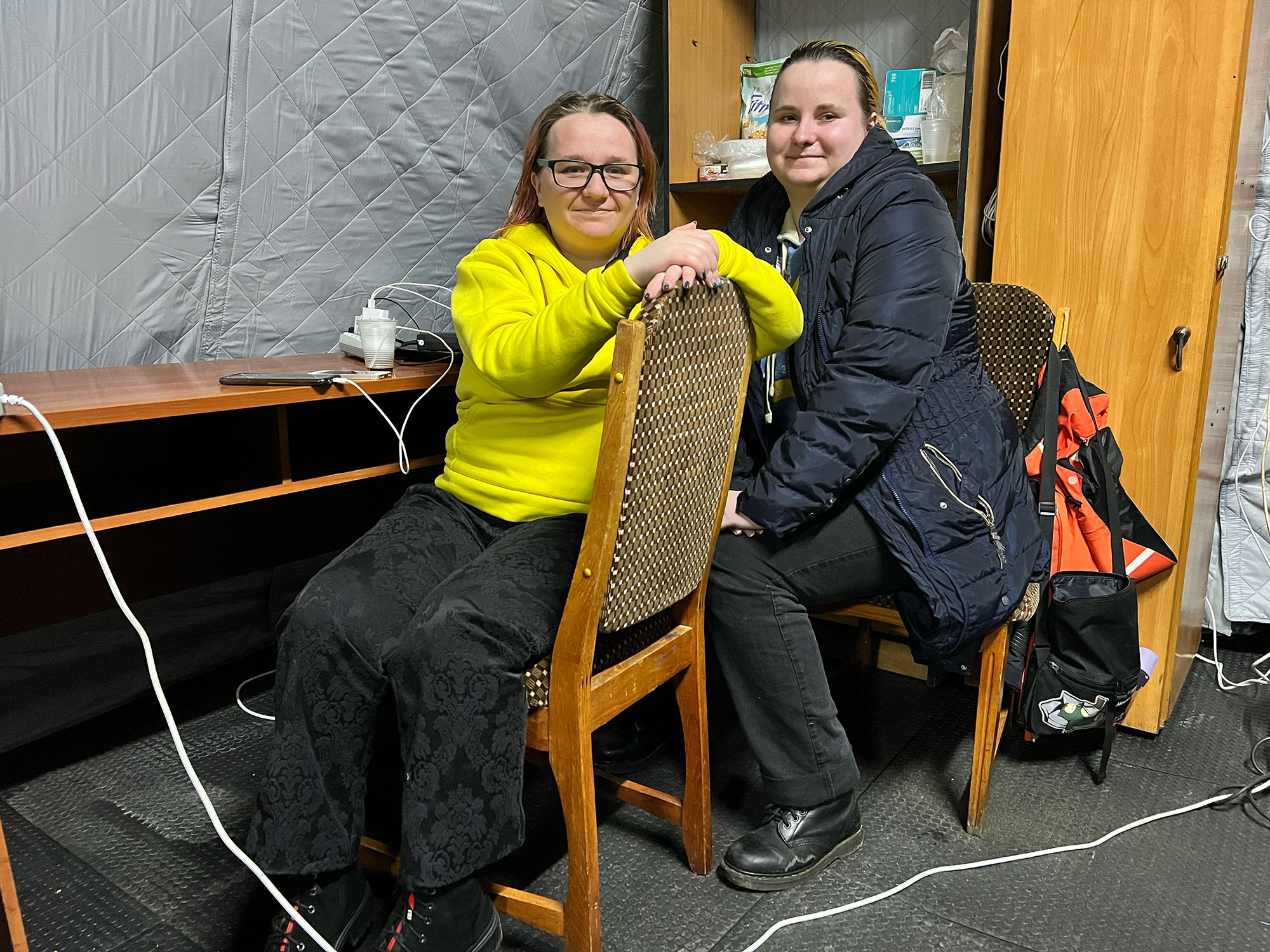 Tetiana, left, and Larysa inside an Invincibility Point in Kyiv, Ukraine. (Maria Kostenko/CNN)
Seated at a simple desk along one side of the roughly 30-square-meter (about 323 square feet) tent, its sides padded for warmth, she told us she was happy she could get online again. Her employer makes souvenirs, and the approaching holiday season is always a busy time, she said. "The internet is great here; I can do my work," she said.
Another resident, Larysa, was also impressed with the Wi-Fi available at the same site because it meant she could reconnect with social media.
"The internet is fast; I'm finally on TikTok," she laughed, adding, "I am looking for a job because I am from Lviv. I have recently moved to Kyiv."
A resident named Oleksiy told CNN he had also been without power at home for more than two days and was also using the internet provided to look for work.
"I have a wife and two children, aged 5 months old and 9 years old, at home. I will not bring my children here because it's a long walk, but I will definitely be coming here again," he said.
Those interviewed for this post declined to provide their last names to CNN.
3 hr 7 min ago
Hunger must never be used as weapon again, German chancellor says on Holodomor Memorial Day
From CNN's Allegra Goodwin in London
German Chancellor Olaf Scholz speaks in Cottbus, Germany, on Saturday, November 26. (Annette Riedl/picture alliance/Getty Images)
German Chancellor Olaf Scholz joined global leaders in marking the 90th anniversary of the Holodomor famine in Ukraine.
"Hunger must never again be used as a weapon," Scholz said Saturday, speaking on the memorial day for victims of the Soviet-era famine that killed millions of people during the winter of 1932-33.
In a speech in Berlin, Scholz drew comparisons between the Holodomor, or Terror Famine — which was engineered by Soviet leader Joseph Stalin by removing food stocks from Ukrainian peasants — and Russia's current actions in Ukraine.
"The gruesome tactics applied back then entailed isolation and the confiscation of grain and food supplies, the forced deportation of Ukrainians. Today, we stand united in stating that hunger must never again be used as a weapon. That is why we cannot tolerate what we are witnessing," the chancellor said.
"We know that by targeting agricultural infrastructure in Ukraine and blocking Black Sea ports for months, Russia has exacerbated this situation," Scholz added.
Scholz said that Germany would provide another $15.62 million for grain shipments from Ukraine in coordination with the World Food Programme.
"You can count on our support. Each ship that sails under this initiative doesn't just carry grain. It carries hope for the world's hungry. And it carries an important message. The message that we are united, that we will overcome this war. And that our joint humanity will prevail," Scholz added.
3 hr 14 min ago
Russia says it's "deeply shocked" by death of Belarus' foreign minister
From CNN's Zahra Ullah and Katharina Krebs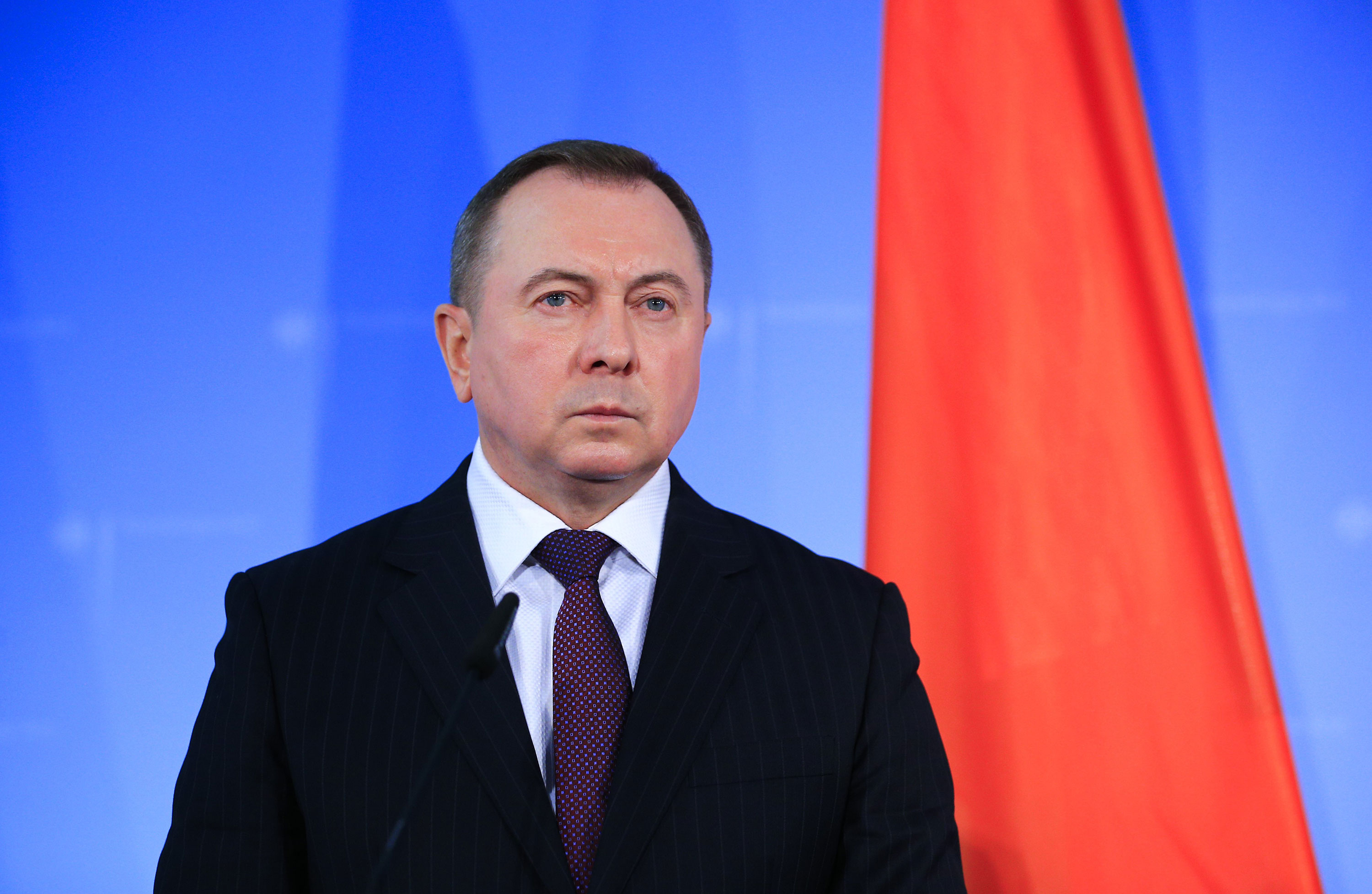 Belarusian Foreign Minister Vladimir Makei attends a press conference in 2019. (Abdulhamid Hosbas/Anadolu Agency/Getty Images)
The Russian Ministry of Foreign Affairs said in a statement on Saturday that it was "deeply shocked" by news of the death of Belarusian Minister of Foreign Affairs Vladimir Makei.
Makei died at the age of 64, the Belarusian Foreign Ministry said Saturday. On its official Facebook account, the ministry said he "suddenly passed away today" without providing more details about the circumstances surrounding his death.
"As head of the Foreign Ministry, he made a great contribution to the further strengthening of Russian-Belarusian relations," the Russian ministry said.
"He firmly and effectively defended the interests of the Republic of Belarus on international platforms," the ministry said, adding that "this is a heavy, irreparable loss."
Makei was scheduled to meet with Russian Foreign Minister Sergey Lavrov on Monday, according to Russian state media outlet RIA Novosti.
Some context: Belarusian leader Alexander Lukashenko, who expressed his condolences to Makei's family and friends on Saturday, is an ally of Russian President Vladimir Putin. In October, Belarus announced it would form a joint regional force with Russia and carry out exercises, setting off alarm bells in Kyiv. Makei had accused Ukraine of "impending provocations" against Belarus at that time, which Ukrainian officials vehemently denied.
At the start of the war in late February, Belarusian and Russian forces held joint exercises, with many of those Russian forces going on to cross the Ukrainian border in their ill-fated drive toward the capital.
CNN's Tim Lister contributed reporting to this post.
6 hr 11 min ago
12 Ukrainians freed in prisoner exchange with Russia, according to presidential official
From CNN's Kostan Nechyporenko and Katharina Krebs
Twelve Ukrainians have been freed in a prisoner exchange with Russia, according to a Ukrainian official.
Andriy Yermak, head of the Office of the President of Ukraine, said on Telegram Saturday that the Ukrainians included nine military personnel and three civilians, one of whom had been considered missing.
"The soldiers who defended, in particular, Mariupol, the Chernobyl Nuclear Power Plant and Snake Island are going home," Yermak said.
"We are working on the release of all our people. We don't stop," he added.
On the Russian side, the country's defense ministry said Saturday that nine Russian soldiers had been freed.
"As a result of the negotiation process, nine Russian servicemen who were in mortal danger were returned from the territory controlled by the Kyiv regime," the ministry said in a statement.
6 hr 25 min ago
Attack leaves at least 13 injured in Ukrainian city of Dnipro, according to official
From CNN's Kostan Nechyporenko, Manveena Suri and Chris Liakos
Rescuers work the site of an attack in Dnipro, Ukraine, on November 26. (Mykola Synelnykov/Reuters)
An attack left at least 13 people wounded in Dnipro on Saturday, according to a local official.
Valentyn Reznichenko, the head of the Dnipropetrovsk regional military administration, described the assault as a "rocket attack" on Telegram.
Four of the injured remain at the hospital, including a 17-year-old boy and a woman who was pulled out from under the rubble and is in serious condition, he said.
He added that seven homes were partially destroyed and that search and rescue operations are underway.