(CNN)For the better part of a decade, Republican Congressman Kevin McCarthy of California held a plum position in the Republican House caucus. A key member of the party's leadership as its majority swelled during the Tea Party and Trump years, McCarthy was next in line for the Speakership following Paul Ryan's 2018 announcement that he would not seek re-election. Then the 2018 Democratic wave crested, the Republicans were hurled back into the minority and the Speaker's gavel remained out of reach.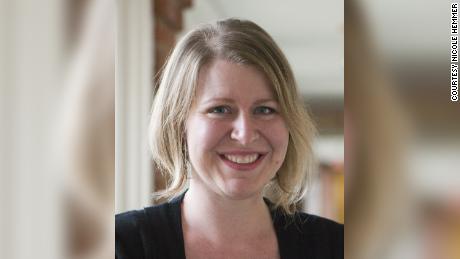 McCarthy is determined to change that in 2022. It is an auspicious year for Republicans: a midterm election looms with an incumbent Democratic president, high inflation rates are causing some economic pain for the electorate and Democrats hold a whisper-thin majority in the House that would take only a few flipped seats to overturn. It is little wonder that in recent months, McCarthy
has turned to
former Speaker Newt Gingrich, the architect of the 1994 Republican midterm triumph, to help push their party past the finish line and into the majority.
The "Commitment to America" is the
result of their collaboration
, released this week. It's a document that
lays out the priorities
that House Republicans would pursue if they win a majority. Seemingly modeled after the "Contract with America," which Gingrich used to nationalize the 1994 midterms, the "Commitment to America" is actually a radically different type of document, one that shows how much the party has changed over the past quarter-century.
Instead of a party eagerly reaching out to appeal to independents or mollify voters who are wary of the Republican Party's anti-abortion, anti-trans and pro-gun politics, the Republican Party of 2022 has made clear those issues are core to their political identity -- as is an implacable opposition to working with Democrats.
Because Gingrich became a partisan, polarizing figure during his years as Speaker, most Americans who remember "The Contract with America" recall it as one of the innovative political weapons in his arsenal. The Contract,
the story goes
, nationalized congressional elections by providing a single platform for hundreds of local elections, which helped elect the most conservative Congress in modern political history.
But Gingrich explicitly designed "The Contract with America" to be
non
-polarizing. Most of the items in the Contract revolved around popular areas of reform: term limits for members of the House, a financial audit of Congress, public access to all congressional hearings. It also included items like tort reform, which placed new limits on the ability to sue for damages. That legislation was framed in populist terms, an attack on lawyers and frivolous lawsuits, spurred by a
long-misunderstood lawsuit
over a McDonald's customer severely burned by the restaurant's coffee (though it also was a huge boon to businesses over consumers).
It was a conservative document, of course, calling for cuts to taxes and welfare provision, a balanced budget and greater military spending. But it had none of the polarizing issues that had been
fueling the party's conservative base
-- no mention of abortion or gun rights or even the Clinton administration.
The message was one less about policy than about changing the way a rigged system worked. As the Contract
began
, "As citizens seeking to join that body we propose not just to change its policies, but even more important, to restore the bonds of trust between the people and their elected representatives."
Citizens, trust, change, restore
: these words, as much if not more so than specific policy, were how Gingrich hoped to win a Republican majority.
That's because "The Contract with America" was not a document intended to woo or motivate the conservative base. It was meant to attract a very specific slice of the electorate: the Perot voter.
Ross Perot, a Texas billionaire who became a national phenomenon when he began appearing on CNN's Larry King Live! in the early 1990s, spooked both major parties with his presidential bid in 1992 -- and rightfully so. Despite his erratic campaign, Perot won
nearly 20% of the vote
-- enough to identify the Perot voter as the genuine swing vote in a two-party system.
But it was difficult to know how best to appeal to the Perot voter, given Perot's
own heterodox platform
. He supported abortion rights and restrictions on gun ownership, but also supported a balanced budget and opposed the North American Free Trade Agreement, a free-trade policy that
both Democratic and Republican leadership supported
.
To crack the Perot puzzle, Gingrich
worked with Frank Luntz
, Perot's pollster during the 1992 race. Luntz
gave some very un-Gingrich advice
: focus on popular issues phrased in appealing ways, with no reference to parties or to divisive social issues. Gingrich would have to holster his favorite political strategy, polarization, if he wanted to win the Perot vote.
As a result, "The Contract with America" was an unusual deviation for a Republican Party that was
rapidly radicalizing in the 1990s
. Whether it actually made a difference in the 1994 midterms is a question of debate.
Polls suggest
only a small percentage of Americans had factored it into their vote, and it repelled as many voters as it attracted. Gingrich, his hand firmly on the Speaker's gavel,
quickly passed the items
in the Contract and returned to his preferred approach of
polarization
and
obstruction
.
Whatever its political legacy, the Contract showed a path forward for the Republican Party very different from the one they ultimately chose. Which also makes it a stark contrast to the "Commitment to America." That document is stuffed full of divisive issues, from the rights of trans athletes to abortion, guns, and immigration. And while it is very light on policy, the preamble to the Commitment openly attacks Democrats' "extreme ideology" — opting for the polarization tactics that the party has perfected over the past quarter-century.
Newt Gingrich, who was present with McCarthy on Friday as the "Commitment to America" was rolled out, did not stay contained in the 1990s. He resigned the Speakership in ignominy in 1998 after a poor Republican showing in the 1998 midterms and following a censure for ethics violations. (He resigned his seat a few months later).
But there was a second act for Gingrich, who became a regular commentator on Fox News and in 2012 ran for the Republican nomination as a candidate well to the right of the eventual nominee, Mitt Romney. He was a champion of Donald Trump's presidency and now stands side-by-side with McCarthy.
All of which makes "The Commitment to America" a direct descendant of Newt Gingrich's divisive political leadership — but also a far cry from his "Contract with America."