All Fine Wine & Good Spirits liquor stores will be shut down in Philadelphia Wednesday after an hours-long crime spree rocked the city the previous night.
On Tuesday, mobs of young adults and teenagers looted multiple upscale retail stores like Apple, Lululemon and Footlocker in several parts of Philadelphia. These riots began after a judge dismissed charges against former police officer Mark Dial in the shooting death of 27-year-old Eddie Irizarry.
The Philadelphia Police Department later confirmed to FOX News Digital that by Wednesday morning, 49 adults and three juveniles were arrested.
Among the stores looted also included 18 Fine Wine & Good Spirits locations. These liquor stores are run by the governmental agency the Pennsylvania Liquor Control Board which controls the sale of distilled spirits as well as retail sales.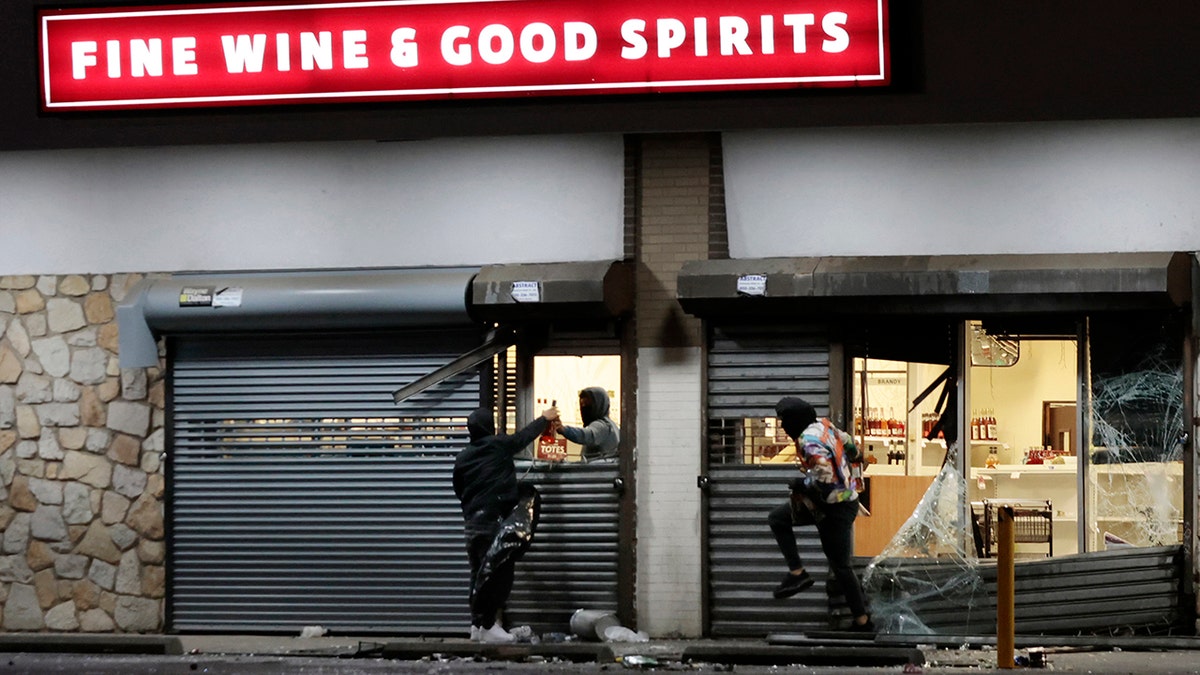 A Pennsylvania Liquor Control Board retail store is vandalized during the early morning hours on Wednesday, Sept. 27, 2023, in Philadelphia. (Elizabeth Robertson/The Philadelphia Inquirer via AP)
PHILADELPHIA LOOTING: DOZENS ARRESTED AFTER MOBS RANSACK MULTIPLE RETAIL STORES
Following the night of looting, the agency declared that these stores will be shut down on Wednesday and will be closed indefinitely until the damage can be assessed.
"Last night, at least 18 Fine Wine & Good Spirits stores in Philadelphia were looted. Fortunately, no employees were hurt, although some were understandably shaken," Pennsylvania Liquor Control Board press secretary Shawn M. Kelly said in a statement to FOX News Digital.
"Today, all FW&GS stores in Philadelphia and one in Cheltenham Plaza, Wyncote, Montgomery County, are closed in the interest of employee safety and while we assess the damage and loss that occurred. We will reopen stores when it is safe to do so and when the damage is repaired. It is too early to tell how much was damaged or destroyed," he continued.
"We apologize to our customers for the inconvenience, and we appreciate their patience and understanding."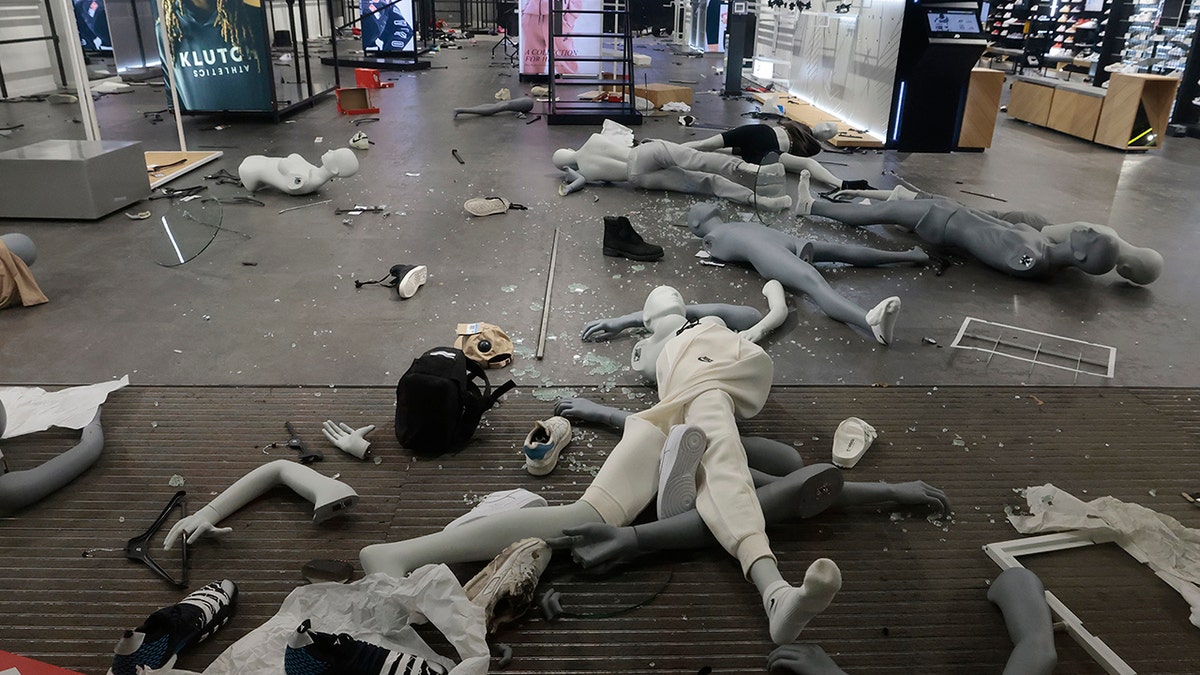 Over 50 people were arrested in connection with massive looting sprees on Tuesday night. (Elizabeth Robertson/The Philadelphia Inquirer via AP)
PHILADELPHIA SWARMED BY ALLEGED JUVENILE LOOTERS TARGETING THE APPLE STORE, LULULEMON, FOOTLOCKER AND OTHERS
Philadelphia Interim Police Commissioner John Stanford criticized the dozens of "criminal opportunists" whom he claimed took advantage of peaceful police protests to begin a night of mass looting.
"These were not protesters, these were criminals," Stanford said. "This is disgusting. It has no place in this city."
"What we had tonight was a bunch of criminal opportunists take advantage of a situation. It's not going to be tolerated. We made arrests and we're going to continue to make arrests until we have all the individuals or a number of the individuals responsible for what we've seen tonight in custody," he added.
Philadelphia has been the target for massive looting sprees in the past few years. In 2020, upwards of 1,000 looters reportedly targeted several businesses in the city for several days. This unrest followed the police killing of Walter Wallace Jr., a 27-year-old Black man who authorities claimed was armed with a knife prior to his death.
In 2022, a group of about 100 looters, mostly juveniles, ransacked a Wawa convenience store.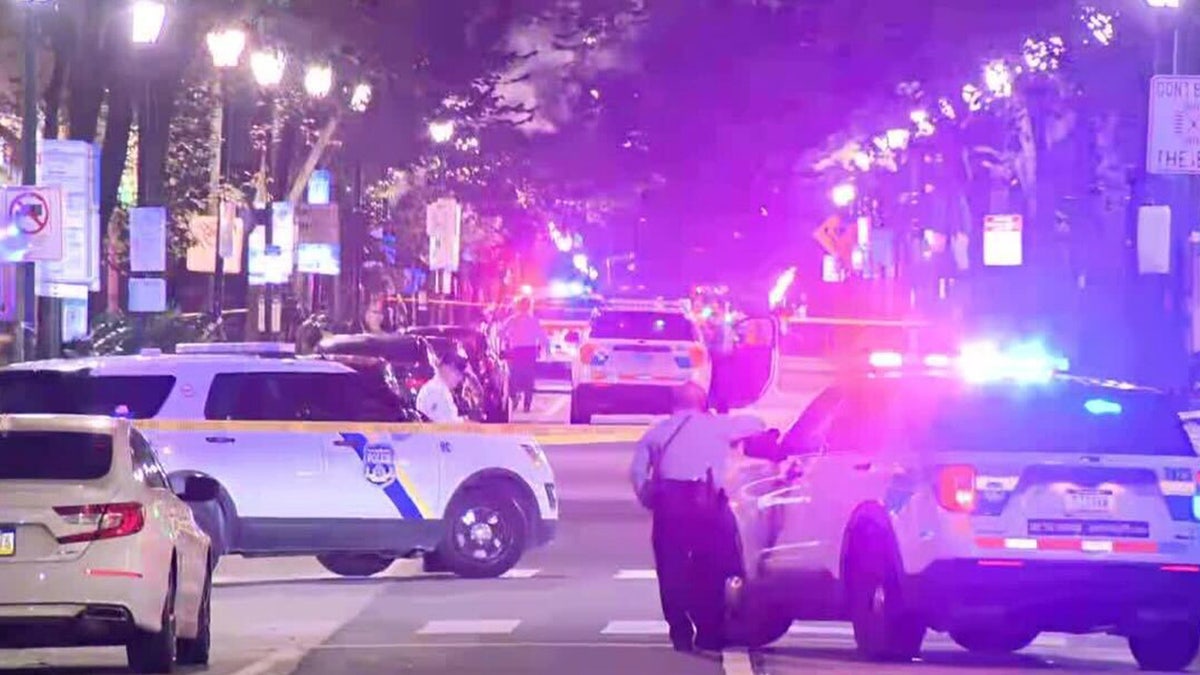 A massive police presence responded to Center City for widespread reports of looting. (FOX 29 Philadelphia)
CLICK HERE TO GET THE FOX NEWS APP
For more Culture, Media, Education, Opinion, and channel coverage, visit foxnews.com/media.
FOX News' Lawrence Richard contributed to this report.
Lindsay Kornick is an associate editor for Fox News Digital. Story tips can be sent to lindsay.kornick@fox.com and on Twitter: @lmkornick.