Former Secretary of State Mike Pompeo said Monday that Chinese President Xi Jinping is watching for "American weakness," after a four-star Air Force general surmised the U.S. will be at war with the world's most populous country by 2025.
Pompeo joined "Special Report" to discuss foreign affairs and the release of his new book "Never Give an Inch" when he was asked about the remarks from Gen. Mike Minihan.
"I take General Minahan to be serious, in the sense of he's clearly very concerned that we're not doing enough to prepare to deter the Chinese Communist Party," Pompeo said.
"I think that's what he was really getting at – It's hard to put timelines on any of these things: he says 2025."
IRAN, CHINA AGGRESSION SHOWS DISSIENTS HAVE REGIMES 'SHAKEN TO THEIR CORE': ENES FREEDOM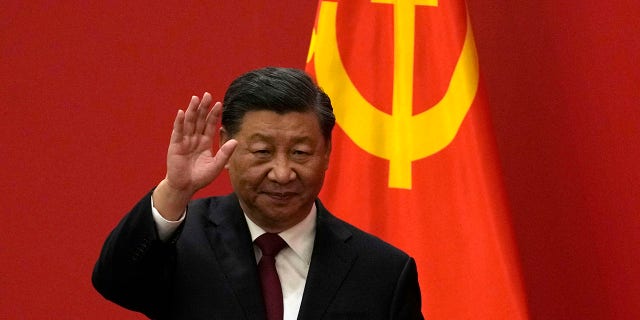 Chinese President Xi Jinping waves at an event (AP Photo/Andy Wong, File)
"But make no mistake about it, Xi Jinping is watching for American weakness. He's watching for an absence of resolve. And if he sees opportunity, he will seize that very opportunity."
Minihan, of Scott Air Force Base near O'Fallon, Ill., is in charge of the Air Mobility Command — which oversees refueling and transportation-related aircraft. He reportedly wrote a memo that suggested war with China within 2 years.
"My gut tells me we will fight in 2025," Minihan wrote, adding that his officers should instruct service members with "the full understanding that unrepentant lethality matters most."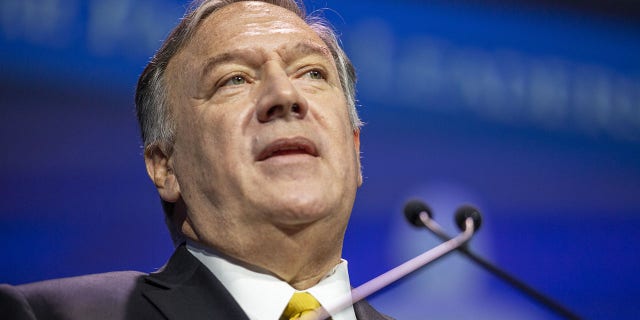 Michael Pompeo, former U.S. secretary of state, speaks during the FAMiLY Leader summit in Des Moines, Iowa, U.S., on Friday, July 16, 2021. Former Vice President Mike Pence is headlining the evangelical group's 10th annual leadership summit. (Rachel Mummey/Bloomberg via Getty Images)
On "Special Report," Pompeo also discussed the threat from Iran, which he said has been emphasized again as of late after three Iran-linked individuals were arrested and charged in the attempted assassination of an American journalist on U.S. soil.
"We know that the regime, the Ayatollah and now [President Ebrahim] Raisi, the Butcher of Tehran, we know that these are folks who want to wipe Israel off the face of the earth, they're happy to come after America next," Pompeo said.
"We know that they're trying to strike Americans here at home. We saw that there were three folks indicted; arrested here in the United States for trying to kill an American civilian."
"These are bad actors and our mission-set in the Trump administration was to deny them wealth and resources to reduce both their capacity to commit terror and to do the hard work, the work of the research and development of their weapons program."
CLICK TO GET THE FOX NEWS APP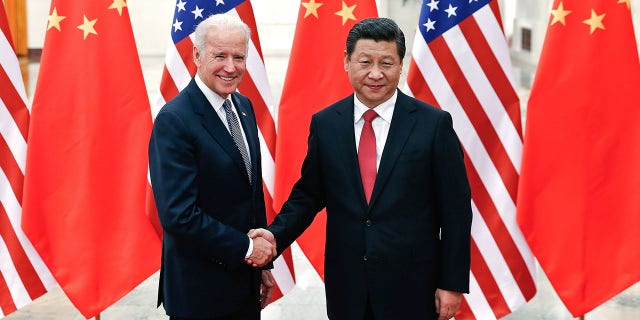 Chinese President Xi Jinping (R) shake hands with Joe Biden (L) inside the Great Hall of the People on December 4, 2013 ((Photo by Lintao Zhang/Getty Images))
Rafat Amirov of Iran and Khalid Mehdiyev – reportedly an Azerbaijani national living in Yonkers, N.Y. – and Polad Omarov, of the Czech Republic, were charged with murder-for-hire and money laundering charges according to an indictment from the Department of Justice.
The DOJ did not identify the victim by name, but only that they are a journalist and human rights activist based in Brooklyn, N.Y., with a history of highlighting Iranian human rights abuses and suppression of free expression.
Journalist Masih Alinejad later identified herself as the victim, saying "the country where I was born, Iran – the government wants to kill me, but my adopted country wants to protect me."
Charles Creitz is a reporter for Fox News Digital.
He joined Fox News in 2013 as a writer and production assistant.
Charles covers media, politics and breaking news, and has covered the annual CPAC conference for Fox News Digital.
Charles is a Pennsylvania native and graduated from Temple University with a B.A. in Broadcast Journalism. Story tips can be sent to charles.creitz@fox.com.