The commander of Russia's Black Sea Fleet appeared at a meeting in video and photos released by the country's defense ministry on Tuesday, a day after Ukraine said it killed him in a missile strike.
The images appeared to show Viktor Sokolov, one of Moscow's most senior naval officers, taking part in a video conference of military leaders that was led by Defense Minister Sergei Shoigu.
NBC News has not verified when or where the footage was recorded.
It comes after Ukraine's Special Operations Forces said on Monday that the commander of the fleet was among 34 officers killed in an attack on the occupied Crimean city of Sevastopol on Friday.
After the defense ministry released the footage on Tuesday, Kyiv said it was "clarifying the information."
"As is known, 34 officers were killed as a result of a missile attack on the headquarters of the Black Sea Fleet of the Russian Federation. Available sources claim that the commander of the Russian Black Sea Fleet was among the dead. Many still have not been identified due to the disparity of body fragments," the special operations forces said in a post on Telegram.
"Since the Russians were urgently forced to publish an answer with an apparently alive Sokolov, our units are clarifying the information. This is happening within the procedure for collecting data on the results of the operation," the forces added.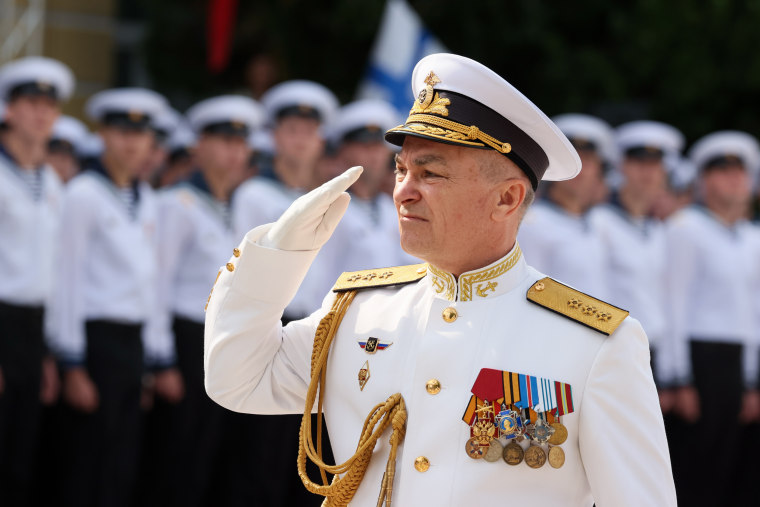 Viktor Sokolov.
Sergei Malgavko / Zuma Press
The footage clearly shows Sokolov's face appearing by webcam alongside other senior military figures. At one point in the video, Tuesday's date — "26. 09. 2023" — is visible. His name badge reads "V.N. Sokolov" and a Cyrillic abbreviation for the Black Sea Fleet appears on his screen.
State media outlets also reported Sokolov's virtual attendance at the meeting, though they did not say exactly when the meeting took place.
Kremlin Spokesman Dmitry Peskov declined twice to answer questions about Sokolov in his daily briefing with foreign journalists, instead directing questions to the defense ministry.
Kyiv did not provide evidence for the claim that it had killed the fleet's commander, which would make Sokolov one of the most high-profile losses among Russia's military top brass since the war began.
During the meeting, Shoigu gave an update on Russia's invasion and the creation of eight new military training centers to fast-track new recruits into the armed forces.
The addition of those centers will mean Russia has 128 in total, he said.
Russia's bombardment of key infrastructure continues, with strikes on ports and agricultural centers late Monday, Ukraine said.
Kyiv has been waging its own campaign of strikes against Russian targets, increasingly hitting the annexed Crimean peninsula.
Shortly after Friday's missile strike there, Moscow said that one of its servicemen was killed and that its defenses intercepted five missiles. It later updated to say that the serviceman was missing, and has yet to comment on the strike since.