The sending of billions in U.S. taxpayer dollars to Ukraine that continues to receive bipartisan support is reportedly being spent on much more than the war effort.
Through repeated aid packages supported by the Biden administration, Democrats and top Republicans in Congress, the U.S. taxpayer has been funding purchases of seeding and fertilizer for Ukraine's agriculture sector, supported small businesses such as one knitwear company, and paid first responders' salaries, according to a CBS News report.
The same report cited Ukraine being ranked second only to Russia as the most corrupt country in Europe by a top German NGO.
On "The Ingraham Angle," host Laura Ingraham further noted that in a recent White House briefing room appearance, National Security Advisor Jacob Sullivan declined to provide an exact figure for how much the U.S. has sent to Ukraine.
BIDEN ADDRESS UKRAINE, IGNORES BORDER CRISIS AT UNGA
Ingraham reported the amount is greater than $100 billion.
Sen. Rand Paul, R-Ky., one of the top fiscal hawks in Congress, told FOX News a "significant chunk" of U.S. funding indeed funds nonmilitary expenditures.
"[T]o add insult to injury. If there's a shutdown, US government workers will not be paid, but Ukrainian workers will be paid by the US taxpayer," he told "The Ingraham Angle."
Paul said the U.S. Constitution does not allow tax dollars to be used in this way half a world away.
"The spending clause in our constitution says that Congress can spend according to its enumerated powers -- the powers given to it by the Constitution -- and also for the general welfare," he said.
RAND PAUL LAMBASTS FAUCI FOR 'GETTING TREATED LIKE A PRESIDENT' WITH TAXPAYER-FUNDED SECURITY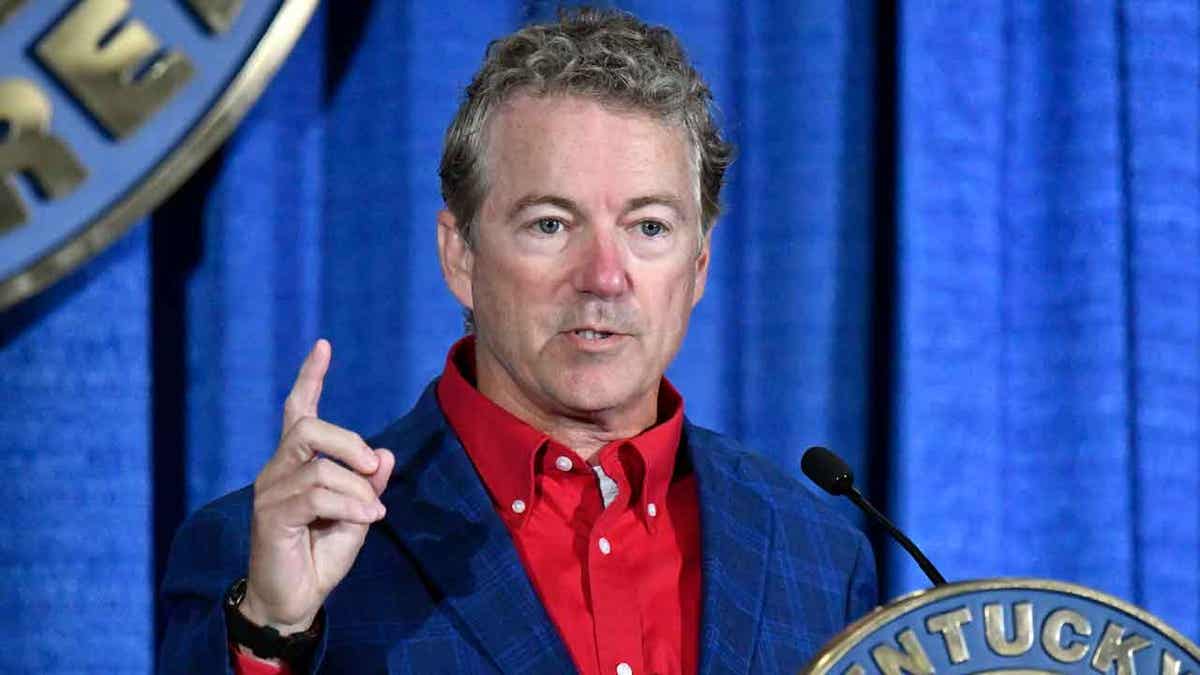 Sen. Rand Paul, R-Ky., speaks at at the Kentucky Farm Bureau (AP Photo/Timothy D. Easley, File)
Paul said it would be unconstitutional for the feds to simply appropriate $100 billion to Kentucky as a state, because that would violate the General Welfare clause, adding that it is therefore obviously illegal to appropriate it to another country.
"Our framers never imagined in their worst nightmare that we would send that much money overseas. But it violates every precept of the Constitution, and I'm going to do everything I can to stop them from sending any more," he said.
Paul's fellow senator in the Bluegrass State, Senate Minority Leader Mitch McConnell, notably said in December that "providing assistance for the Ukrainians to defeat the Russians is the number one priority in the United States right now, according to most Republicans."
The comment elicited stern rebukes from conservatives including former first son Donald Trump Jr., who replied that he has not met a single Republican who agrees.
CLICK TO GET THE FOX NEWS APP
Paul said the ideological parity of top Democrats and top Republicans is also "one of Washington's dirty little secrets."
He told FOX News there is not much daylight between the leaders of both caucuses on spending and war-related measures, but back in Kentucky both items are widely unpopular.
"Nearly 70% of Kentucky Republicans think we've got problems here at home. We had some bad flooding last year," Paul said. "We've had tornado damage. We've got roads that need to be fixed. We can't even get the kids to school in Louisville, it's so bad. But the thing is, is we don't see why that money should be going over to Ukraine."
He concluded that essentially paying Ukrainian workers while U.S. civil service employees might go unpaid during a looming government shutdown would therefore be the "height of gall" and added he will work to prevent future appropriations to Ukraine in that regard.
Sen. Richard Blumenthal, D-Conn., who recently visited Ukraine with Sens. Elizabeth Warren, D-Mass., and Lindsey Graham, R-S.C., said there has been "no diversion [nor] evidence of misappropriation."
"We're monitoring. We're following every piece of equipment," Blumenthal told CBS News, while Warren told the outlet she is confident the money being spent is going toward Ukraine's defense.
For more Culture, Media, Education, Opinion, and channel coverage, visit foxnews.com/media.
Charles Creitz is a reporter for Fox News Digital.
He joined Fox News in 2013 as a writer and production assistant.
Charles covers media, politics and culture for Fox News Digital.
Charles is a Pennsylvania native and graduated from Temple University with a B.A. in Broadcast Journalism. Story tips can be sent to charles.creitz@fox.com.