Sophia Loren is one of the few remaining stars of Hollywood's golden era, with a legacy as both a sex symbol and talented actress.
On Sunday, the Oscar-winner suffered a bad fall at her home in Switzerland and underwent emergency surgery to help heal several fractures.
"The surgery went well, and now we only need to wait," a spokesperson for the Italian actress told Fox News Digital on Monday. "I have no additional information at the moment."
Loren is expected to recover but face a long rehabilitation, according to The Hollywood Reporter.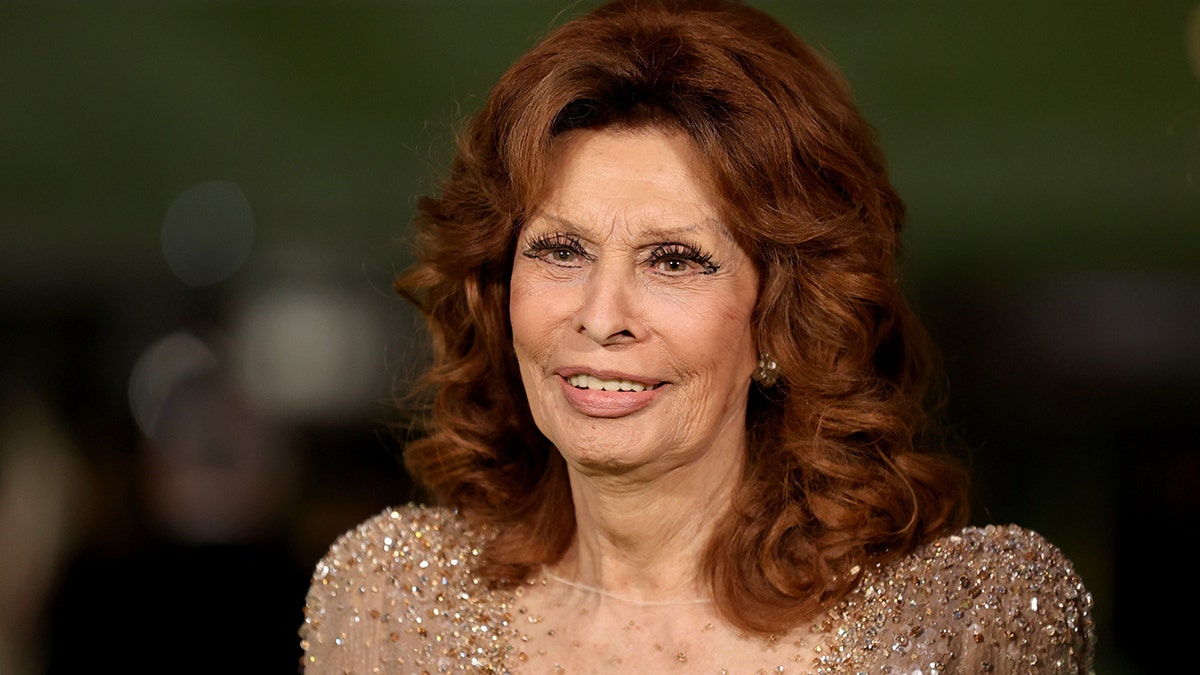 Sophia Loren is recovering from surgery after a fall at her home in Switzerland. (Amy Sussman/Getty Images)
The 89-year-old is semi-retired, having recently appeared in the 2020 film "The Life Ahead," directed by her son, Edoardo Ponti, following a 10-year acting hiatus, and was the subject of the 2021 documentary "What Would Sophia Loren Do?"
SOPHIA LOREN ON RETURNING TO ACTING AFTER A LONG HIATUS: 'I WANTED TO BE INSPIRED AND CHALLENGED'
In 2019, Fox News Digital spoke with Loren, who said she was still "full of pep" and wasn't done just yet.
"Oh, it's a little bit too early to think about that," Loren said when asked about her legacy. "To be remembered? I'm still alive. (laughs) I'm full of pep! I'm full of things I want to do. It's a little bit premature to think about that. No, no, no — it's too early."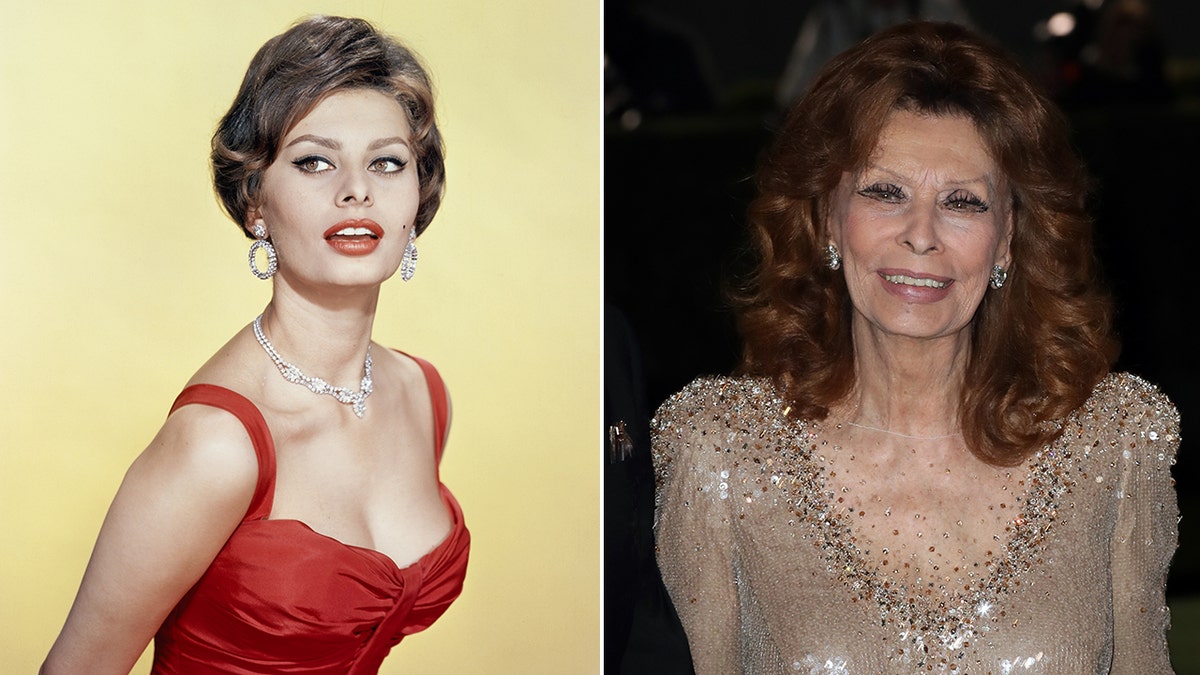 Sophia Loren told Fox News Digital in 2019 that she was still "full of pep" and not ready to think about her legacy just yet. (Getty Images)
LIKE WHAT YOU'RE READING? CLICK HERE FOR MORE ENTERTAINMENT NEWS
Acting Career and Oscar Win
Loren began her film career in 1950 at age 16 and earned her first starring role in 1953's "Aida," which garnered the young star major critical acclaim.
In 1958, she landed a five-picture contract with Paramount Pictures, which launched her to international stardom, with films like "Desire Under the Elms," "Houseboat" with Cary Grant and "Heller in Pink Tights."
Her role as a mother trying to protect her daughter in war-torn Italy in 1961's "Two Women" earned her an Oscar for best actress, the first for an Italian actress and a non-English language performance.
Loren's popularity grew, and she was also known for roles that earned her the title of sex symbol.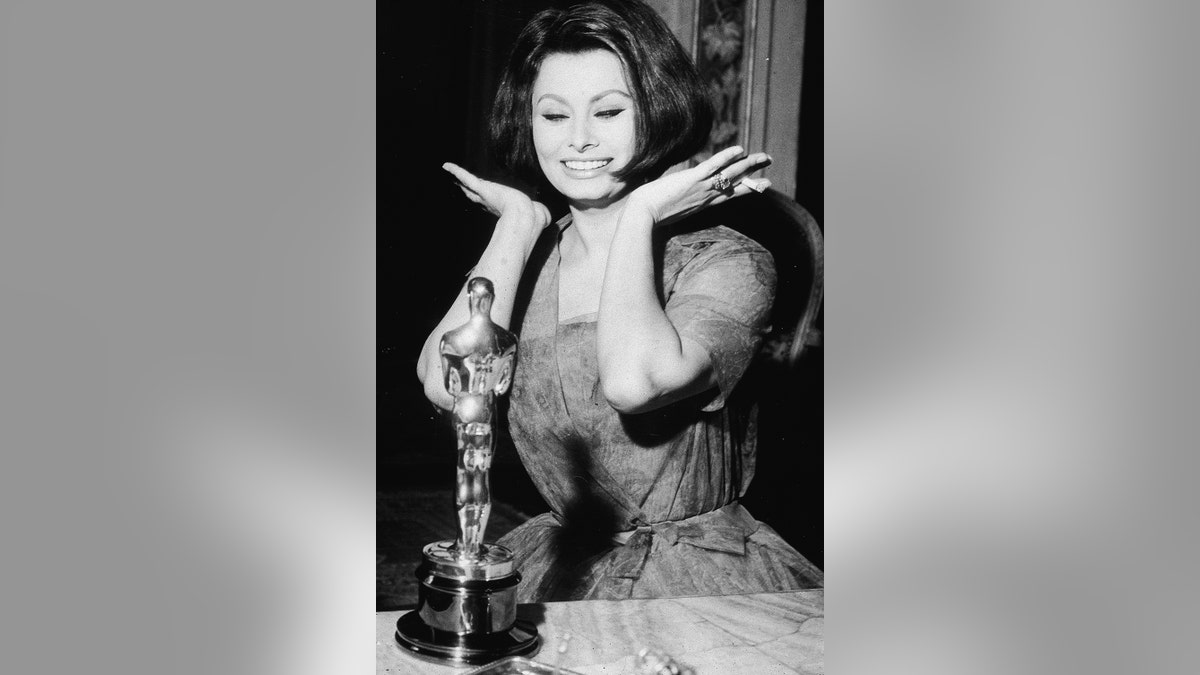 Sophia Loren reacts after winning her best actress Oscar for the film "Two Women" in 1962. (Getty Images)
The actress spoke with Fox News Digital in 2019 about performing a striptease in the 1963 film "Yesterday, Today and Tomorrow" for frequent co-star Marcello Mastroianni.
"Ah, the strip scene," she said at the time. "Well, it was part of the picture, part of the scene we had to do. And it was really fun to give Marcello Mastroianni a chance to be terribly funny, as he was, actually. And that was, I think, really the brilliancy of the film. We had a lot of fun bringing that scene to life. And I think that still shows today. I love that people still appreciate it and it makes them laugh a lot. It makes me happy to still make audiences smile."
SOPHIA LOREN, 86, REVEALS HER BIGGEST REGRET: 'THAT WAS THE DREAM OF MY LIFE'
Loren received an additional Oscar nomination for "Marriage Italian Style" in 1964 and continued working throughout the '70s and '80s.
In 1991, she received an honorary Oscar for her career achievement, and continued working occasionally throughout the decade. Loren appeared in "Grumpier Old Men" alongside Walter Matthau, Jack Lemmon and Ann-Margret as a sexy restaurant owner who comes between the titular characters.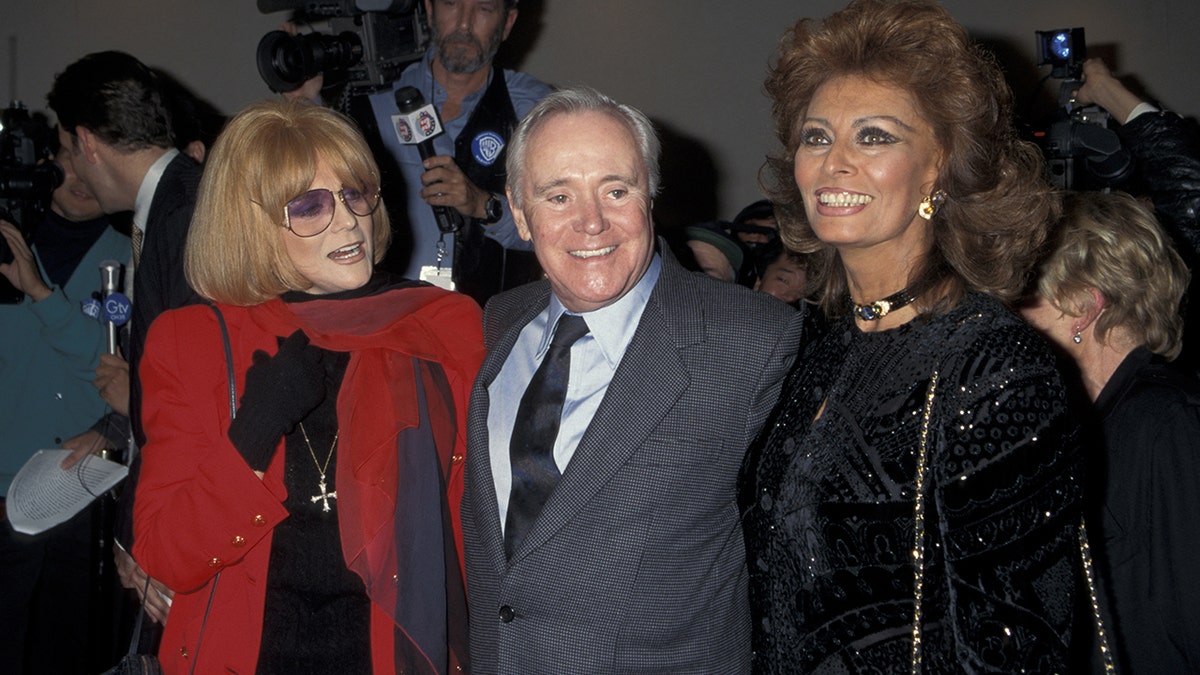 Ann Margret, Jack Lemmon and Sophia Loren appear at the "Grumpier Old Men" Los Angeles premiere in 1995. (Jim Smeal/Ron Galella Collection via Getty Images)
She also appeared in the 2009 musical "Nine," co-starring Daniel Day-Lewis and Kate Hudson.
The star stepped away from the spotlight in the mid-2010s before returning for "The Life Ahead," a feature length-film directed by her son, Edoardo Ponti. In the film, she plays a Holocaust survivor who befriends a young boy from Senegal, and her performance earned her a best actress honor from AARP.
SOPHIA LOREN REFLECTS ON WORKING WITH CHARLIE CHAPLIN, JOHN WAYNE: 'I WAS SO NERVOUS'
Marriage and Bigamy Charges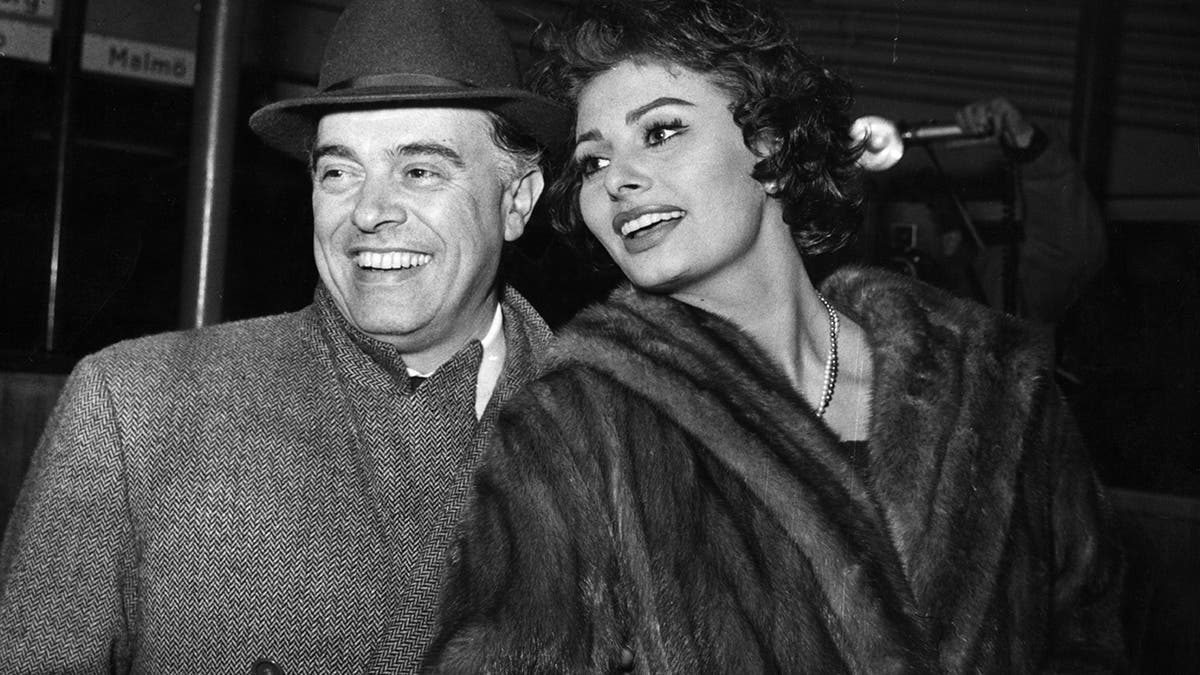 Carlo Ponti and Sophia Loren married in 1957, but their relationship was complicated by legal matters until the 1960s. (Keystone/Getty Images)
Loren was married to Italian film producer Carlo Ponti from 1957 until his death in 2007, but the relationship wasn't without its issues.
They first met when Loren was still a teenager and Ponti was in his late thirties, and he was already married to his first wife, Giuliana.
Though separated, Ponti was unable to obtain a divorce due to strict laws at the time in Italy and attempted to seek one in Mexico.
He and Loren married in Mexico as well, but upon return to Italy, Ponti faced bigamy charges.
"I was being threatened with excommunication, with the everlasting fire, and for what reason? I had fallen in love with a man whose own marriage had ended long before," Loren said in an interview about the situation.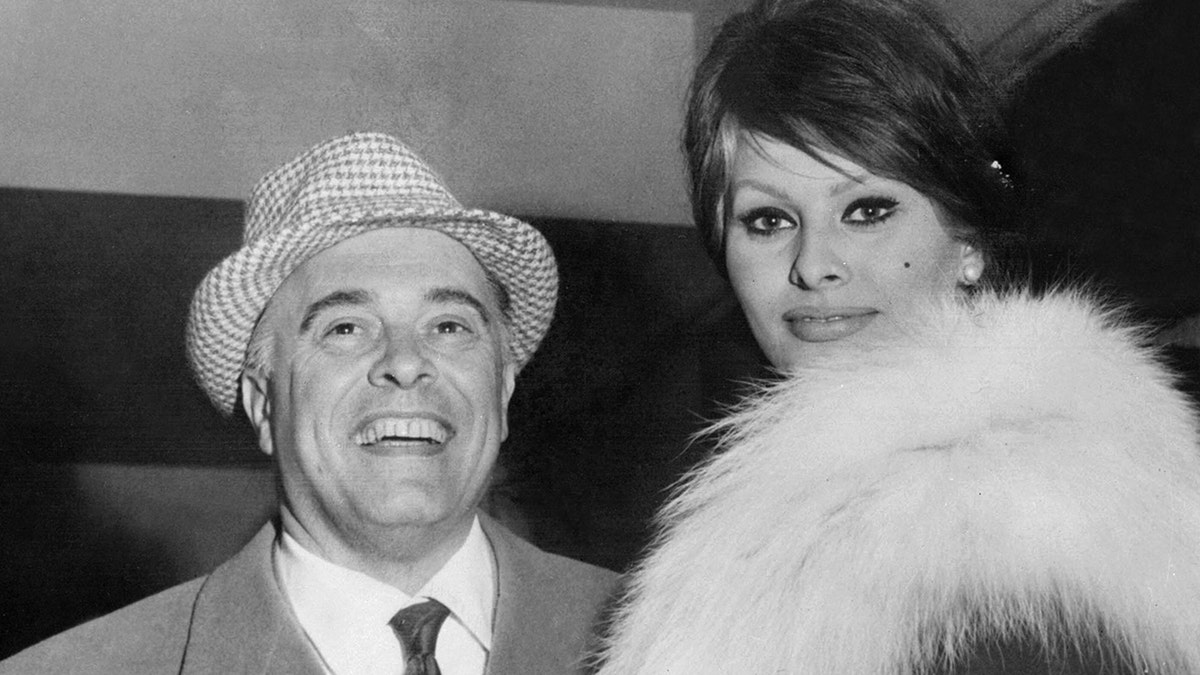 Carlo Ponti was charged with bigamy in Italy over his marriage to Sophia Loren, before they annulled it and eventually became French citizens, where they later legally married. (STAFF/AFP via Getty Images)
CARLO PONTI, HUSBAND TO SOPHIA LOREN, DEAD AT 94
"I wanted to be his wife and have his children. We had done the best the law would allow to make it official, but they were calling us public sinners," she said. "We should have been taking a honeymoon, but all I remember is weeping for hours."
Their marriage was annulled in Mexico in 1962, and they later became French citizens, where Ponti was able to receive a divorce and eventually marry Loren legally in 1966.
Together, they had two sons, Carlo Ponti Jr. and Edoardo Ponti, and remained married until Ponti's death in 2007.
In 2019, Loren told Fox News Digital the secret to her long-lasting marriage to Ponti.
"My only marriage. … I married once in my life, and that was a wonderful marriage. It was a marriage of love. It was a wonderful moment in my life. We have two beautiful children, and my family is always with me, always around me. … I never forget," she said.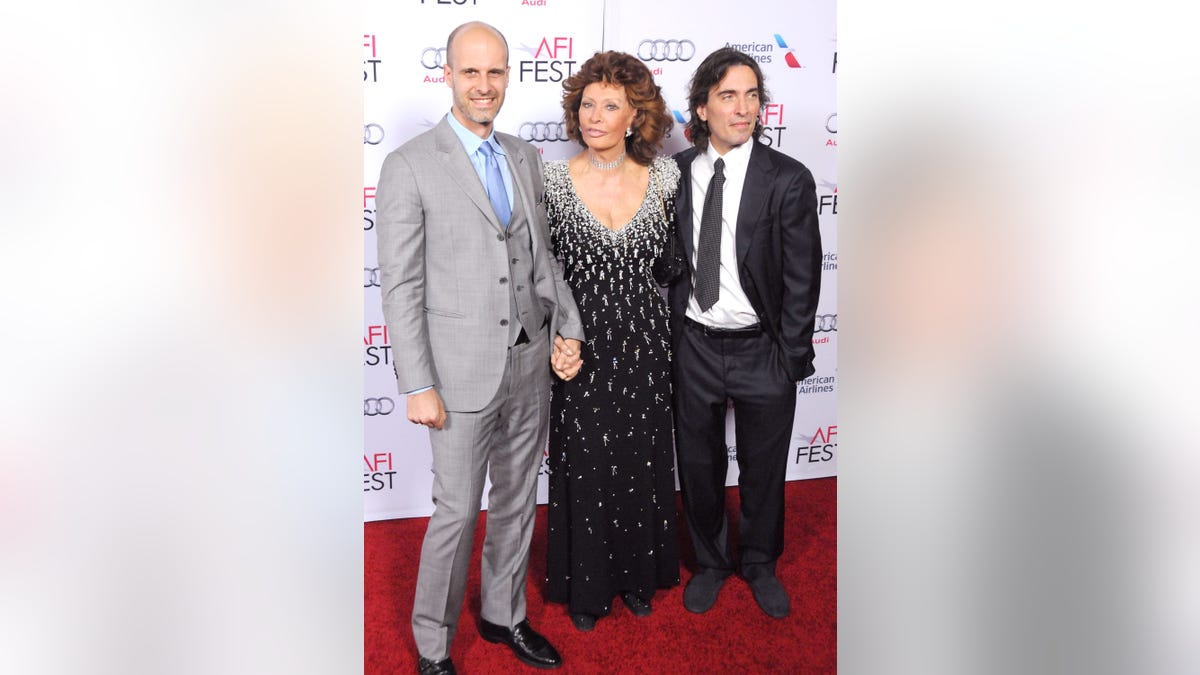 Sophia Loren with her children, Edoardo Ponti, left, and Carlo Ponti Jr. in 2014. (Barry King/FilmMagic)
CLICK HERE TO SIGN UP FOR THE ENTERTAINMENT NEWSLETTER
Affair with Cary Grant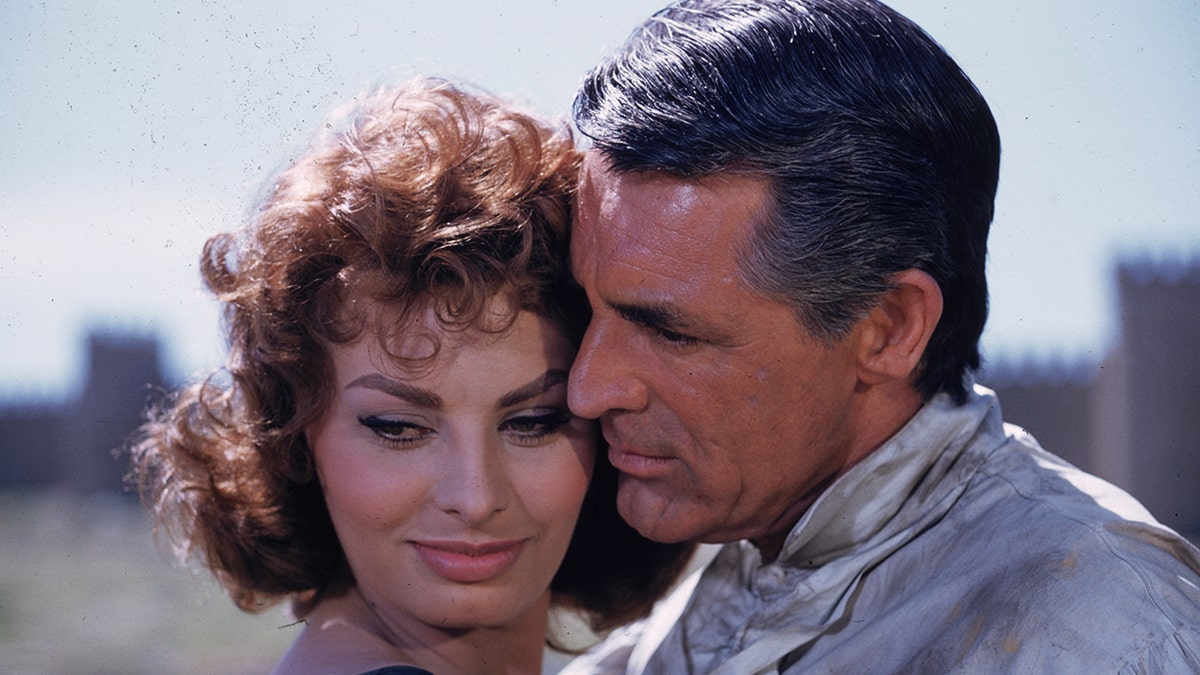 Sophia Loren starred with Cary Grant in "The Pride and the Passion," the film where they met and began an affair. (Ernst Haas/Ernst Haas/Getty Images)
In her first American film, "The Pride and the Passion," Loren starred with Cary Grant, and they began an onset affair.
Loren was set to marry Ponti, while Grant was married to his third wife, Betsy Drake. The actress was 23 at the time, and Grant was 30 years older.
In her autobiography, "Yesterday, Tomorrow, Today: My Life," Loren shared details of the affair, including messages Grant sent her, including, "If you think and pray with me, for the same thing and purpose, all will be right and life will be good."
They starred together in another film, the romantic comedy "Houseboat," based on an idea by Grant's wife, who had been expected to star before she was replaced by Loren.
It was reported at one time that Grant had proposed to Loren on set, but in a 2020 interview with The Radio Times, Loren set the record straight, saying, "Cary Grant was a very handsome man and a wonderful actor, but he didn't propose."
In an earlier interview with The Guardian about the relationship and her decision to stay with Ponti, Loren said, "At the time I didn't have any regrets, I was in love with my husband. I was very affectionate with Cary, but I was 23 years old. I couldn't make up my mind to marry a giant from another country and leave Carlo. I didn't feel like making the big step."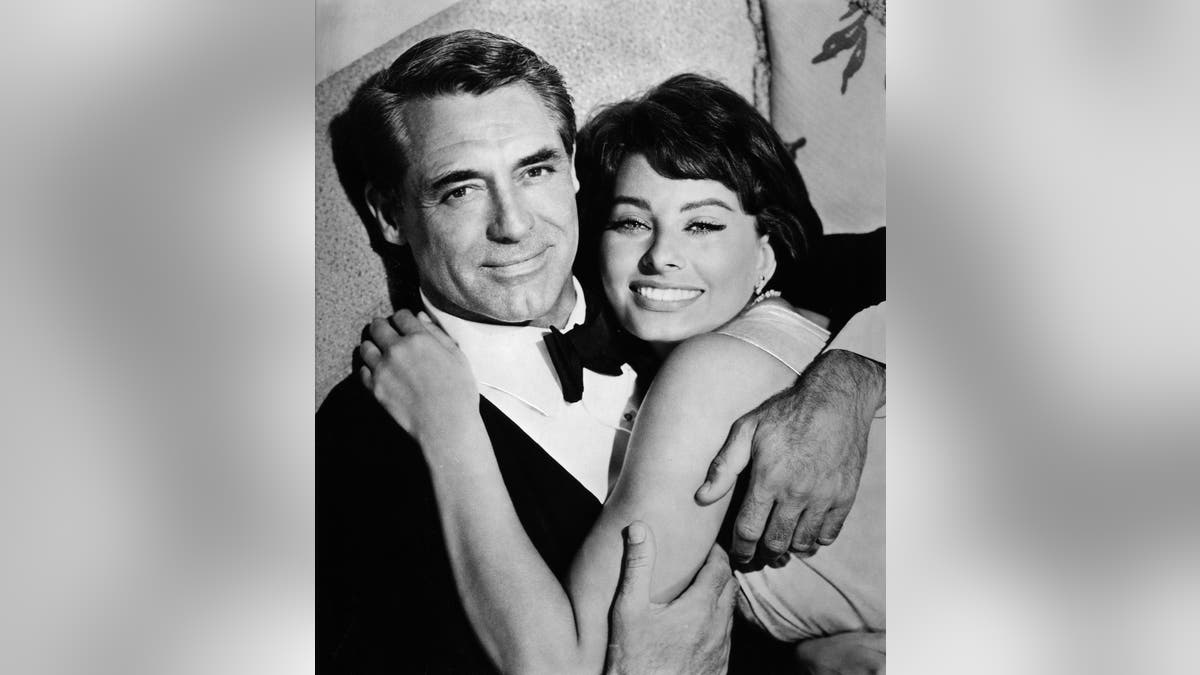 Sophia Loren clarified rumors about Cary Grant proposing to her, saying it never happened. (ullstein bild/ullstein bild via Getty Images)
SOPHIA LOREN AND JAYNE MANSFIELD: THE STORY BEHIND THAT INFAMOUS SNAP
Sex Symbol Status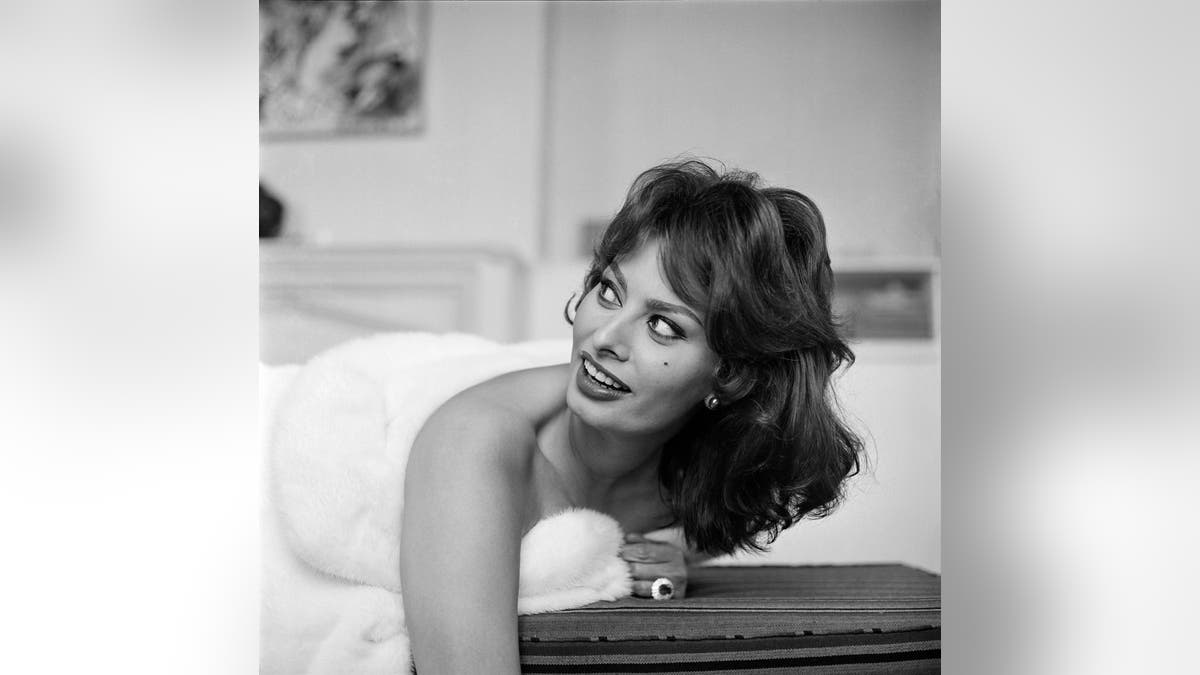 Sophia Loren is seen while wearing a white fur shawl around her in 1954. (Tony Vaccaro/Getty Images)
Loren was gifted with talent and beauty from an early age, as she explained in her autobiography in 2014.
She recalled, "As I was about to turn fifteen, I suddenly found myself living inside a curvy, glowing body, filled with life and promise. Whenever I walked down the streets of Pozzuoli, the boys would turn around and whistle after me."
Her mother, who had also been known for her looks and even won a Greta Garbo look-alike contest, entered her daughter in the "Queen of the Sea" beauty pageant.
Surprisingly, Loren didn't win, but was named one of 12 "princesses" and awarded a prize that included a train ticket to Rome, where she began working in film and launched her career.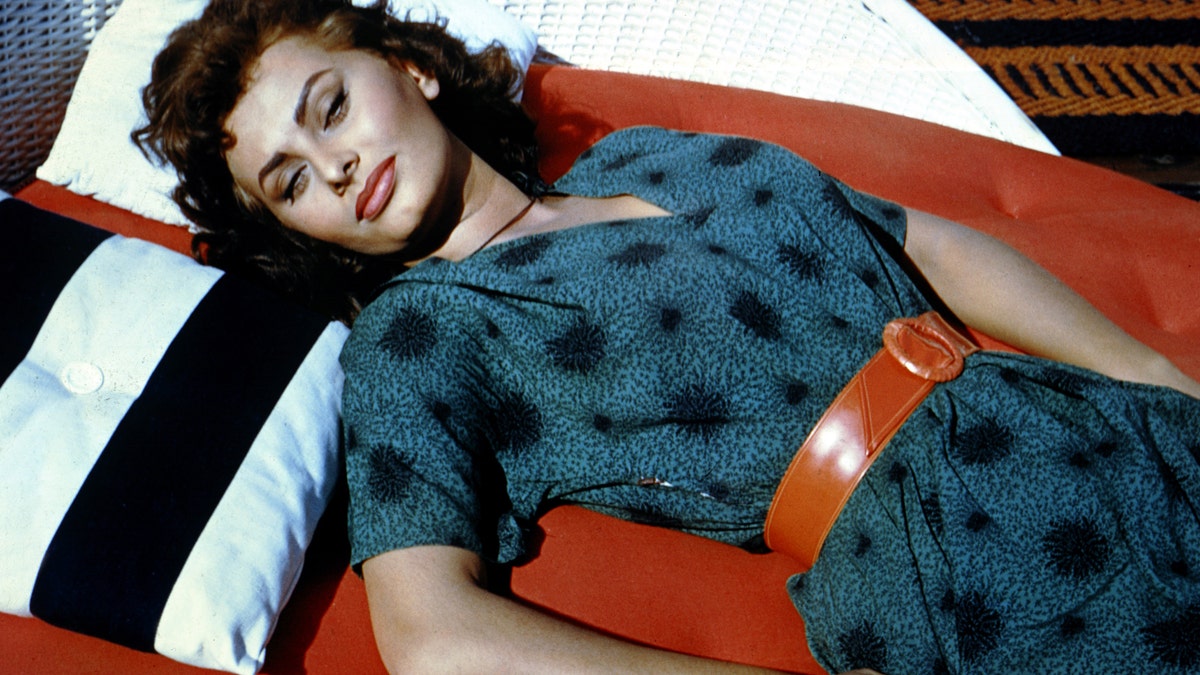 Sophia Loren entered a beauty pageant as a teen and lost, but won a ticket to Rome, which led to her legendary career. (Silver Screen Collection/Getty Images)
CLICK HERE TO GET THE FOX NEWS APP
In her 2019 interview with Fox News Digital, when asked how she felt about still being celebrated as a sex symbol, Loren said, "Oh, my God, it's wonderful, don't you think? Oh, I think it's wonderful, yes. Even my children know of these titles. (laughs) They say, "Mom, you are this" or "Mom, you are that." I enjoy it very much."
Loren also revealed her secret to always looking great in photos.
"I'm photogenic. I photograph well, what can I do?" she said. "But it's not just about taking good photos. It's about working with a photographer who knows how to capture the real you. But really, to take a good photo means you must have fun at the moment, even if you feel a little ridiculous."
Fox News Digital's Stephanie Nolasco contributed to this report.