San Francisco synagogue shooting of blanks prompts FBI investigation
A man suspected of firing a gun possibly loaded with blanks inside a San Francisco synagogue earlier this week has been arrested, authorities announced Saturday. Police believe the same suspect also brandishing a gun in a nearby theater.
The suspect was taken into custody Friday evening in the city's Richmond District on suspicion of disturbing a religious assembly, brandishing an imitation firearm and causing another to refrain from engaging in a religious service, San Francisco police said in a news release.
The San Francisco County Sheriff's Office identified the suspect as 51-year-old Dmitri Mishin, according to CBS San Francisco. He was booked at around 12:30 a.m. local time Saturday, according to sheriff's office inmate records.
On Wednesday evening, according to police, a man entered the Schneerson Center — located just a few blocks from Golden Gate Park, and fired multiple shots before fleeing. No one was hurt and no property was damaged, police said.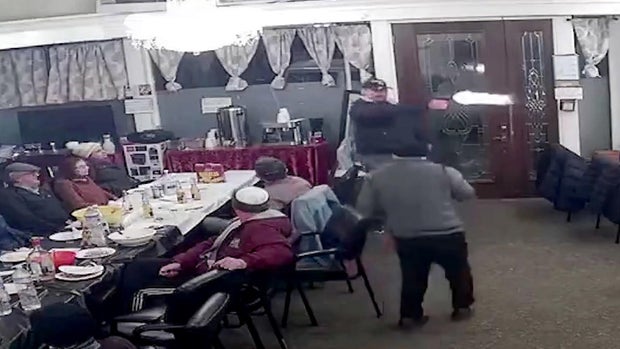 Surveillance video shows a suspect entering a synagogue in San Francisco's Richmond District and appearing to fire a gun. Police later said the suspect had likely fired blanks. Feb. 1, 2023.
Schneerson Center
Officers weren't called to the synagogue until the following day, CBS San Francisco reports. Police said they found expended casings at the scene which were being "investigated as possible blanks."
Surveillance video shared with CBS San Francisco by the synagogue showed the suspect entering a room which contained several people. He speaks and makes hand gestures before taking out what appears to be a gun and firing.
"He starts shooting in the air everywhere, and talking about the Mossad, and this and that, and craziness, and then he seems to waive and leave," Alon Chanukov, junior rabbi and vice president of the Schneerson Center, told CBS San Francisco.
The FBI, which is assisting in the case, also released a surveillance photo of the suspect in which he appeared to be carrying a handgun.
Police said that Mishin is also suspected in a similar incident which occurred on Tuesday night — at a theater about a half-mile from the synagogue — in which a man entered the theater brandishing a handgun. There were no injuries in that incident either, police said.
Following Mishin's arrest, investigators searched his residence, where they found evidence linking him to both incidents, police said Saturday. It's unclear if a firearms was also recovered.
In:

Shooting

California

San Francisco
Thanks for reading CBS NEWS.
Create your free account or log in
for more features.