Latest on Chinese balloon over U.S.
The suspected Chinese spy balloon that has been drifting across the United States for several days has been shot down off the coast of South Carolina.
The balloon was shot down by U.S. fighter jets, in U.S. airspace, just after 2:30 p.m. ET on Saturday, U.S. officials confirmed to CBS News.
CBS News has also confirmed that two naval ships, including the USS Carter Hall, which is equipped with a heavy crane for recovery, are in vicinity of where the balloon fell.
Footage shared on Twitter shows the balloon falling from the sky.
Just shot at it! View from my house in Myrtle. pic.twitter.com/85EZ3EDbYq

— Ashlyn Preaux for SC 61 (@ashlynforsc)

February 4, 2023
Secretary of Defense Lloyd Austin said in a statement Saturday afternoon that Mr. Biden had given his authorization on Wednesday "to take down the surveillance balloon as soon as the mission could be accomplished without undue risk to American lives under the balloon's path."
Officials had initially advised against shooting down the balloon as it crossed over the nation's midsection because falling debris could cause risk to people on the ground. However, on Saturday morning, Mr. Biden told reporters that "we're gonna take care of" the balloon.
The Federal Aviation Administration closed the airspace and issued a ground stop at three airports in North and South Carolina on Saturday afternoon ahead of the operation.
Austin said the mission to shoot down the ballon conducted in coordination with the Canadian government.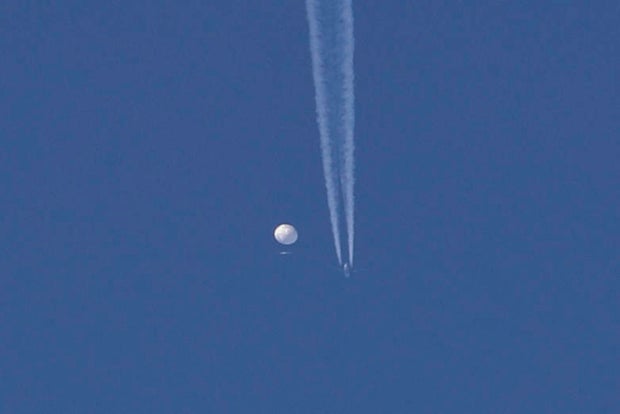 In this photo provided by Brian Branch, a large balloon drifts above the Kingstown, N.C. area, with an airplane and its contrail seen below it.
Brian Branch / AP
"Today's deliberate and lawful action demonstrates that President Biden and his national security team will always put the safety and security of the American people first while responding effectively to the PRC's unacceptable violation of our sovereignty," Austin said, using an acronym for the People's Republic of China.
Chinese officials have denied that the balloon was meant for surveillance, saying in a statement on Friday that it is a civilian device used for scientific research that was blown off-course by unexpected winds.
Sen. Chuck Schumer, a Democrat from New York who serves on the Intelligence Committee, praised the operation on Twitter Saturday afternoon, saying that the United States could now "collect the equipment and analyze the technology" used by the Chinese government.
Defense officials previously told CBS News that the surveillance equipment attached to the balloon was the size of two to three school buses.
This is a developing story and will be updated.
Thanks for reading CBS NEWS.
Create your free account or log in
for more features.