Taiwan revealed the island's first domestically built submarine on Thursday, a major breakthrough in its defense capabilities as tensions with China continue to rise.
Taiwanese President Tsai Ing-wen unveiled the submarine, named Hai Kun after a fish in Chinese mythology called kun, saying that "history will forever remember this day."
"In the past, a domestic-made submarine was considered impossible, but today a submarine designed and built by our countrymen is in front of you," she said at the launch ceremony.
"Building a submarine is the concrete realization of our resolution to protect our country," Tsai continued. "Submarines are an important piece of equipment for the Taiwan navy to develop asymmetric combat power in terms of strategy and tactics."
ARIZONA, NEW MEXICO GOVERNORS SEEK STRONGER BUSINESS TIES WITH TAIWAN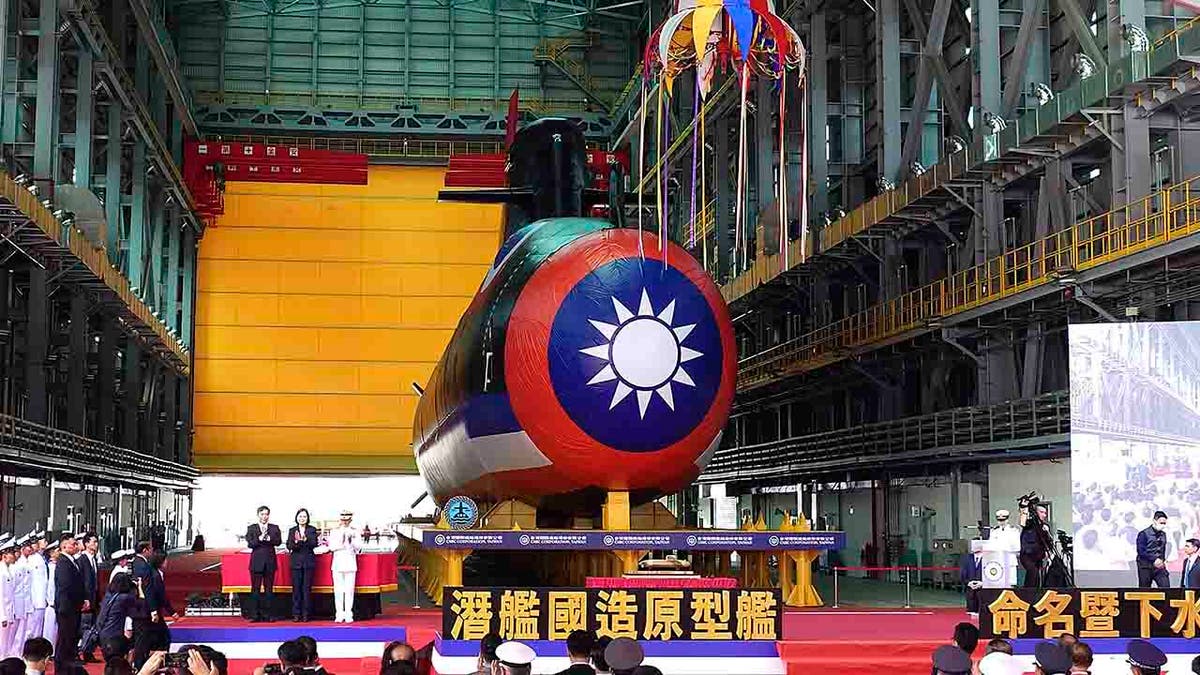 The submarine, if successful in its tests, will be a major breakthrough for Taiwan in shipbuilding and design. (AP Photo/Chiang Ying-ying)
Taiwan's CSBC Corp. led the construction of the submarine, which underwent seven years of design and construction.
The U.S. has been pushing Taiwan to develop asymmetric warfare strategies by investing in smaller and lighter weapons such as the reduced-size submarine.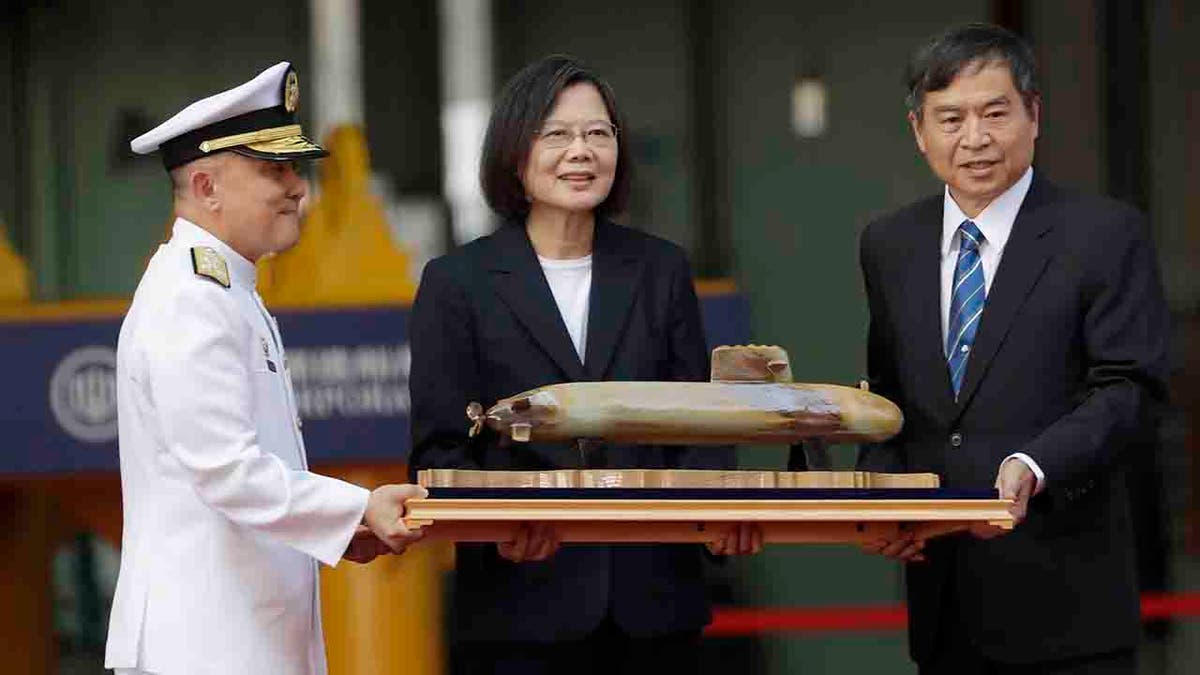 Taiwan's President Tsai Ing-wen, center, during the naming and launching ceremony of domestically-made submarines at CSBC Corp's shipyards in Kaohsiung, southern Taiwan, on Thursday. (AP Photo/Chiang Ying-ying)
The submarine will be launched at a port in Kaohsiung, where it will begin tests before heading into the ocean. If all the tests are successful, the submarine will be given to the island's military.
China's Defense Ministry responded Thursday to the submarine's unveiling, saying that Taiwan was "heading down the path of its own destruction."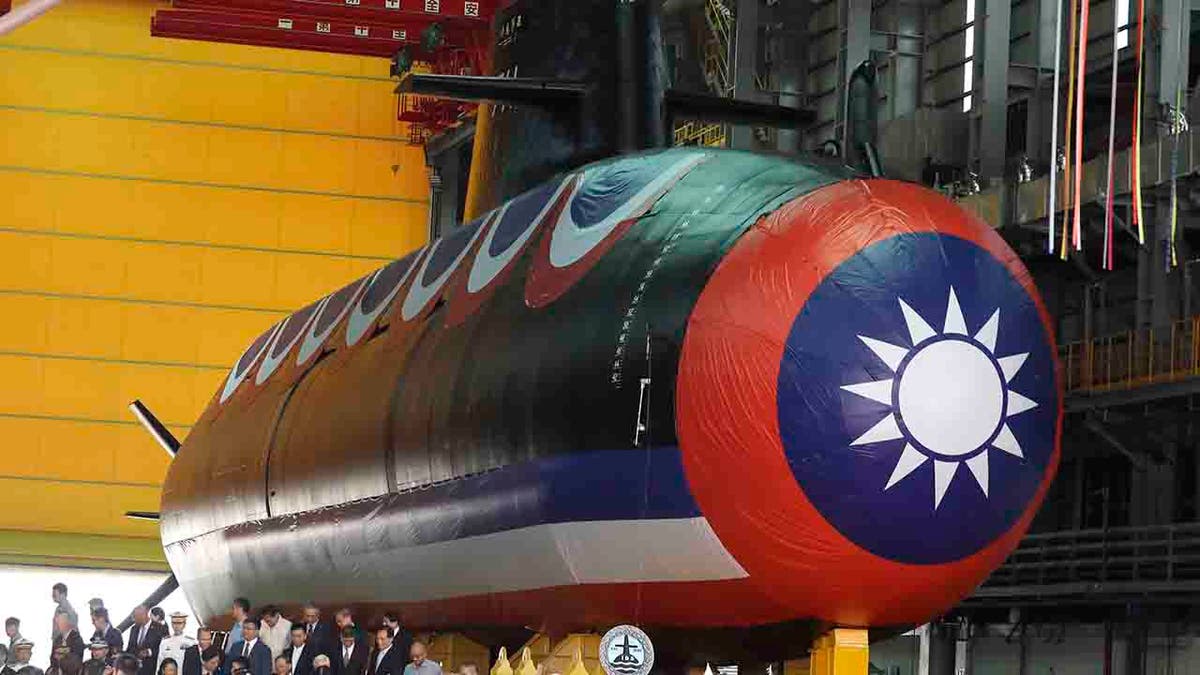 Taiwan's first-ever domestically-made submarine is named ''Haikun,'' or Narwhal. (AP Photo/Chiang Ying-ying)
CHINA OFFERS TAIWAN PROMISES OF ECONOMIC OPPORTUNITIES WHILE RAMPING UP MILITARY DRILLS NEAR THE ISLAND
"No matter how many weapons the Democratic Progressive Party buys, it will not obstruct the greater trend of reunification with the motherland," said Col. Wu Qian, a spokesperson in China's Ministry of National Defense.
Beijing's recent military exercises near Tawain have ratcheted tensions between the two governments.
CLICK TO GET THE FOX NEWS APP
Last week, China flew 103 warplanes near and over the island in a 24-hour period in what the island's defense ministry called a recent new high. A day later, an additional 55 PLA aircraft were detected near the island by Taiwan's R.O.C. Armed Forces.
Fox News' Lawrence Richard and The Associated Press contributed to this report.