Taylor Swift and Travis Kelce continued to fan the flames of rumors surrounding their relationship status as the pop singer appeared at the football star's Sunday game.
Swift, 33, was spotted sitting with Kelce's mother as the Kansas City Chiefs faced off against the Chicago Bears. Ahead of her surprise appearance at Arrowhead stadium, Kelce told Pat McAfee that he had invited her to his game – although he didn't share details of how the two connected.
"I threw the ball in her court and, you know, I told her, 'I've seen you rock the stage at Arrowhead and you might have to come see me rock the stage at Arrowhead and see which one is a little more lit,'" Kelce said during the interview.
TAYLOR SWIFT SPARKS ONLINE FRENZY AT KANSAS CITY CHIEFS GAME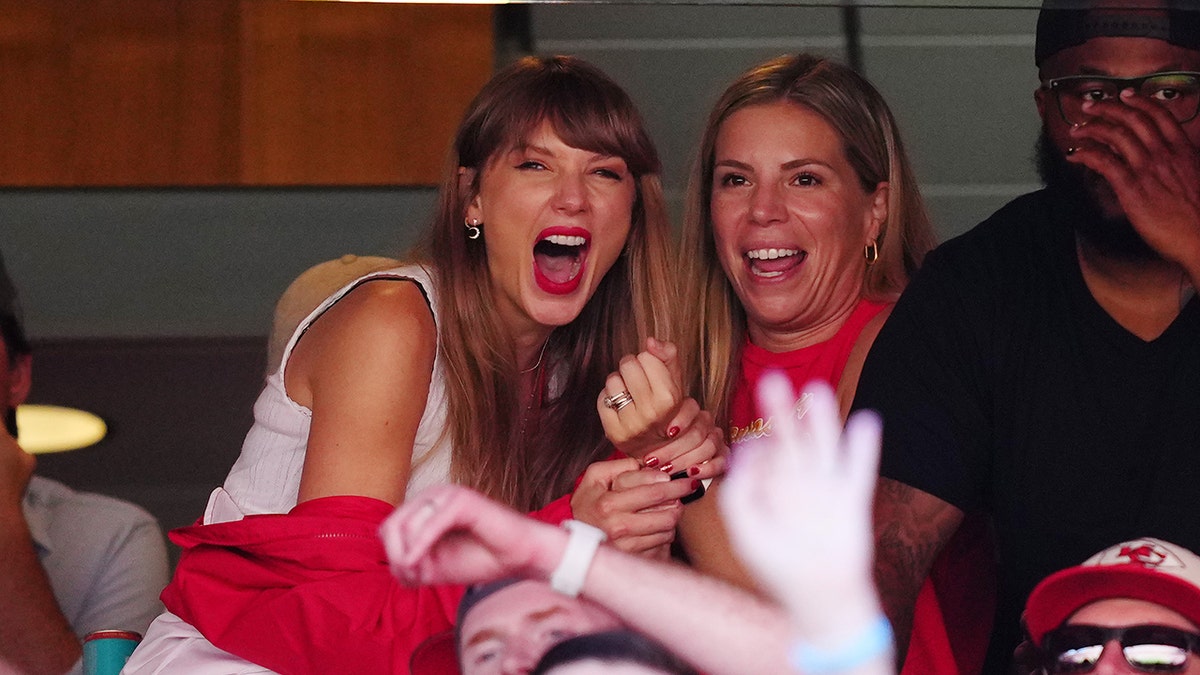 Taylor Swift showed a wide range of emotions Sunday at the Kansas City Chiefs game. (Jason Hanna)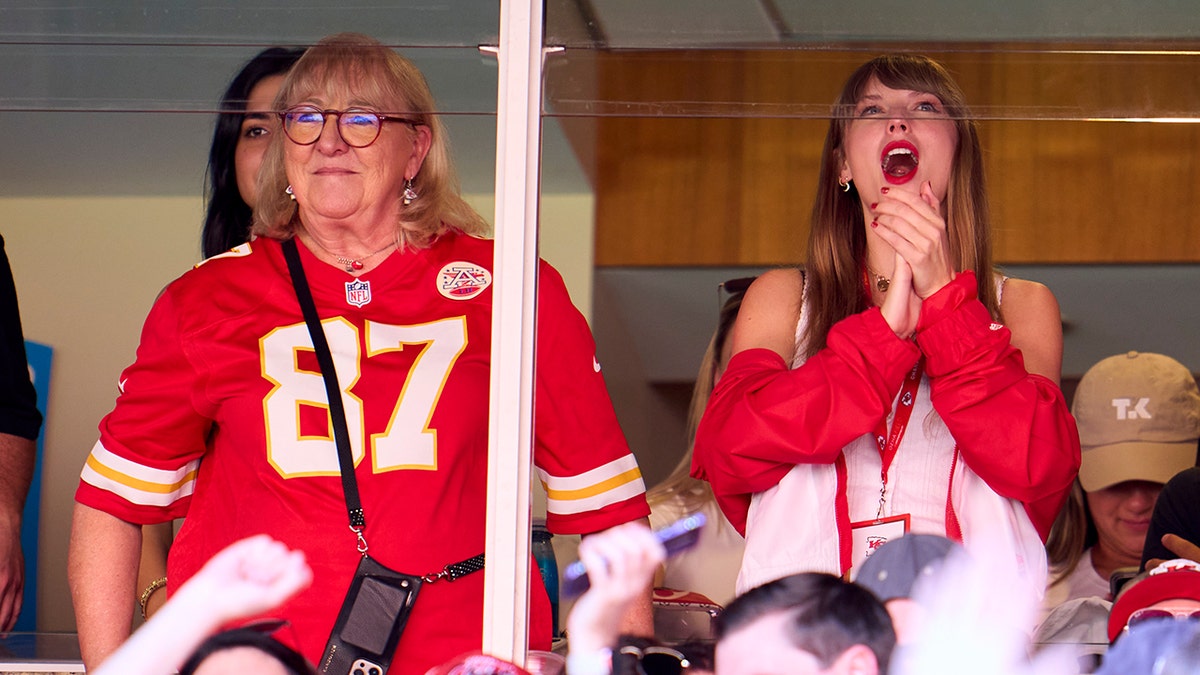 Taylor Swift cheers from a suite with Donna Kelce as her appearance further ignited dating rumors with Kansas City Chiefs star Travis Kelce. (Cooper Neill/Getty Images)
Following the game, Kelce and Swift were spotted leaving together in his convertible.
The tight end first shared his interest in Swift after attending her Eras Tour stop in Kansas City. After the show, he revealed he had made a friendship bracelet, a must-have for Swift's show, with his phone number on it but that didn't get a chance to give it to her.
New England Patriots head coach Bill Belichick even weighed in. "Well I would say that Travis Kelce's had a lot of big catches in his career. This would be the biggest," Belichick said on "The Greg Hill Show" on Monday.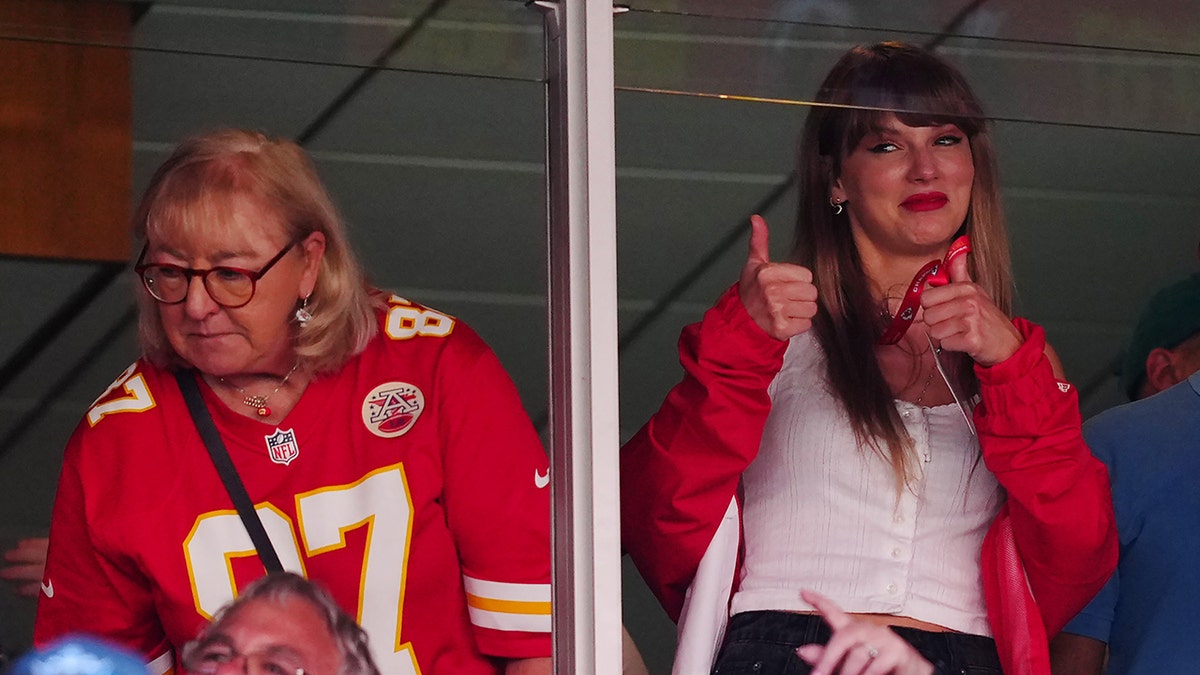 Taylor Swift gave a thumbs-up while sitting in the luxury suite with Kelce's mother, Donna. (Jason Hanna via Getty Images)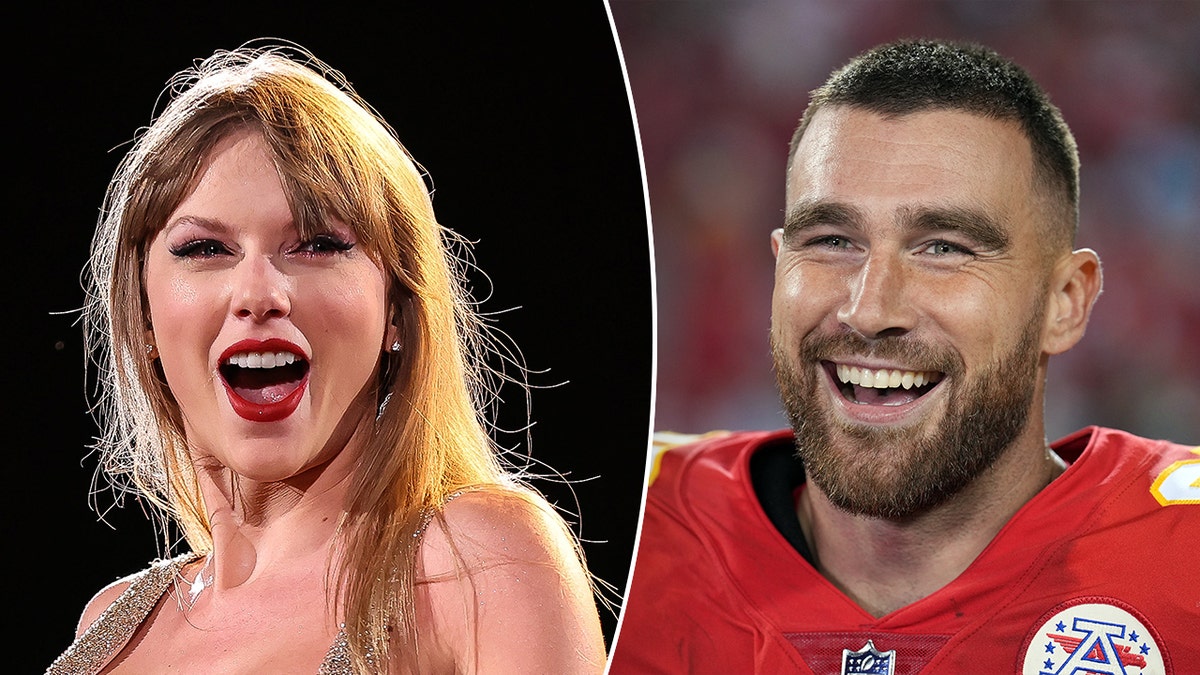 Travis Kelce says he tried to give Taylor Swift his number while he attended her Kansas City show on her Eras Tour. (Hector Vivas/TAS23/Jason Hanna)
The attraction between celebrities and football stars is nothing new. Here's a look at some celebrity-NFL romances that made headlines.
Gisele Bündchen and Tom Brady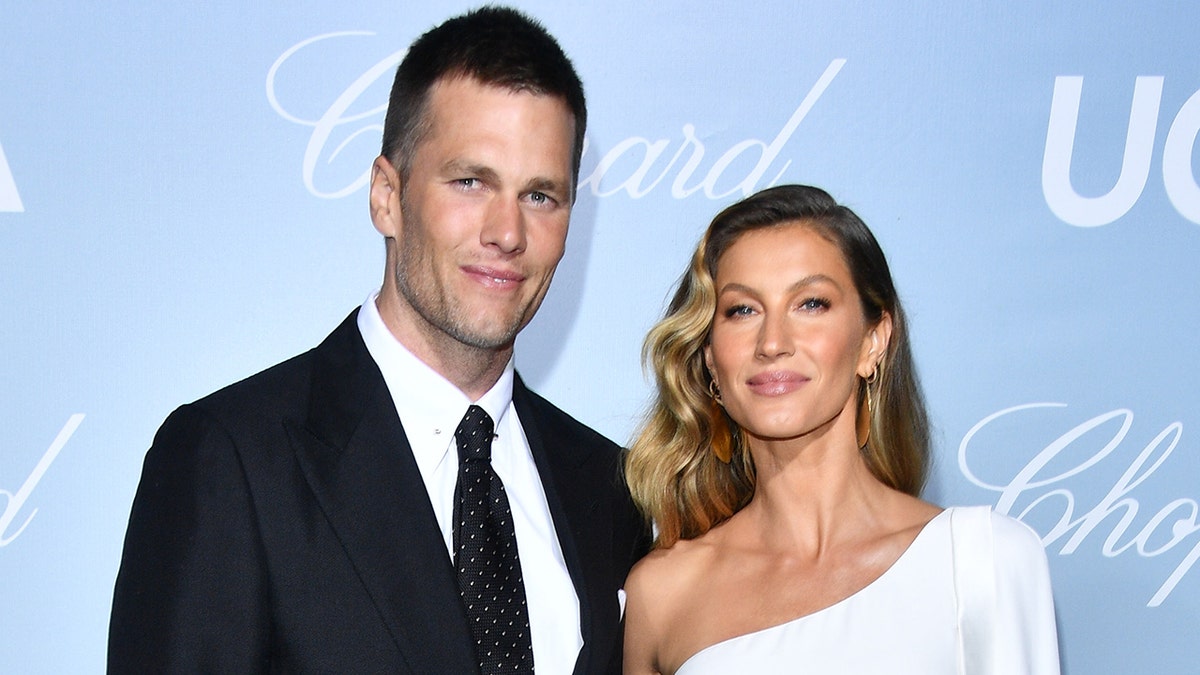 Tom Brady and Gisele Bündchen married in 2009 and share two children. (Steve Granitz)
Former Victoria's Secret model Gisele Bündchen and then-superstar New England Patriots quarterback Tom Brady first met on a blind date that was set up through friends in 2006.
"I think the one phone call that changed my life was my friend Ed, who called me one day, and he said, 'I have this girl and I think you should call her,'" Brady recalled in an interview for WSJ Magazine. "I ended up calling her, and it ended up being the love of my life."
The couple went on to marry in 2009 and welcomed two children together.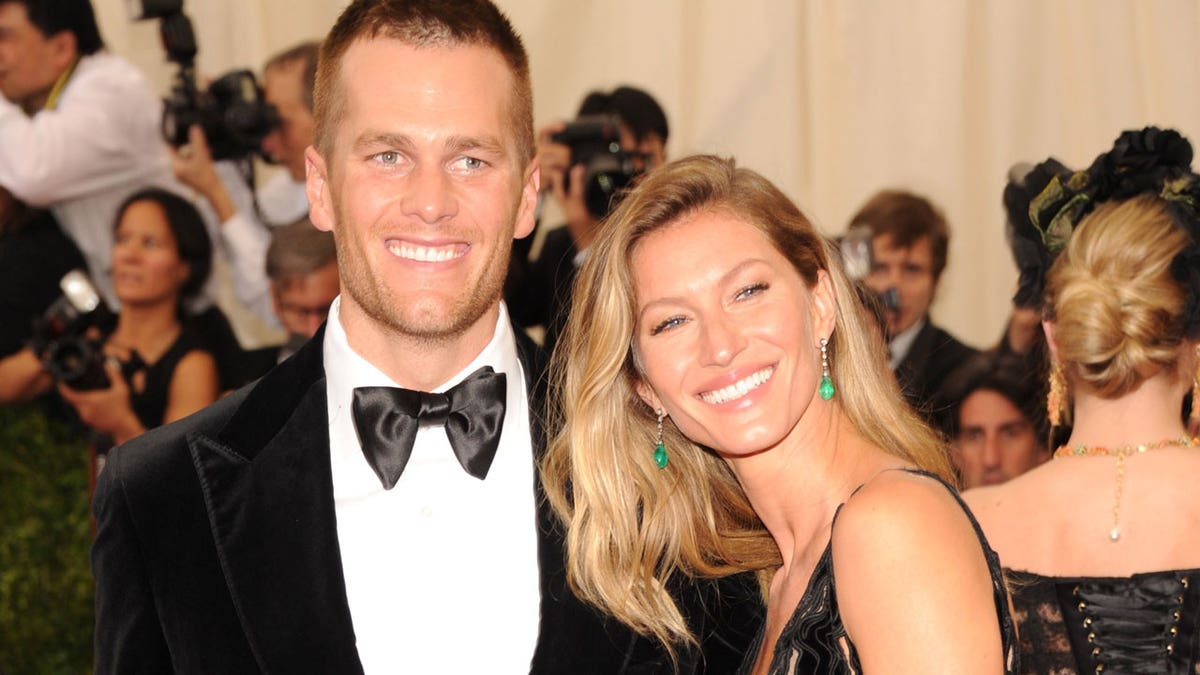 Tom Brady and Gisele Bündchen ignited divorce rumors after reports surfaced the couple had independently hired divorce lawyers. They announced their divorce in October 2022. (Kevin Mazur/WireImage)
However, their relationship turned rocky in 2022, and by October, Bündchen and Brady had announced their divorce.
Holly Robinson Peete and Rodney Peete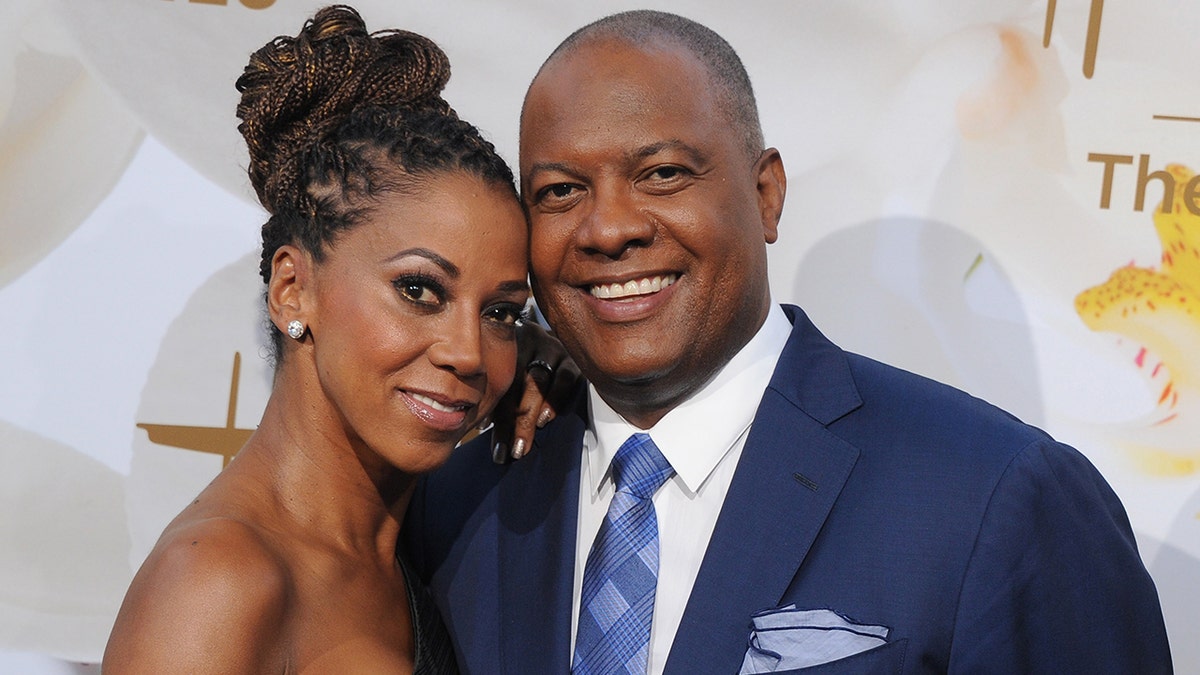 Holly Robinson Peete and Rodney Peete married in 1995 after being introduced by a mutual friend. (Gregg DeGuire/WireImage via Getty Images)
Holly Robinson Peete and her husband, Rodney Peete, first met in 1993 when the quarterback was playing for the Detroit Lions. A mutual friend introduced the two, and they later married in 1995.
The "21 Jump Street" star recently spoke to Fox News Digital about Tom Brady's decision to go back-and-forth about retirement and how she could sympathize as a fellow NFL wife.
"I'll tell you this, though, when Rodney retired, you know, he didn't have all the accolades and all the money or all the bells and whistles that Tom had," Robinson Peete began.
"But I know I needed him home. Like I had raised these kids, I needed him home, and I just don't know what I would have done if he would be like, 'I'm quitting now. I'm going back. I'm quitting,'" she explained.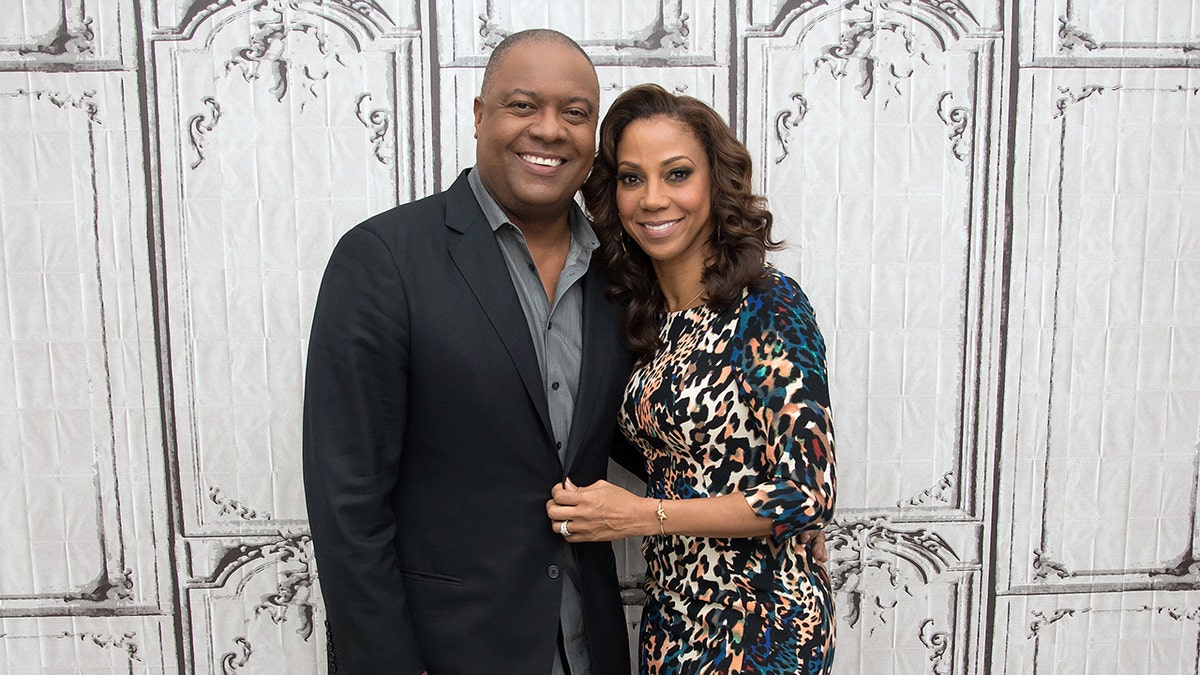 Rodney Peete played for the Detroit Lions when he met Holly Robinson Peete. (Mike Pont/WireImage via Getty Images)
Robinson Peete admitted that the "bulk" of the parenting fell on her despite her successful acting career.
"I do know, just as an NFL wife, how hard it is to raise these kids, and I had my own career that I had to like, you know, I was still working, but the bulk of the parenting fell on me, taking the kids to school, going to the recitals and all those things."
Jessica Simpson and Tony Romo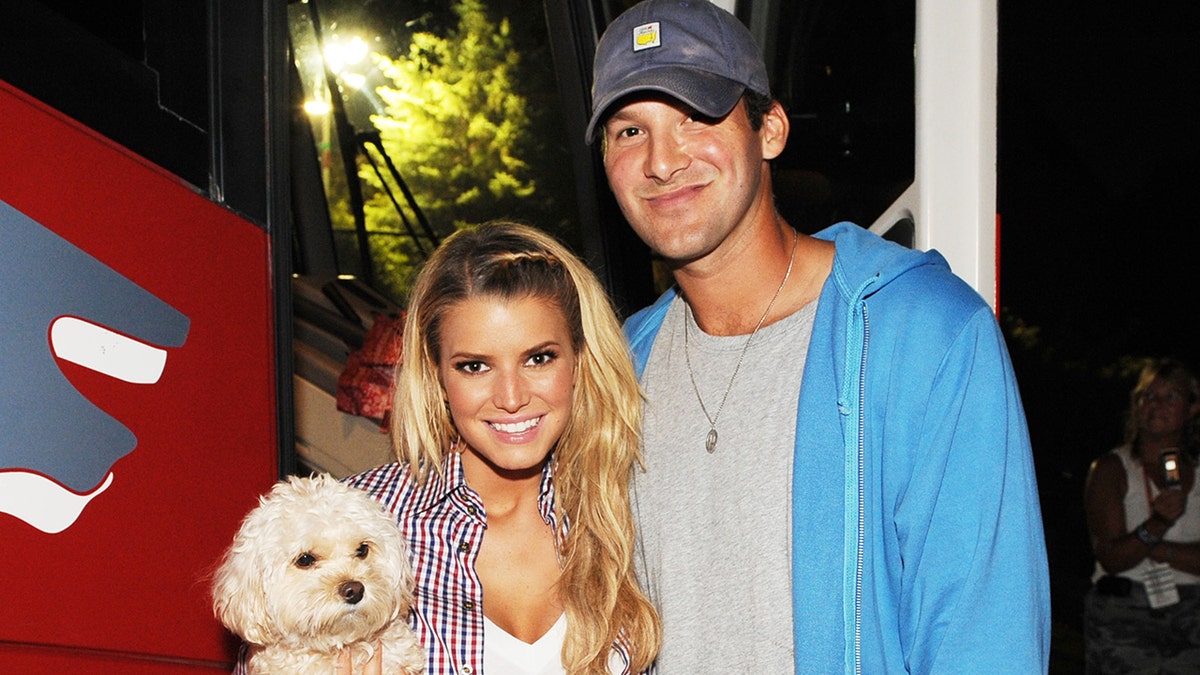 Jessica Simpson and Tony Romo dated for a year and a half before the quarterback ended it in 2009. (Rick Diamond/WireImage via Getty Images)
Jessica Simpson and Tony Romo met after the NFL star told reporters the pop star was his celebrity crush around November 2007. A friend introduced Romo to Simpson's father a short time later, according to Glamour, and the two eventually went on a first date.
"I had butterflies that you would not imagine," she recalled to the magazine in 2008. "I wanted to puke in the cupholder. … It took me forever to put together an outfit!"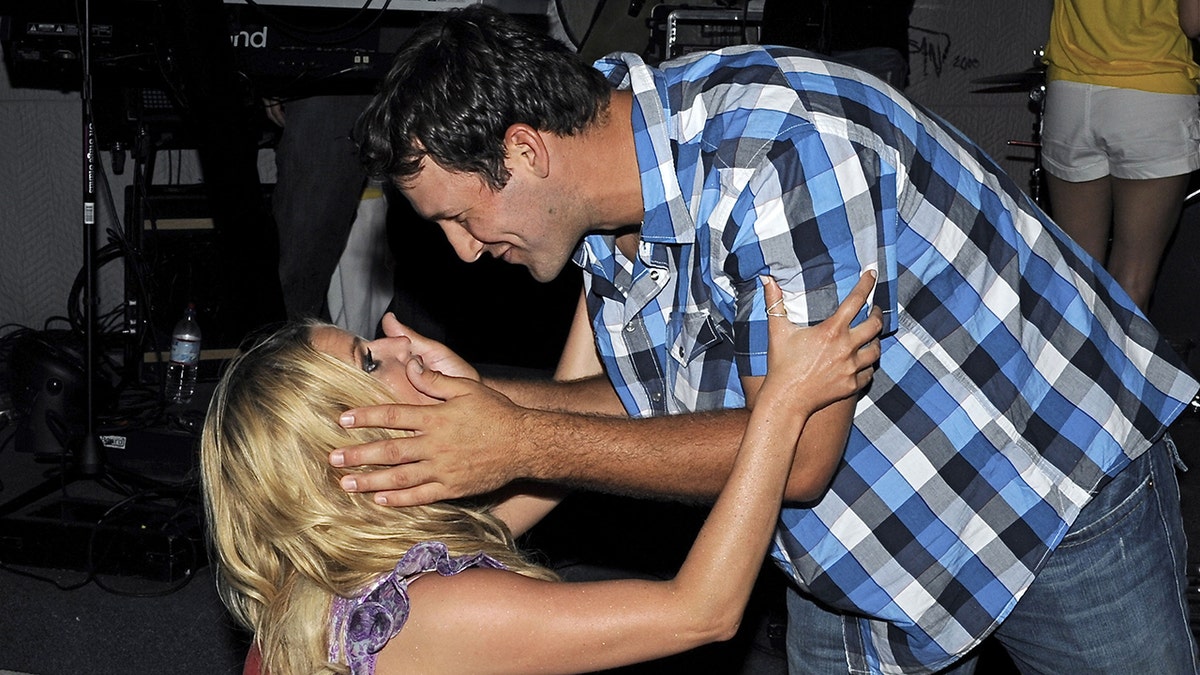 Tony Romo celebrates Jessica Simpson's 28th birthday on July 7, 2008. (Getty Images)
Simpson was blamed by many Cowboys fans for distracting Romo and she was cast as a scapegoat for the team's losses.
Romo broke up with Simpson in 2009, the day before the "With You" singer's 29th birthday. Simpson has since revealed that her on-and-off again romance with John Mayer led to her split from the Dallas Cowboys star. Mayer had shown up at her family home and Simpson had kept it from Romo at the time. Romo later saw an email from Mayer and questioned Simpson.
"I hadn't cheated on Tony at all, but I could not lie and say I hadn't even seen him," she wrote in her memoir, according to Page Six. "And within that second, he broke up with me right there – two years, gone with an email."
EXTREME WEIGHT LOSS: CELEBS POST MALONE, JESSICA SIMPSON, CHRIS PRATT REVEAL HOW THEY DID IT
Carrie Underwood and Tony Romo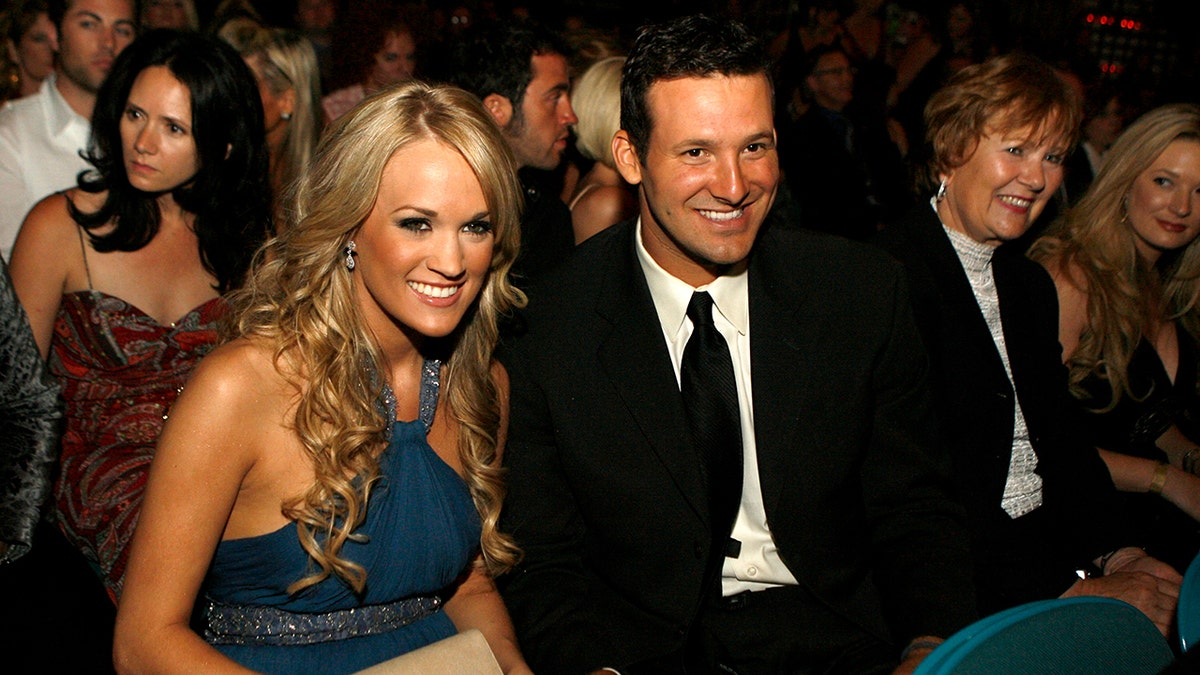 Carrie Underwood and Tony Romo were spotted out and about together in 2007 – sparking romance rumors. (Kevin Winter/ACMA/Getty Images for ACMA)
Carrie Underwood was also linked to Tony Romo, although not much is known about their 2007 romance. At the time, the two were spotted attending award shows together, but the country music star later shut down the dating rumors.
"At one point it seemed like that's where it was headed," she told Entertainment Weekly in 2007 before adding, "but point-blank, he is about football."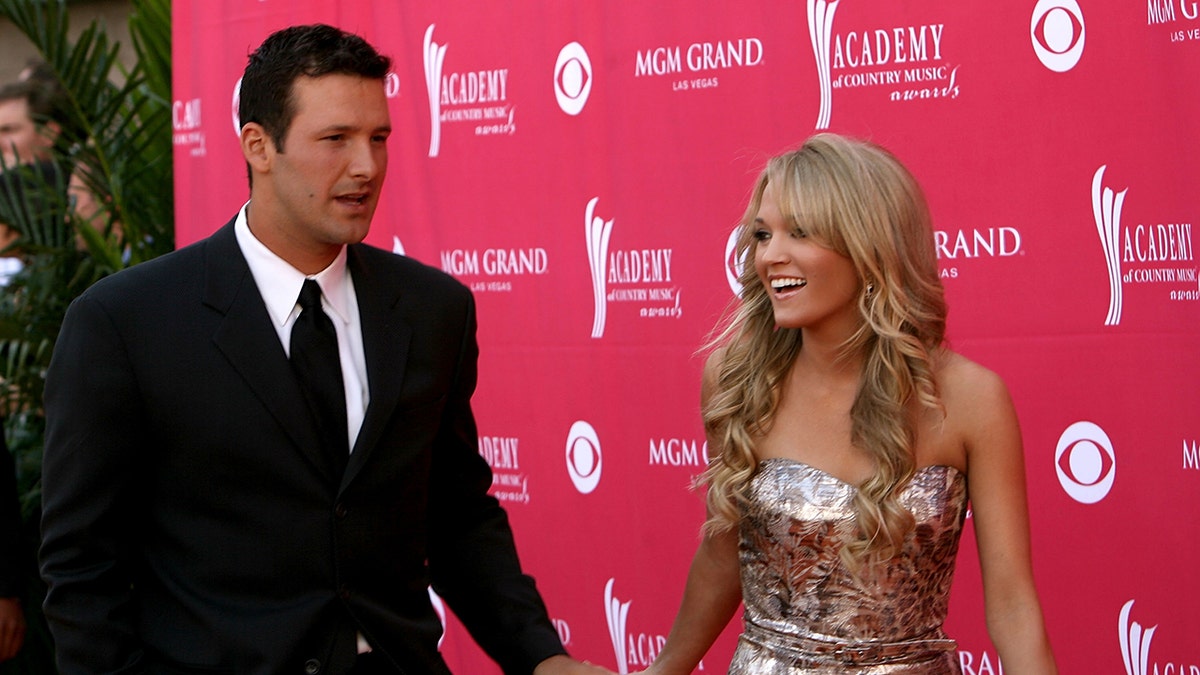 Carrie Underwood and Tony Romo had a short-lived romance in 2007. (Michael Buckner/Getty Images)
She continued, "I don't know if it's that I'm not quite his type or whatever, but I don't think he's at the point in his life where he would be willing to sacrifice football. He hated so much that people thought that he was paying more attention to me and that was causing him to not do well."
CARRIE UNDERWOOD: MY FAITH IS THE REASON FOR MY SUCCESS
Kristin Cavallari and Jay Cutler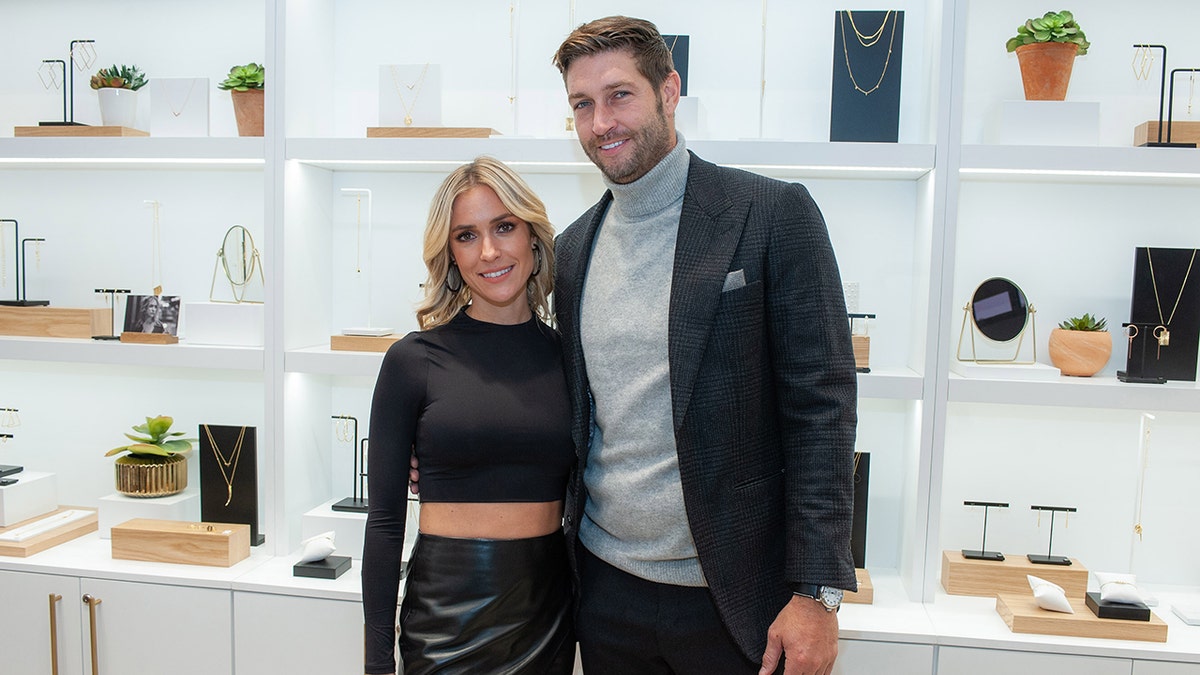 Kristin Cavallari and Jay Cutler were introduced through a mutual friend. (Timothy Hiatt/Getty Images)
Kristin Cavallari and Jay Cutler were introduced in 2010 by a mutual friend. The couple was married for seven years and share three children: daughter Saylor and sons Jaxon and Camden.
Cavallari and Cutler announced their divorce in 2020.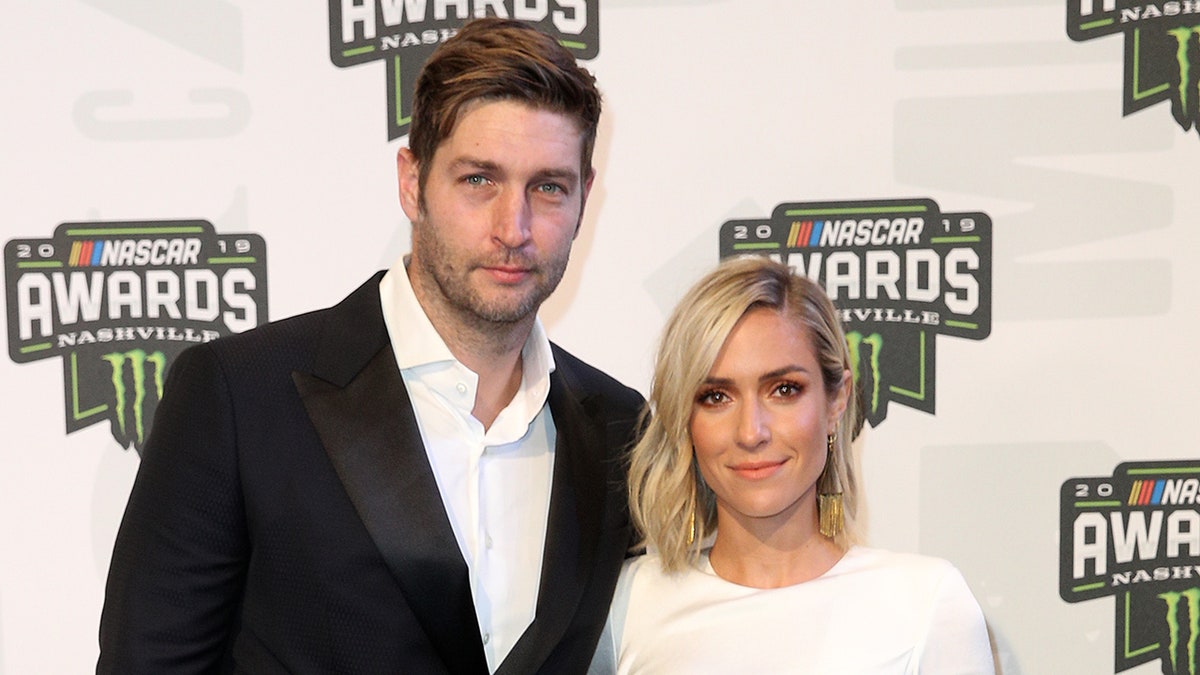 Kristin Cavallari and Jay Cutler were married for seven years. (Jared C. Tilton/Getty Images)
"With great sadness, after 10 years together we have come to a loving conclusion to get a divorce," Cavallari wrote on social media at the time "We have nothing but love and respect for one another and are deeply grateful for the years shared, memories made, and the children we are so proud of."
LIKE WHAT YOU'RE READING? CLICK HERE FOR MORE ENTERTAINMENT NEWS
Ciara and Russell Wilson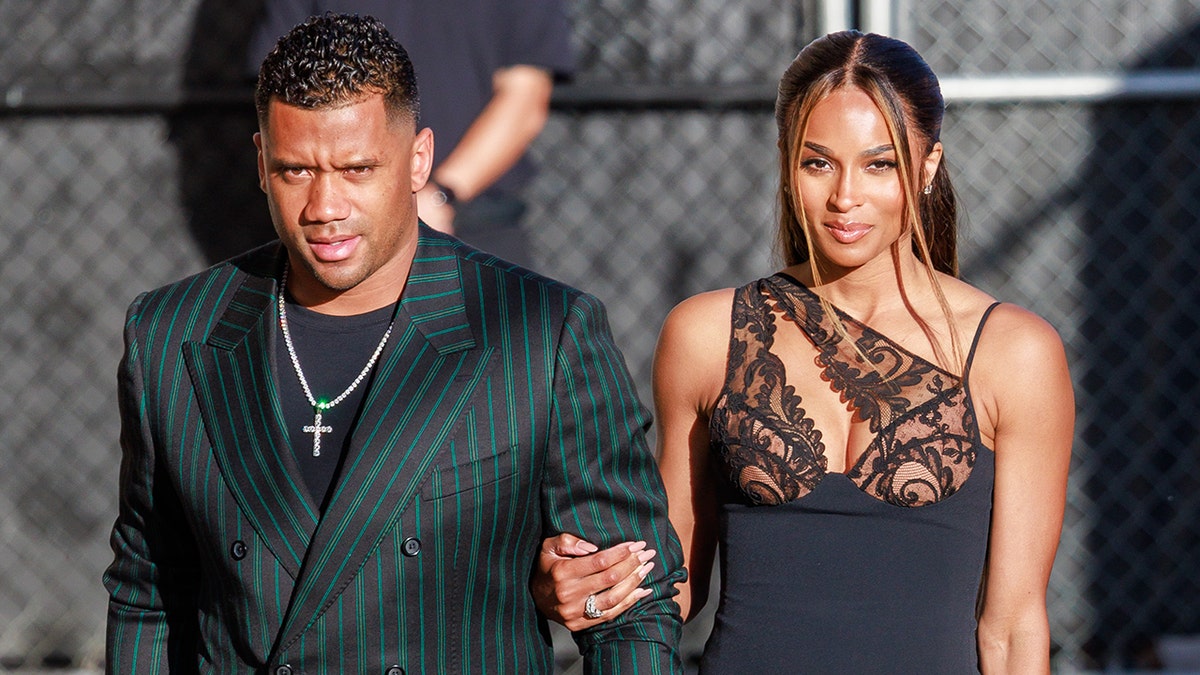 Russell Wilson and Ciara are seen at "Jimmy Kimmel Live" on March 1, 2022, in Los Angeles. (RB/Bauer-Griffin/GC Images via Getty Images)
Denver Broncos quarterback Russell Wilson and wife Ciara married in 2016, but they first met at a Wisconsin basketball game in 2015, the football star previously revealed on an Instagram Live.
"I met my Boo back in 2015. I'll never forget the day that he and I met. … It's like, when you know, you know," Ciara told Sports Illustrated. "What I love is my husband's heart and how he thinks of us. He's always thinking of us. He loves serving at heart. That's just who he is in general."
"He and I share the same vision for our babies, which I think makes the world of a difference, that we're on the same page. It's important that our kids – you know, they have way more access than we had growing up – so we want to make sure we keep them humble in the process to make sure they do things like having to pick up after themselves and knowing that life isn't going to be handed to you."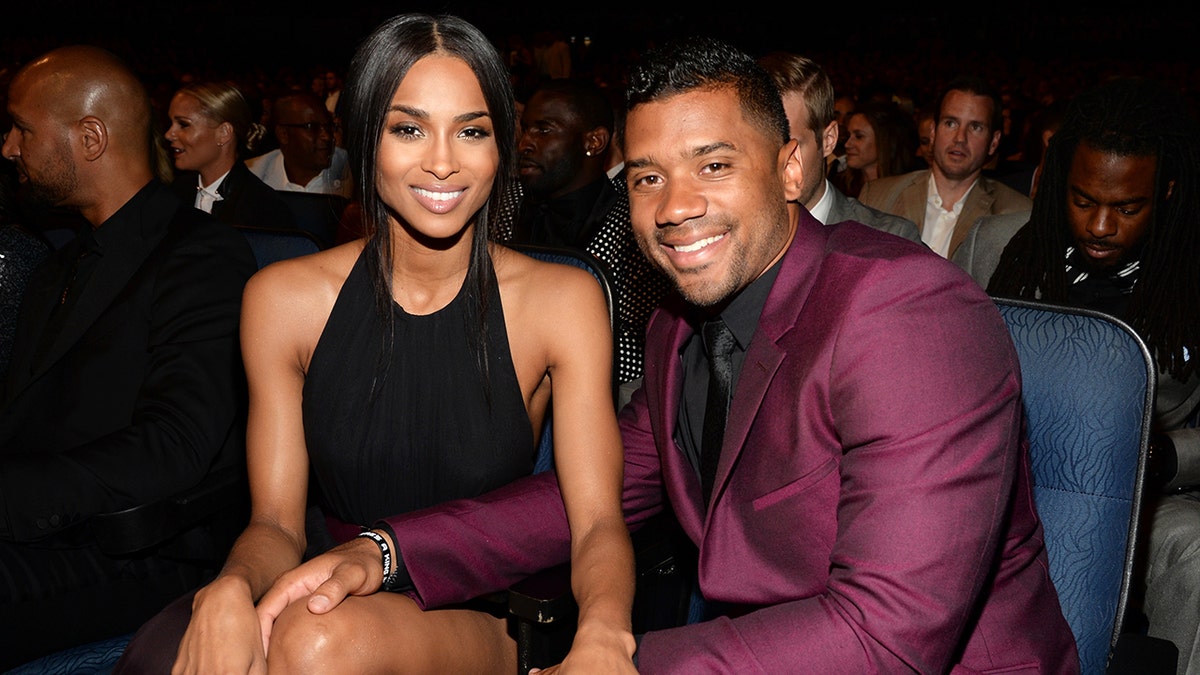 Singer Ciara and Russell Wilson attend The ESPYS on July 15, 2015, in Los Angeles. (Kevin Mazur/WireImage via Getty Images)
Ciara has a son with ex Future and also shares two kids with Wilson. The pair announced they are expecting another child together in August.
CLICK HERE TO SIGN UP FOR THE ENTERTAINMENT NEWSLETTER
Jessie James Decker and Eric Decker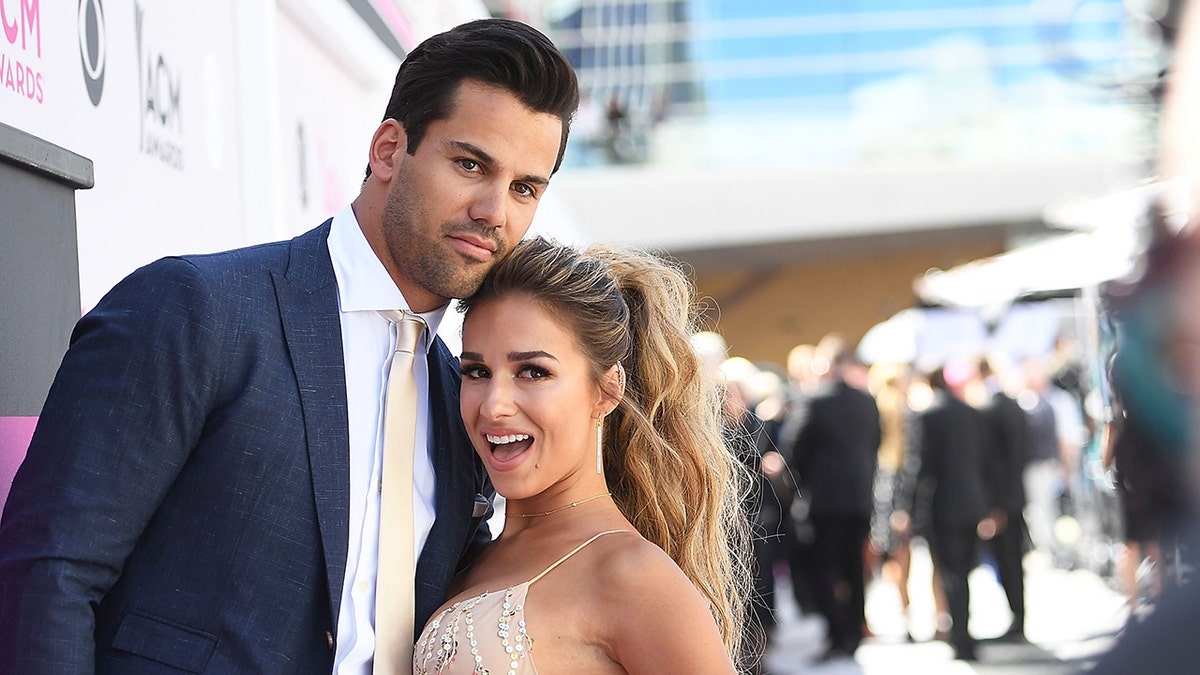 Eric Decker and Jessie James Decker met in 2011. (Matt Winkelmeyer/ACMA2017/Getty Images for ACM)
Jessie James Decker and Eric Decker met in 2011 through mutual friends.
"He was in Arizona training, and I got a text from my girlfriend who said, 'I'm having dinner with this guy I'm seeing, and this other guy just showed up, and he's stunning,'" Jessie James told "Access Hollywood" in 2013. "Show him a picture of me, and see if he's into it."
Decker was into it. The two married in 2013 and share three children with a fourth on the way.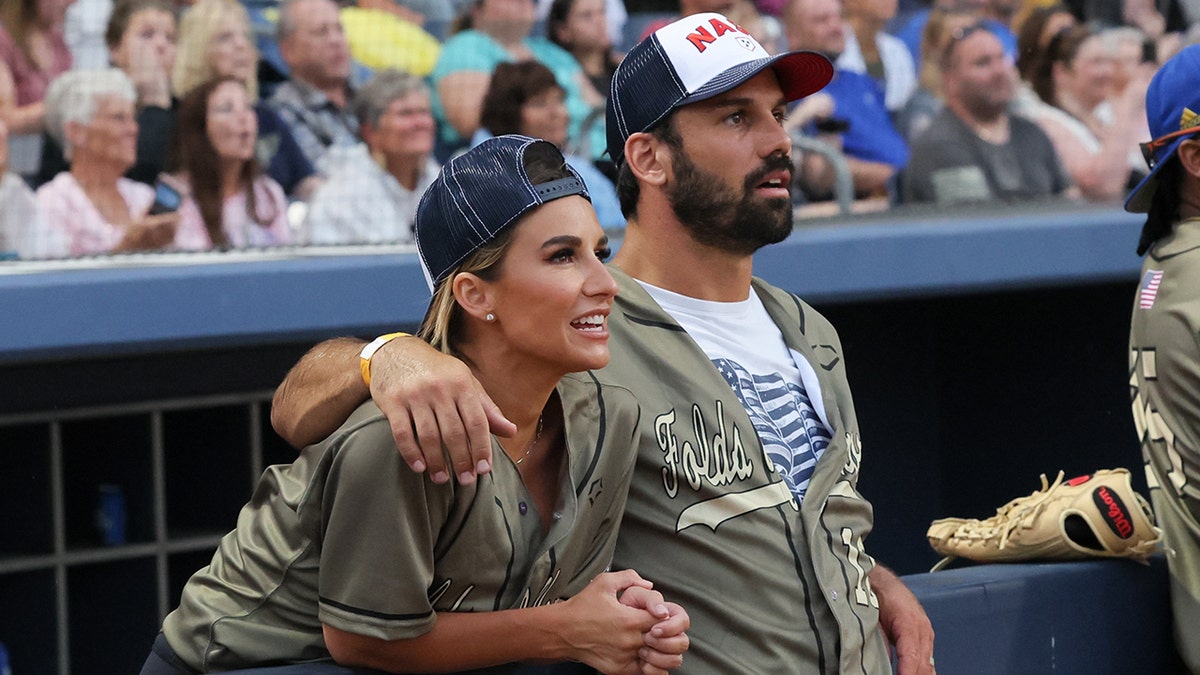 After meeting through mutual friends, Jessie James Decker and Eric Decker dated for two years before getting married in 2013. (Terry Wyatt/Getty Images)
CLICK HERE TO GET THE FOX NEWS APP