Republican Texas Gov. Greg Abbott made a rare visit to New York City Wednesday where he praised Democrats Mayor Eric Adams and Gov. Kathy Hochul for pressuring President Bide on the "national crisis" of the influx of more than 116,000 migrants who have arrived in the Big Apple since last year.
"What you're dealing with in New York, what you are seeing and witnessing in this state is a tiny fraction of what's happening every single day in the state of Texas," Abbott said, making a speaking appearance at the conservative think tank the Manhattan Institute. Last year, more than 2.3 million people were apprehended coming across the border illegally, according to the Texas governor, who pointed out that is more than the population of Houston, which took over 200 years to aggregate. This year, about 2.4 million are expected to cross illegally, he said.
"It is all carefully, choreographically designed policy put in place by the current President of the United States of America," Abbott said at the event hosted at the Yale Club. "It was just three years ago we had the lowest number of border crossings in 40 years. It's kind of hard for people to understand or remember."
"We as a nation are facing an extraordinary challenge, quite literally a national crisis, as we gather in New York today," he continued. "There are ways in which Texas is stopping people from illegally entering, but the Biden Administration wants those people to come in. This is unsustainable, and those are the words of your Mayor. Those are the words of the Mayors of Chicago and Los Angeles. Those are the words of the Governor of Texas. What's going on is unsustainable. It's a crisis that's chaotic and must stop. While we are waiting on a President who is going to enforce the laws – not even pass new laws – that are currently on the books, Texas is going to continue to use every tool we can to secure the border in the best way that we can."
ERIC ADAMS SLAMS BIDEN FOR NOT MEETING, IGNORING MIGRANT CRISIS ON NYC VISIT: 'EVERYBODY KNOWS WHERE I AM'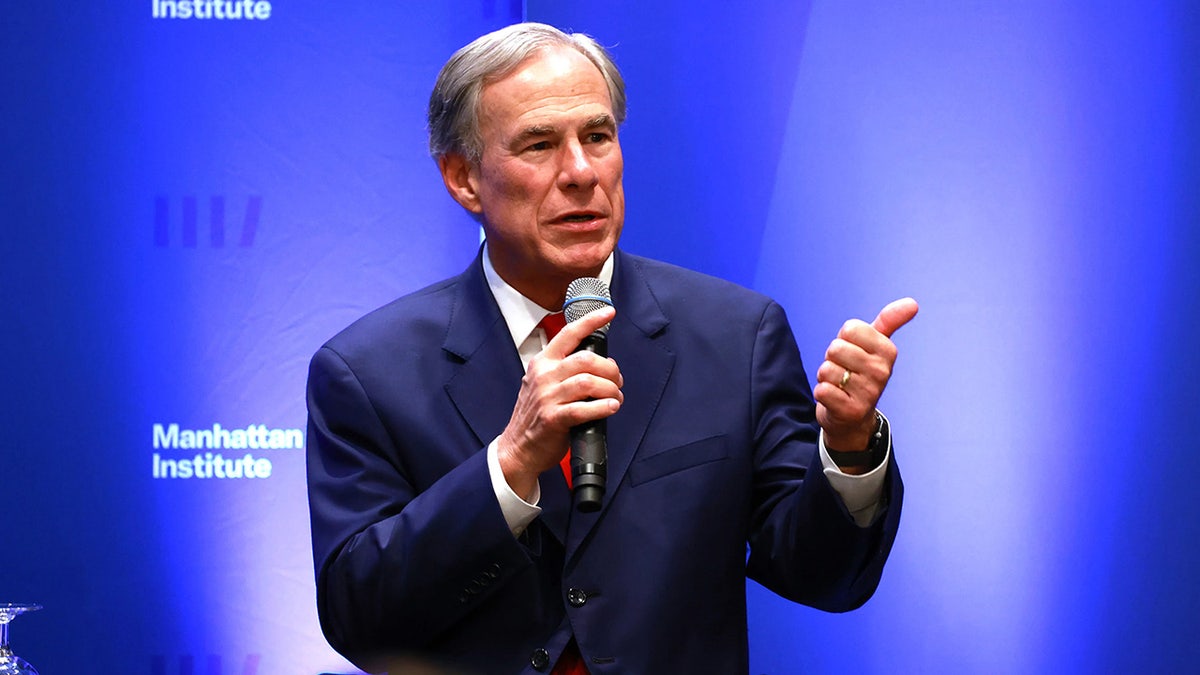 Texas Gov. Greg Abbott is pictured during a panel discussion at the Yale Club in Manhattan on Wednesday, Sept. 27, 2023. (Luiz C. Ribeiro/New York Daily News/Tribune News Service via Getty Images)
Despite Texas' efforts to secure the border, including allocating over $9 billion for Operation Lone Star to build strategic barriers, deploy Texas National Guard soldiers and Texas Department of Public Safety troopers, bus migrants to sanctuary cities, and more, Abbott argued the Biden administration continues to obstruct "Texas' historic security response."
Abbott said Biden is "endangering the United States every single day by having a porous border allowing people on the terrorist watch list to cross."
"The challenge that the city of New York and the state of New York are dealing with, it's caused by one person, Joe Biden," Abbott said. "Joe Biden can flip that switch any day and stop New York from having to deal with the consequences of an open border. They must prevail upon their president for more than just money. They need a change in policy."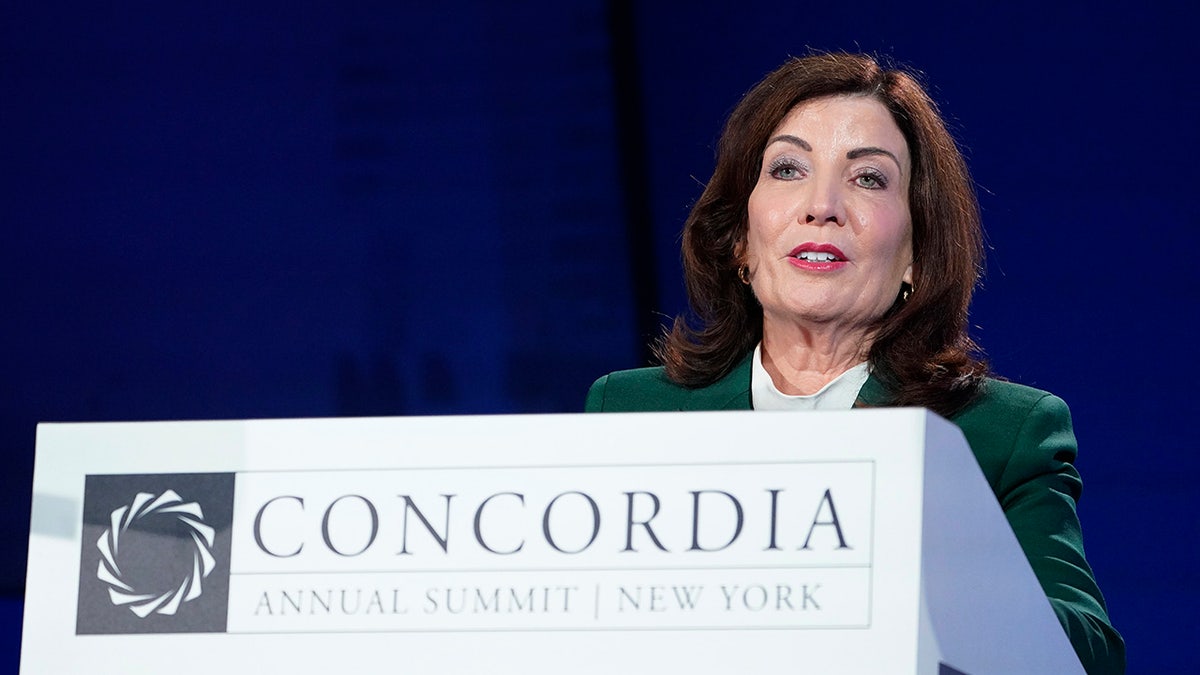 New York Gov. Kathy Hochul rejected Abbott's advice on the migrant crisis. (John Lamparski/Getty Images for Concordia Summit)
"We have an existential threat to our country with terrorists maybe getting across the border," Abbott added.
As of Tuesday night, Texas has sent 15,800 migrants to New York City, Abbott said Wednesday during a visit to the Fox News studio in New York City, arguing, "Joe Biden has sent the rest of them here." The number of migrants Texas reports as having helped bus to the Big Apple represents a small fraction of the 116,000 so-called asylum seekers New York City officials report have arrived from the border since the summer of 2022.
ADAMS REACTS TO BIDEN ADMIN LEGALIZING THOUSANDS OF MIGRANTS AFTER SAYING CRISIS WILL 'DESTROY' NYC
But Hochul and Adams seemingly rejected Abbott's praise.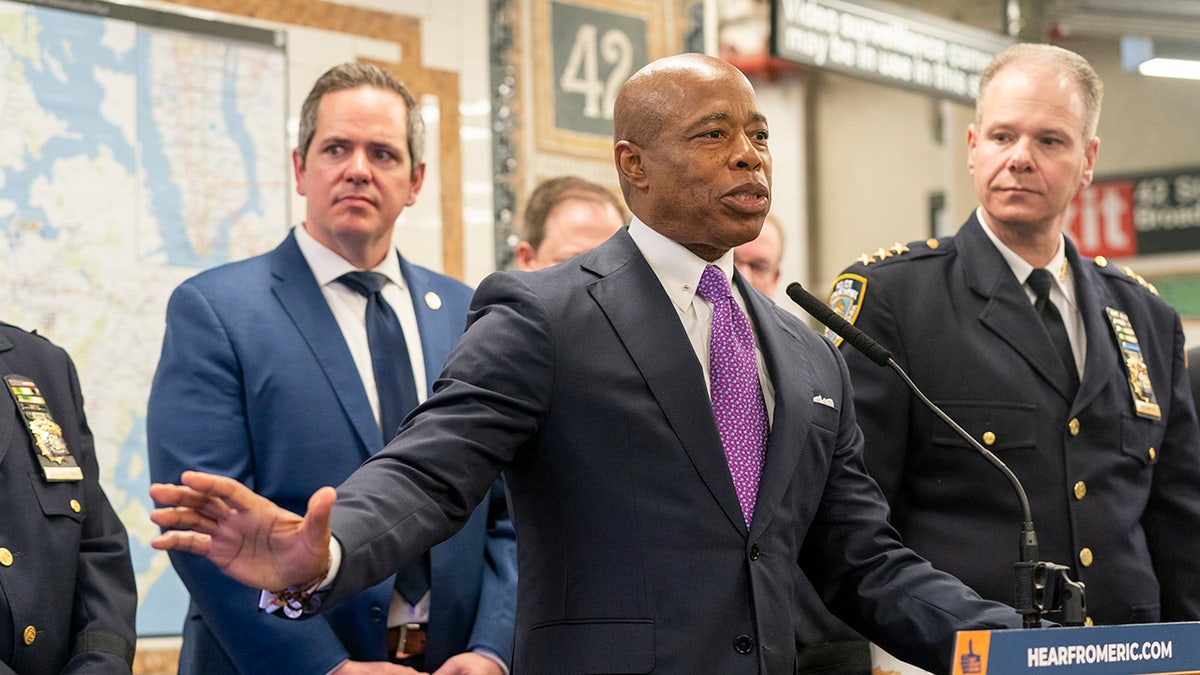 New York City Mayor Eric Adams and President Biden's relationship has reportedly soured over the past several months over the migrant crisis. (Barry Williams for NY Daily News via Getty Images)
"Let me be clear: I will not be taking advice from Greg Abbott," Hochul said at an unrelated press conference Wednesday in Yonkers billed as an "Anti-Hate Crime Rally."
A spokesperson for Adams's office told CBS News, "New Yorkers deserve better than being trapped between a vicious game of political hot potato," arguing that if the Texas governor wanted to be part of the solution he "would urge his Republican colleagues in Congress to collaborate with President Biden on desperately needed and long overdue immigration reform, instead of using this issue to gain cheap political points."
CLICK HERE TO GET THE FOX NEWS APP
At a City Hall briefing later Wednesday, Deputy Mayor for Health and Human Services Anne Williams-Isom declined to clarify whether the Adams administration supports a border wall but did encourage Congress and the White House to "come up with a comprehensive immigration reform so that no one jurisdiction has to deal with a national issue on its own," according to New York Daily News.
Fox News Digital also reached out to Adams and Hochul's offices for comment early Thursday.
Danielle Wallace is a reporter for Fox News Digital covering politics, crime, police and more. Story tips can be sent to danielle.wallace@fox.com and on Twitter: @danimwallace.