One of Thailand's leading pro-democracy activists was convicted of insulting the country's royal family and sentenced on Tuesday to prison. Arnon Nampa was handed a four-year prison sentence at the Bangkok Criminal Court after being found guilty of insulting the monarch for comments he made during an October 2020 protest.
Thailand's royal defamation laws, which are some the world's strictest, shield the king and his close family from any criticism.
Nampa, a 39-year-old human rights lawyer, became a prominent figure in student-led protests in 2020 that drew tens of thousands of people to the streets. The protesters made unprecedented calls for reforms to the monarchy — and to royal defamation laws that Nampa is now being jailed for violating.
"Loss of personal freedom is a sacrifice I'm willing to make," Nampa told reporters as he entered the court with his partner and their baby ahead of the sentencing. "If I get sentenced to prison today, it might be many years, but it will be worth it."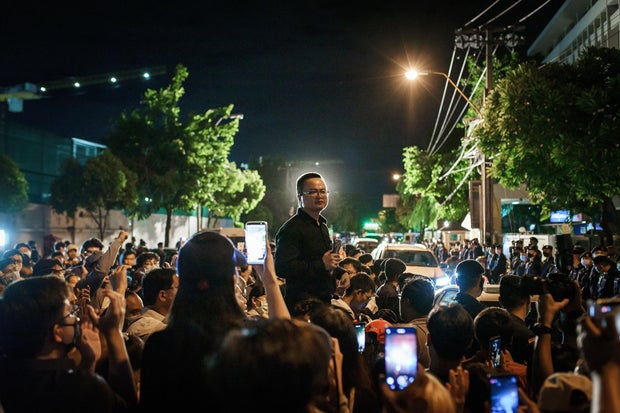 Arnon Nampa, Thai political activist seen giving a speech at Kiakkai Intersection after leading a protest at the Thai parliament, Sept. 24, 2020
Watcharawit Phudork/SOPA Images/LightRocket via Getty
The court said in its ruling Tuesday that Nampa had declared at the rally that if the protest were dispersed, it would be at the order of King Maha Vajiralongkon. The ruling said that statement was false because any such decision would be made by the police, and that Nampa had therefore defamed the king.
Nampa was awarded the Gwangju Prize for Human Rights in 2021 by a South Korean foundation for his pro-democracy work. He was among the first people to publicly call for reform of Thailand's monarchy and has remained one of the most vocal advocates of the movement.
He is currently facing 13 additional cases under the country's defamation laws, under which insults directed at the monarchy can be punishable by up to 15 years in prison.
Thanks for reading CBS NEWS.
Create your free account or log in
for more features.