Travis Kelce appears set to break his silence on his link to Taylor Swift after she appeared at the Kansas City Chiefs game against the Chicago Bears on Sunday, setting the sports world on fire.
Kelce, and his brother Jason, dropped the trailer for his the latest episode of their podcast "New Heights." The trailer begins with the Philadelphia Eagles center telling his brother that they have to talk about his personal life.
"Yeah, my personal life that's not so personal. I did this to myself, Jason. I know this," Travis said.
CLICK HERE FOR MORE SPORTS COVERAGE ON FOXNEWS.COM
"Well Travis, how's it feel that Taylor Swift has finally put you on the map?" Jason asked referencing a recent TikTok trend.
The trailer ends there as the new episode drops later Wednesday morning.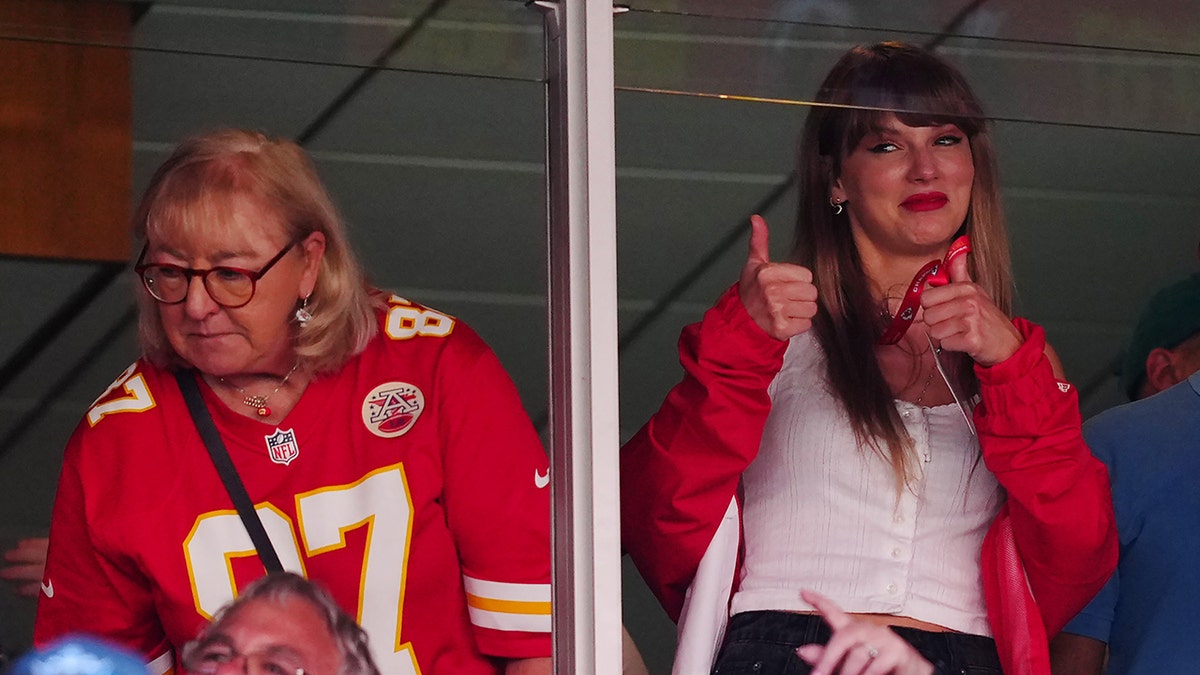 Taylor Swift, right, gave a thumbs up while sitting in the luxury suite with Kelce's mom, Donna. (Jason Hanna via Getty Images)
Swift made her way to Arrowhead Stadium in support of Kelce and the Chiefs as the dating rumors created massive interest on what was happening high above the field rather than what was happening off it. On Sunday night, the two were seen leaving the stadium together.
APP USERS WATCH THE TRAILER HERE.
The star tight end led the Chiefs in receiving with seven catches for 69 yards and the score. Swift appeared to yell, "Let's f---ing go!" as Kelce scored his lone touchdown.
Swift's appearance at the Chiefs game came as rumors swirl around her possible relationship with Kelce. Things seemed to percolate more when Philadelphia Eagles center Jason Kelce, Travis' brother, remarked that he believed the rumors to "100% true."
He may have touched on something as Swift sat in Kelce's box alongside his mother, Donna. She was up and cheering for him when he scored the touchdown.
COWBOYS' MICAH PARSONS OFFERS 'CHALLENGE' TO OTHER NFL PLAYERS AFTER TAYLOR SWIFT SHOWS UP FOR CHIEFS GAME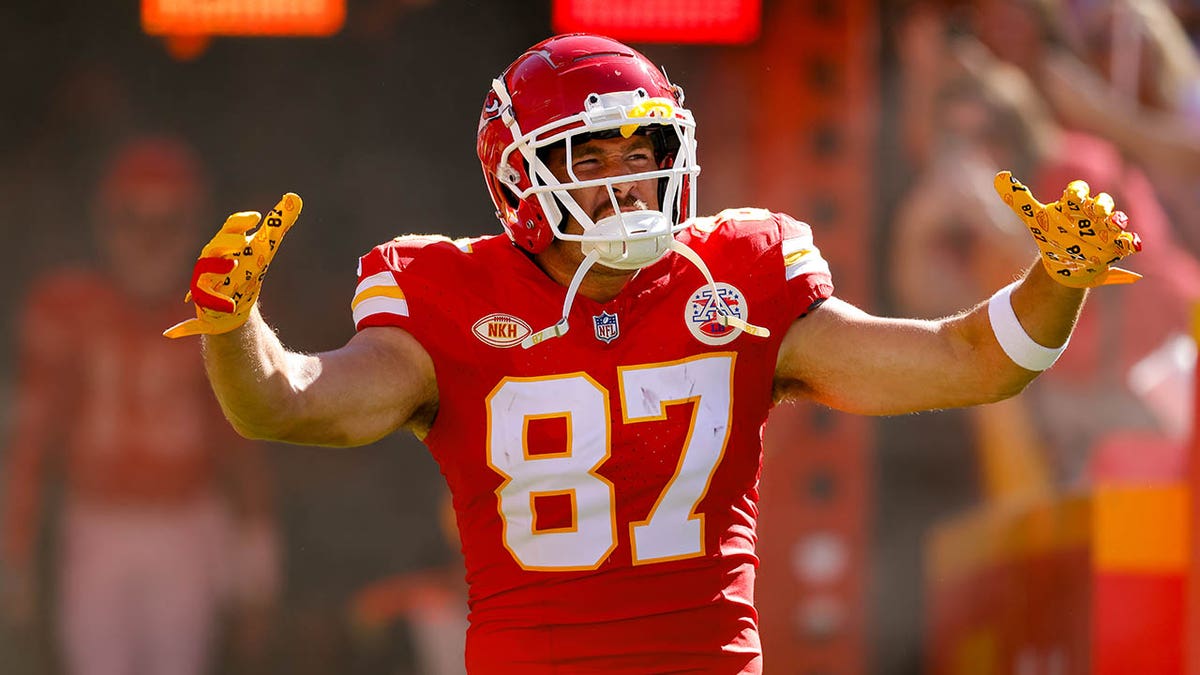 Travis Kelce, #87 of the Kansas City Chiefs, runs on to the field prior to the game against the Chicago Bears at GEHA Field at Arrowhead Stadium on Sept. 24, 2023 in Kansas City, Missouri. (David Eulitt/Getty Images)
He talked about the rumors on "The Pat McAfee Show" on Friday.
"It's life, baby," Travis Kelce told McAfee about the rumors spreading. "I threw the ball in her court and told her, 'I've seen you rock the stage in Arrowhead. You might have to come see me rock the stage in Arrowhead and see which one's a little more lit.' We'll see what happens in the near future."
The initial report came from The Messenger, which said Kelce, the four-time first-team All-Pro, has been "quietly hanging out" with Swift, the pop music sensation, for weeks.
"She and Travis have hung out twice, and it's nothing serious. She thinks he is very charming, and they have been texting this last week," a source told The Messenger recently. "He is a little embarrassed at how much attention they are getting, but he has told her he would love to continue seeing her."
Kelce revealed on his podcast, "New Heights," with his brother that back in July he had made a failed attempt to meet Swift, where his intention had been to give her his number.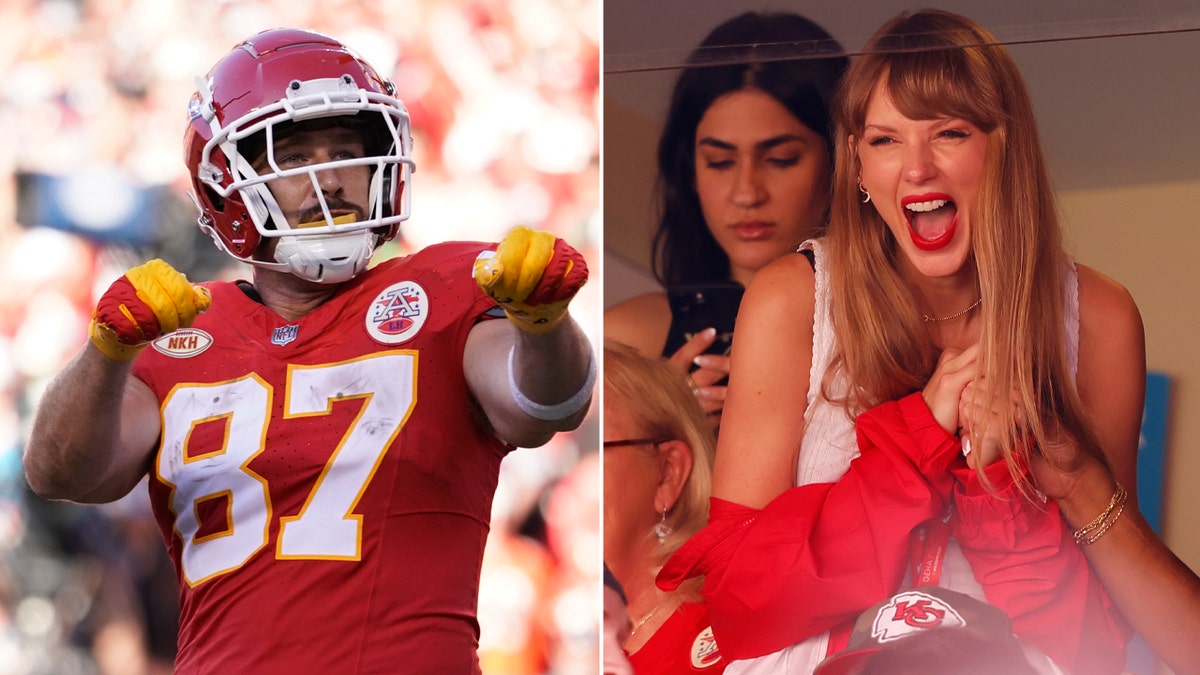 One fan, Brittany, said she hopes the duo is a real couple, "because the gorgeous babies that would come out of there." (Getty Images)
CLICK HERE TO GET THE FOX NEWS APP
Both of them might be seeing "Red" for a few more weeks before she begins the end of Eras Tour U.S. leg and embarks on the international portion.
Ryan Gaydos is a senior editor for Fox News Digital.