1 min ago
Wind gusts need to be under about 35 mph for workers to safely go out, energy company says
From CNN's Aditi Sangal
Crews need winds in Florida to get below 35 mph before they can go out to assess damage to power infrastructure, said David Reuter, spokesperson for Florida Power and Light.
The company has about 1.1 million customers out of power at present, he told CNN, adding that while there is a possibility that this number grows, the company has already been restoring power in parts of Florida where it is safe to go out.
As daylight comes, the company will be able to better survey the devastation from the storm.
"We're going to have crews out there as soon as it's safe to do so. We have to wait until winds get below about 35 miles an hour in order to do that. Once we're able to do that, it should take about 24 hours for us to have an assessment of the extensive nature — or maybe not so in certain parts — to figure out where we can start restoring the power," he explained.
"Our goal here is to get the power back on as quickly as possible but most importantly, we're going to do that safely," he added.
Depending on what the survey of devastation shows, this restoration process could take days.
"Our hope would be that we can do it in a matter of days for those customers that we're able to get the power back on, we're able to get back into those regions. But if ... we go in and find out we're not just looking at stringing wire and drying a few thing out, you know, this could be a matter of weeks depending how extensive the damage is on the west coast," he said.
15 min ago
Water restored in Florida's island of Venice
From CNN's Amanda Watts
"The City of Venice Utilities Department has restored potable water service to the island of Venice," the post said, adding that residents are now required to boil water for several days.
The city of Venice Utilities Department had discontinued potable water service to the island ahead of the Category 4 hurricane to protect their infrastructure, the city had said Tuesday.
On Thursday, the Venice Police Department said, "We recognize everyone is anxious to get out and return to their homes, but the roads are not safe."
Teams are out "conducting assessments and clearing roadways," police said in a post on Facebook. "There are many roadways that are simply not passable due to flood and debris. Please continue to stay in place if you can."
The city is asking residents to stay home while first responders work to clear the roads and work on prioritizing emergency calls they have received.
30 min ago
Orlando urges residents to stay off roads as reports of flash flooding come in
From CNN's Devon Sayers and Rebekah Riess.
The City of Orlando is receiving multiple reports of flooded roadways and city officials are urging residents to continue to shelter in place and stay off the roadways as Tropical Storm Ian makes its way across the city, an update from the City of Orlando said Thursday morning.
There are reports of flash flooding at multiple locations, and Karyn Barber, communications manager for the city of Orlando, tells CNN that the city has already needed to respond to drivers who have gotten stuck in flooded roadways.
31 min ago
From CNN's Chris Boyette
Florida Gov. Ron DeSantis will provide an update on the status of Tropical Storm Ian in an 8:45 a.m. ET press conference this morning from the state emergency operations center in Tallahassee.
DeSantis will be joined by Kevin Guthrie, management director of the Florida Department of Emergency Management.
22 min ago
Sarasota County has more than 500 calls for service they need to respond to
From CNN's Amanda Watts
Sarasota County Sheriff's Office have been inundated with emergency calls. (Sarasota County Sheriff's Office/Facebook)
On Thursday morning, the Sarasota County Sheriff's Office said it is tackling "more than 500 calls for service related to law and fire services."
"Our Public Safety Communications team has not stopped working to triage calls," since Hurricane Ian slammed into Florida's west coast Wednesday, the office said. "Patrol deputies resumed operation a few hours ago and are responding to the highest priority calls that are still in queue."
Many of the calls are located in south Sarasota County, the sheriff said in a Facebook post.
"Sit tight, we know many of you need help. This is going to be a long road to recovery but we're in this together," the post said.
41 min ago
CNN meteorologist: "This storm right now is a rain maker"
Ian, now a tropical storm, is continuing to dump rain on Florida as it craws across the state, CNN meteorologist Chad Myers said.
"This storm right now is a rain maker, as we expected," Myers said.
Ian will eventually move back over the Atlantic Ocean, where it will "try to reintensify" in the ocean's warm waters, Myers said — although he added that Ian may not become a hurricane again.
The storm is forecast to continue moving northward and could make landfall again near South Carolina.
Here's a look at the latest forecast rainfall from the National Hurricane Center:
39 min ago
Naples fire chief says 4- to 7-foot surge into fire stations is "a little unnerving"
From CNN's Rebekah Riess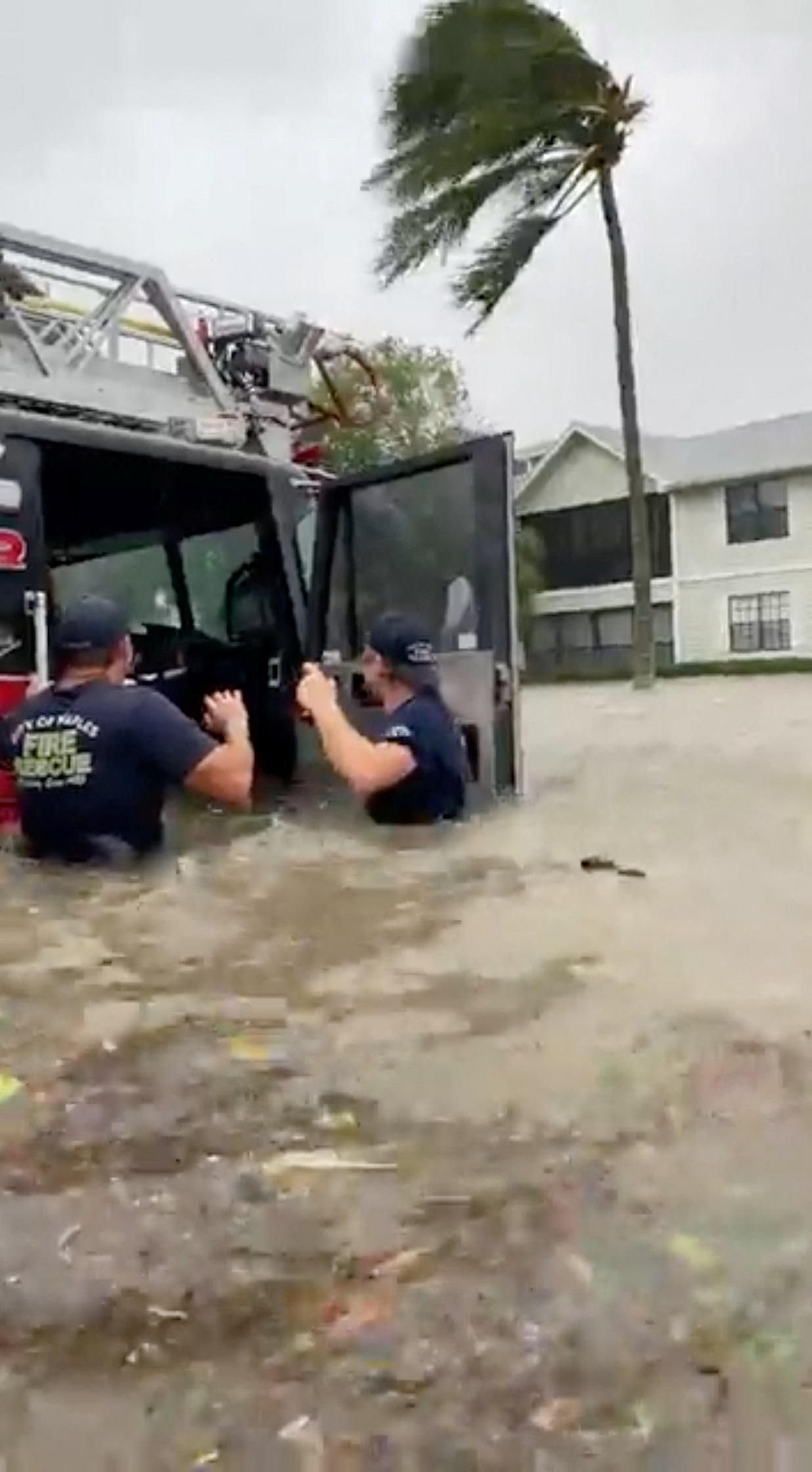 Firefighters work as the fire station gets inundated in Naples, Florida, U.S., on September 28, in this screenshot taken from a social media video. (Naples Fire-Rescue Department/Reuters)
Speaking with CNN's Dan Berman on New Day Thursday morning, Naples fire chief Pete DiMaria said his department conducted about ten rescues before 4 to 7 feet of storm surge came up into their fire stations as Hurricane Ian made it's way into Florida Wednesday.
"It was a little unnerving to be honest," DiMaria told CNN. "We felt like we had situated ourselves with a good plan, but the water rose up so quickly on us, we kind of retreated back into the station. (…) But it was unnerving because we couldn't get out of the station and we had some rescues to make and it just became a difficult situation for our personnel to get out there and do their jobs."
DiMaria said there are six people still held up at the fire station until they can get to their homes and see what kind of damage they took.
The fire chief noted that officials are having a tough time with communications, as a lot of cell phone towers are down due to a full 24 hours of tropical force and hurricane force winds battering the area.
DiMaria said water lines are visible on buildings throughout the City of Naples. "I don't know that there's as much debris as we've seen with some other storms, but the surge has certainly caused a tremendous amount of damage in our area," DiMaria said.
1 hr 4 min ago
It's 6 a.m. in Central Florida. Here's the latest as Tropical Storm Ian moves north
Ian remains a dangerous tropical storm as it carves its way through central Florida Thursday morning with winds of 65 mph and higher gusts.
Ian first made landfall in southwestern Florida as a devastating Category 4 hurricane Wednesday afternoon and weakened overnight. It is now expected to exit the state through Florida's northeast coast on Thursday and approach the coasts of Georgia and South Carolina on Friday.
The storm has left catastrophic damage in its wake. In addition to hurricane-force winds, storm surges have slammed into coastal communities and torrential rains brought dangerous flooding that left some residents trapped in their homes.
Here are the latest developments:
1 hr 27 min ago
Fire rescue teams in Lee County begin answering calls for assistance as storm subsides
From CNN's Rebekah Riess
Fire rescue crews in Estero, a town in southwestern Florida's Lee County, has started to clear streets and respond to calls for help that they were unable to answer during the storm, according to the town's fire department.
"We began clearing roadways and evacuating those that needed help," Estero Fire Rescue said in an

update

.
"Please help us by staying off the roadways. We will be getting help from multiple agencies tomorrow and throughout recovery and they need to make sure the roads are safe, trees are removed and wire(s) aren't down. It is still very dangerous out there."
Multiple first responder and law enforcement agencies have reported being unable to answer emergency calls as massive floods restricted access to those in need.