Robots, rides and views of the city at city's newest hotel
The new hotel that lights up the Cape Town Sky (aptly named Hotel Sky) and was opened on 1 April 2021 has two robots, 535 rooms and suites, a thrilling rooftop ride and an elegant restaurant that is "the perfect space to take in cosmopolitan views with laid-back Mother City ease".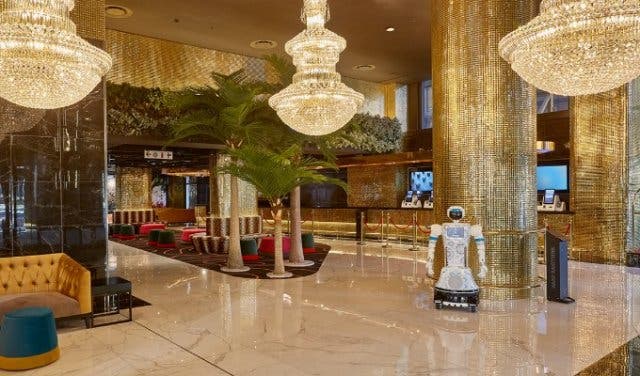 Hotel Sky Cape Town's elegantly decorated lobby area. Image: Hotel Sky / Rikki Hibbert.
MEET CAPE TOWN'S VERY OWN WALL-Es
Skyla and Ariel are Hotel Sky's AI staff who work alongside the humans. Each of the robots has its unique personality; they're there to help you throughout your stay, and handle anything from general queries to luggage and even room service. It is all about positioning "South Africa on the global stage".

Hotel Sky Cape Town's friendly robots are ready to meet you. Image: Hotel Sky.

ENJOY ALL OF THE HIGH-TECH FEATURES
Besides Ariel and Skyla, Hotel Sky also has a fully automated, self-service, check-in desk for guests. There's also the Hotel Sky app, which makes everything, from booking your stay, checking in and opening your room to viewing menus, just the tap of a button away.

Take advantage of the fully automated self service check-in desk when you arrive at Hotel Sky Cape Town. Image: Hotel Sky / Rikki Hibbert.
STAY IN A ROOM OVERLOOKING THE CITY BOWL
It costs from R995 and up per night to stay in Hotel Sky Cape Town's rooms. The standard rooms have an option of two double beds in the Standard Twin Room or a queen bed in the Standard Queen Room.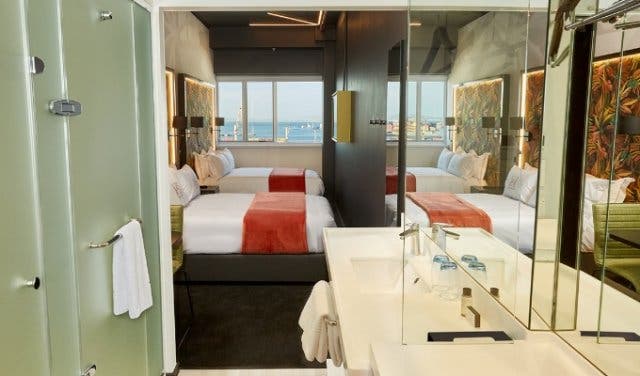 A Standard Twin Room at Hotel Sky Cape Town. Image: Hotel Sky / Rikki Hibbert.
The 4-sleeper Bunk Room has 4 three-quarter bunk style beds, a shared bathroom with two showers and two basins. You could also stay in a suite with a king sized bed, lounge area.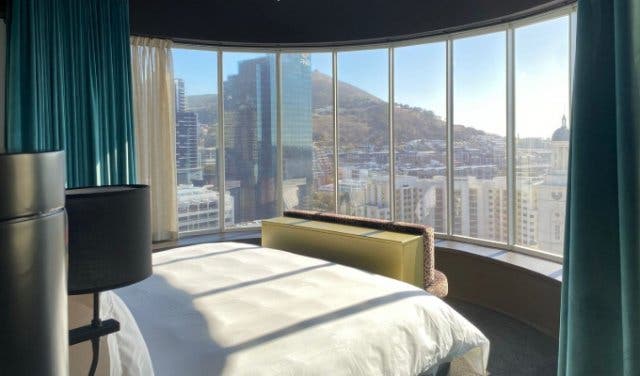 A view of Lion's Head and the city bowl from one of Hotel Sky Cape Town's suites. Image: Hotel Sky / Rikki Hibbert.
DINE OVER INCREDIBLE VIEWS OF THE CITY
The Infinity Restaurant on the 26th floor is open to the public. It offers "casual comfort food" and has panoramic views of Table Mountain, the city bowl, the V&A Waterfront and Table Bay. You have to book.

Take in panoramic views of Cape Town at the Infinity Restaurant. Image courtesy Hotel Sky / Rikki Hibbert.
BRAVE A ONE OF A KIND RIDE
Also open to the public and talk of the town, is the rooftop ride on the 28th floor overlooking the city travelling at 100km per hour into the air. Hotel Sky Cape Town's Sky-Hi Ride sits on top of the building and is a gravity defying experience for anyone with the stomach to brave it.

Take in 360° views of Cape Town on the Sky-Hi Ride. Image courtesy Hotel Sky / Rikki Hibbert.

You'll be strapped into the ride and lifted above the city where you'll get a 360° view of Cape Town's city bowl, Table Mountain and harbour views. Then, when you least expect it, you'll be dropped down at a speed so fast you'll feel as if your stomach has been left behind. "You have to do this," one Sky-Hi Ride guest said. You can book your ride for R250 per person via Webtickets.
HOW TO BOOK AND COST RANGE
You can book a stay at Hotel Sky Cape Town from R995 per night for bed and breakfast in one of their standard rooms or for R1600 for bed and breakfast in a suite via the Hotel Sky website.
Lower Long St, Cape Town City Centre Cape Town | 021 879 5040 | www.hotelsky.co.za/hotel-capetown
---
ENJOY MORE OF WHAT CAPE TOWN HAS TO OFFER
Be sure to check out these new restaurants and experiences in Cape Town.
Enjoy a day of family fun with this list of things to do with kids parents will enjoy too.
Check out this list of budget friendly kids activities.
The ideal staycation at Cloud 9 Hotel.
Looking for ideas on where to stay on your next getaway? Have a look at this list of quirky and unusual places to stay.
---