The Australian Federal Police has recommended prosecutors consider laying charges over the ABC's stories revealing allegations of potential war crimes by Australian special forces in Afghanistan.
The AFP have sent a brief of evidence to the Commonwealth DPP, after three years of investigating Oakes and and his colleagues Sam Clark over the 2017 "Afghan Files" stories.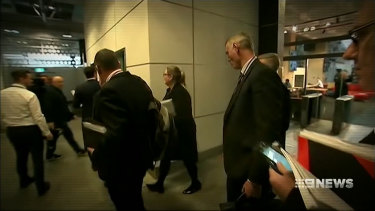 Federal police raiding the ABC headquarters in Sydney in 2019.Credit:ninevms
According to the ABC, the AFP has recommended the Commonwealth DPP consider charging Oakes over the leak, but is not referring any case against Clark.
Federal police raided the ABC's Sydney headquarters on June 5, 2019, over the leaked documents.
The documents revealed incidents of Australian troops killing unarmed men and children, which were being investigated as potential unlawful killings.
In a statement, the AFP said it received a referral on 11 July, 2017, from the Chief of the Defence Force and the then-Acting Secretary for Defence in relation to the broadcast and publication of of classified material.
"The AFP executed a search warrant on the Ultimo (Sydney NSW) premises of the ABC on 5 June 2019 in relation this matter," the AFP said.
"A brief of evidence has now been forwarded to the Office of the Commonwealth Director of Public Prosecution.
"The AFP will be making no further comment."
The national broadcaster launched proceedings in the Federal Court on June 24 last year to challenge the validity of the warrant, but the raids were ruled valid.
Loading
"Would just like to point out at this moment that whether or not we are ever charged or convicted over our stories, the most important thing is that those who broke our laws and the laws of armed conflict are held to account. Our nation should be better," Oakes tweeted on Thursday night.
"And who knew what? Upper echelons of Defence and intelligence communities are littered with men - always men - who presided over our special forces' activities in Afghanistan. Do they escape scrutiny while operators are held to account?"
The raids on the ABC occurred a day after the AFP raided the Canberra home of senior News Corp journalist Annika Smethurst.
The raids sparked calls from the media industry for a wide-scale reform of national security laws in Australia to protect press freedom.
A parliamentary inquiry into press freedom is due to hand down its report in the coming weeks.
In the midst of the controversy over the raids, Attorney-General Christian Porter issued a directive that charges against journalists under certain sections of Australia's national security laws be signed off by him, granting a limited layer of protection.