For its second stab at the official ceremonial uniforms for the Australian Commonwealth Games squad, outback outfitter RM Williams dug in its heels, sticking to the heritage blueprint created for the Gold Coast four years ago – with minor adjustments to accommodate the climate of this year's English host city.
Athletes at the Commonwealth Games uniform unveiling at Admiralty House, Sydney. Top: Ridge Barredo, Weightlifting; Sharni Williams, Rugby 7's; Maurice Longbottom, Rugby 7's; Ellie Cole, Para-swimming. Bottom: Charlotte Caslick, Rugby 7's; Jake Lappin, Para-athletics; Tina Rahimi, Boxing.
Boat shoes, perfect for traipsing around Palazzo Versace, were replaced by RM Williams' signature Craftsman boot at the uniform unveiling, held at Admiralty House on Sydney Harbour. Designers decided boots, with covetable green and gold tugs, were more suitable for the temperature-challenged Birmingham, where the mercury hits 21 degrees on good days in July and August.
"The last time it was very Gold Coast with shorts and boats shoes," says Scott Faulder, head of product development at RM Williams. "Our brief this time was to elevate the uniform for the international stage and create something that will evoke pride in our athletes. The boat shoes have been replaced by our elastic-sided Craftsman boots and the team is pretty excited. For many young athletes, this is their first pair of RM Williams boots."
Para-swimmer Ellie Cole, a four-time Commonwealth Games athlete, welcomes the change. "These are certainly my first pair of RM Williams boots," Cole says. "The boat shoes we were offered in the past weren't great for amputees but the heel on these works, which I'm pretty grateful for. It's become the talking point with all the athletes pretty excited about getting a pair. They are so iconic within Australia."
The private school approach of blazers, ties and collared shirts – abandoned by Canada, England, Wales, Scotland and Nigeria in 2018 in favour of polo shirts and T-shirts – remains the look for Australian athletes at the Opening Ceremony on July 28 (although the absence of elastic braces and newsboy caps are a missed opportunity to doff hats to the home of Peaky Blinders).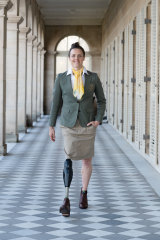 Para-swimmer Ellie Cole is pleased with her first pair of RM Williams boots.
A touch of the Gold Coast outfit remains: the vivid Unity print created by queer, mixed race, First Nations artist Jenna Lee for the 2018 uniform has been updated and incorporated into the blazer lining.
The "eucalyptic marle" on the outside means business while the printed lining, also present on the Closing Ceremony polo shirts, keeps the Surfers Paradise party spirit close to the athletes' hearts.
The subdued green, which valiantly tackles the traditional challenge of being matched with gold, isn't the only innovation. Quilted vests have crept into the team's wardrobes, along with sneakers, which were a sticking point in RM Williams' quest for greater sustainability.
Loading
"We are very proud to say that most of the uniforms are manufactured here in Australia using natural fibres such as cotton and linen blends, which allow greater breathability and movement for the athletes," Faulder says.
"We had to manufacture the sneakers overseas but we wanted to give the athletes a greater choice this time around.
"When it comes to sustainability you can't get better than the boots. They will last a lifetime."
Boxer Tina Rahimi will be walking taller for her Commonwealth Games debut in Birmingham.
"I just love everything about the uniform," Rahimi says. "Yes, they're my first pair of RM Williams boots and yes, they're my favourite part. It's absolutely stunning."
Make the most of your health, relationships, fitness and nutrition with our Live Well newsletter. Get it in your inbox every Monday.