Bigger commitment needed on WA public housing as support agencies stretched to their limits
Right now, West Australians looking to buy or build a house can benefit from the McGowan government's Building Bonus grant, the Australian government HomeBuilder grant and the first home owner grant – in some cases all three.
The emphasis on the importance of home and the building of homes has never been higher.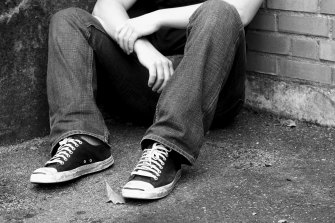 Around 9100 West Australians currently experience homelessness every night.
Yet, in the three years since the McGowan government came to power, the total number of public housing properties available in WA has dropped by 1327, or almost 4 per cent.
Pre-pandemic, around 9000 West Australians were experiencing homelessness every night. This number has already climbed to 9100 per night, according to Homelessness Australia and Everybody's Home. The data was released this week to mark the beginning of Homelessness Week 2020.
That number is growing – fast – and is likely to continue to climb as extra welfare supports change at the end of next month, and the stay on rental evictions finishes.
Loading
Those on the ground working in the homelessness sector are already reporting unprecedented increases in people seeking support.
St Patrick's Community Support Centre in Fremantle, which does wonderful work with people who are homeless and or at risk of homelessness in the community, has this week said it is seeing up to 15 new people per day accessing its day centre services, which includes meals, showers and emergency relief.
St Patrick's has said its latest data shows the number of people sleeping rough in Fremantle is double the number previously thought.
The impact of having a home is far greater than just having a roof over your head. We know that people who have stable housing have better health and mental health outcomes, lower substance abuse issues, and are more likely to gain employment. We've seen that play out again and again around the world where a 'housing first' approach is taken.
The McGowan government has plans to build 550 new public housing properties. But this is nowhere near enough.
We have more than 14,000 people on the public housing waitlist. This week's estimate of WA's housing shortfall is now at 38,500 properties, as the full effect of the pandemic on people's lives becomes apparent.
This figure is even higher than the 30,000 estimated shortage put forward by Anglicare WA at the beginning of July. The data released for Homelessness Week illustrates a 'heat spot' map that homelessness is a problem in all West Australian communities, with social housing in greatest need in Canning, Brand and Forrest in the South West.
Building homes is an activity the government is leaning on to help stimulate the economy. What we actually need is to be building homes for the homeless. And we need to be doing it so much faster.
Our support agencies and the community sector are already stretched to their limits. And we are all expecting the number of people needing homes to grow and grow fast.
This can't wait. And the public housing announcements we've seen from the government so far doesn't even bring us back to the public housing stock levels from three years ago.
We need a much bigger commitment and we need it now.
Alison Xamon is the WA Greens Member for the North Metropolitan Region.