We're sorry, this feature is currently unavailable. We're working to restore it. Please try again later.
An independent audit has found widespread instances of suspicious membership practices within the WA Liberals that suggest manipulation of state candidate pre-selections and potential breaches of the Associations Incorporation Act.
The audit of the party's membership system across the 2019 and 2020 financial years by business services firm BDO, obtained by WAtoday, was sent by WA Liberal party president Richard Wilson to state council members on Wednesday.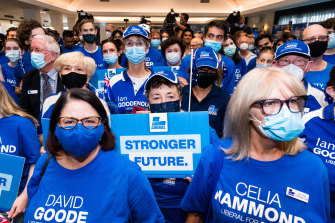 WA Liberal Party supporters during the recent federal election campaign.Credit:James Brickwood
Wilson also detailed legal advice from Herbert Smith Freehills stemming from the audit that "identified possible technical breaches of the party's Constitution & Rules and the Associations Incorporation Act 2015 (WA)."
The audit found widespread occurrences of multiple membership renewals on one credit card and more than half of the party's members living outside branch areas – backing up findings in the Liberal Party's 'Road to Reform' report released after the 2021 state election.
It will place further pressure on party members to pass constitutional changes at the upcoming state conference to loosen the grip an alliance of powerbrokers known as 'The Clan' have on branches and party divisions.
The 2021 report suggested party memberships were being paid for in bulk and multiple memberships had been registered to a single address despite the people not being in the same family.
The BDO audit looked at 6927 membership renewal transactions across 2019-20 and 2020-21 and found more than 340 instances where one credit card had been used to process multiple renewals.
In 2019-20 it found that 21 credit cards had processed 10 or more transactions totalling $10,372 while 13 cards processed 10 or more transactions the next year.
One credit card made a total of 66 transactions in 2019-20 for a total of $660 for membership fees while another card that year paid $1045 in fees over 33 transactions.
Loading
In 2020-21 one credit card was used to pay $1240 in membership renewal fees across 52 transactions while another made 38 transactions for $530 worth of fees.
"From the data examined by BDO, multiple membership renewals on the same card appear to be frequent and widespread across party branches for the period examined," the BDO report said.
BDO also identified 21 addresses where three or more members with different surnames were found in membership listings. There were 89 members across these addresses.
BDO said this practice did not appear to be widespread but following conversations with WA state director Stuart Smith it appeared likely there was "attempted manipulation of the local component of state pre-selections."
BDO found "widespread" enrolment of members outside branch and division areas.
The 'Road to Reform' report found this was part of a practice known as "branch bombing", where local branches are inundated with large quantities of people who lived outside the electorate to ensure preselection outcomes.
By the end of June 2021, 3350 of the Liberal party's 9059 members were living outside the division their party membership was registered in.
By June 2021, 5802 of the 9059 members were living in a different branch.
Wilson's memo to the party's state council detailed a range of fixes suggested by Herbert Smith Freehills including auditing all membership renewals to ensure details are correct.
Loading
Another recommendation was to ensure that members consent to their membership being renewed.
Wilson wrote that many of the recommendations had already been acted on and during the party's July membership renewal campaign anyone paying for the renewal of another member would be required to declare their relationship to them.
"Failure to make a declaration will mean a payment cannot be made," he said.
Wilson also agreed with a recommendation to boost training and educational materials to promote compliance with membership rules.