Even the healthiest relationships are being tested by the pressures of lockdown, isolation and other social restrictions. What worse time could there be to suspect that someone you're stuck at home with isn't who they pretend to be? Yet that's the premise behind the latest work from a group of artists who have repeatedly proven their willingness to nudge audiences outside their usual radius of safety.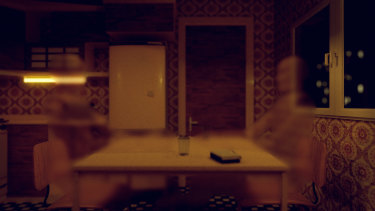 Darkfield Radio's Double offers an unsettling distraction during lockdown. Credit:Alex Purcell
Double is a 20-minute audio experience in which you sit at your kitchen table opposite a friend or family member. For much of its duration your eyes are closed and the voice you hear acts as a kind of guided meditation from the Twilight Zone. It draws on the phenomenon of Capgras syndrome, in which a person believes that a loved one has been replaced by a malevolent imposter.
If it sounds too much of a freak-out for a period of already frayed nerves, it's not. The art of psychological horror has long prodded the darker corners of the psyche from a place of safety, and Double is more creepy and uncanny than outright scary. It helps that the production values are so high that the most unsettling moments are also ones that will have you marvelling at the craft behind them.
The work is a collaboration between two companies with an unusually symbiotic relationship. For several years the British outfit Darkfield has been creating intimate works set within shipping containers that simulate eerie, highly affective situations – Seance is a spell to raise the dead, Flight sees a commercial airline voyage going haywire and Coma is a collective dream in the darkness. They're not for the claustrophobic, or those prone to panic. Nevertheless, they've drawn audiences of almost 80,000 – half of which have been in Australia.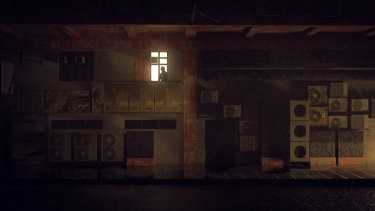 Staged inside shipping containers, Darkfield Radio's works simulate eerie, highly affective situations.Credit:Alex Purcell
That skewed local presence is due to Realscape Productions, which has brought all of Darkfield's works to Australia since 2017. Realscape producers Amy Johnson and Nathan Alexander knew from the opening moments of Darkfield's Double that they had another hit on their hands.
"When I listened to it the first time I had a bit of a giggle on my face because we realised how well it would work and what we could do with it," says Alexander. "You know that there's nobody or any thing moving in the kitchen, but because of how the sound is recorded you are totally convinced. As soon as the lights come back on people will have a look around to make sure that something didn't move or that there isn't anybody else there."
He's not exaggerating the effect. As with Darkfield's other productions, Double employs 3D binaural audio, a technology that can situate a sound so precisely that you'd swear its source is there in the room with you.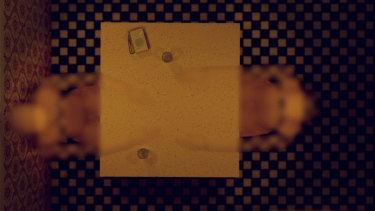 Double plays on the phenomenon of Capgras syndrome, in which a person believes that a loved one has been replaced by a malevolent imposter.Credit:Alex Purcell
"Some people have not necessarily had the most noise-cancelling headphones and that's made them more even paranoid whether or not the sounds they were hearing were in their headphones or whether they were really happening in the kitchen around them," says Johnson.
Writing jointly from Britain, Darkfield's David Rosenberg and Glen Neath say that Double aims to question the reliability of perception and memory: "If I asked you to close your eyes and describe the room you're sitting in now I would bet that there would be gaps. I tried this while working on the piece and there were huge holes – I knew there was something next to my computer screen but I couldn't picture it in my mind. So this not really looking at what is around you became a thing we explored in the show. I think it was [Indian philosopher] Krishnamurti who said as soon as we name a thing we no longer look at it. That's very fertile ground."
Loading
Previous Darkfield/Realscape productions have relied on a high degree of control in order to balance their audience's senses of fear and security. "With that kind of experience you are going to lose a few people because it is going to be too much, but that makes it exciting for the majority of other people," says Johnson.
They have lost some audience members along the way – one session of Seance took a punter back to the time they'd been stuck in a Bolivian coal mine, while subwoofers at another event brought flashbacks to a participant's experience in an MRI tube.
"Over time we've become quite skilled at getting our staff to spot those people and to sit them near the door. Sometimes that's all people need, to be able to sit near the door and know that it's not locked," says Johnson.
But presenting Double remotely, in strangers' kitchens, leaves its creators with few ways of controlling how the experience is received. The Darkfield duo took a nuanced approach: "A lot of thought was put into the 'ask' of the audience. We didn't want to ask people to close their eyes at the start as if it were a general housekeeping instruction. We wanted it to be embedded within the narrative, and then it was our job to induce them to want to keep them closed."
Loading
It's a subtle tactic that has paid off – Double has just been announced as the first audio-only work to play the Venice International Film Festival, in the "VR Expanded" program that typically features virtual and augmented reality works. That might be the best way of thinking about the experience – where augmented reality situates illusions in your field of vision, Double does the same for your ears. Just don't trust everything you hear.
Double is playing in your kitchen until September 30. Darkfield.com.au