National Australia Bank executive Andrew Hagger, who faced a sustained grilling at the royal commission over the "fees-for-no-service" scandal, said he took "accountability" for what had occurred on his watch as he left the bank in a shake-up of its senior management ranks.
NAB on Monday said Mr Hagger, who was in charge of its consumer and wealth management arms, would leave the bank after 10 years. Former NSW premier Mike Baird will take over Mr Hagger's responsibilities running the high-profile consumer banking arm, moving from NAB's institutional business.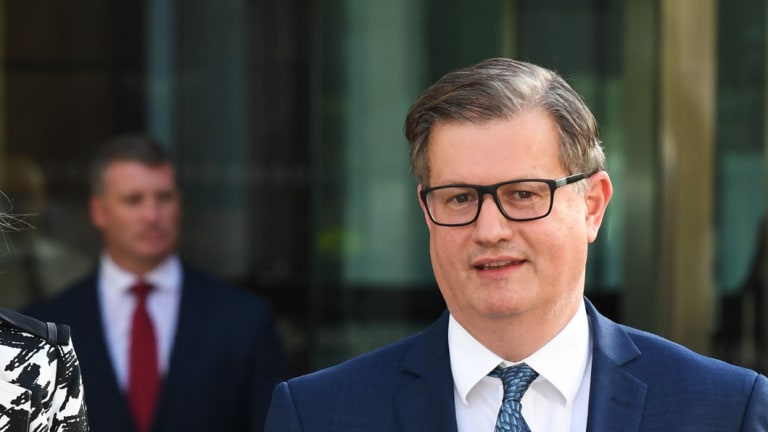 Andrew Hagger after last month's royal commission hearings.

Photo: James Ross
Chief executive Andrew Thorburn said Mr Hagger believed now was the time to leave the bank, after NAB in July appointed former Perpetual boss Geoff Lloyd to lead NAB's wealth business MLC, which NAB is demerging.
Loading
"With the recent bringing together of the wealth businesses under new MLC CEO Geoff Lloyd to prepare for separation from NAB, Andrew Hagger believes now is the right time to leave. We have been colleagues for a decade at NAB, I have valued his long-term contribution and I wish him and his family well as he pursues new opportunities," Mr Thorburn said.
Mr Hagger acknowledged the problems in NAB's wealth management arm that were exposed by the royal commission last month. These included significant delays in payment compensation to superannuation customers who were charged fees for financial advice where none was provided.
"I take accountability for what has occurred on my watch, and accept that alongside successes were failures, including instances where we did not act with the pace required. I leave NAB with confidence that we are creating a better bank," Mr Hagger said.
Mike Baird is taking on the high-profile role of running consumer banking.

Photo: AAP
In his new position of chief customer officer of NAB's consumer bank, Mr Baird will play a leading role in NAB's effort to improve its reputation, which has been damaged by the revelations at the royal commission, as have the brands of key rivals.
It is also promoting Rachel Slade to the position of chief customer experience officer, to replace former executive Antony Cahill, who left the bank last month.
Shaun Dooley has been elevated to the role of chief risk officer, while former risk boss David Gall is moving to replace the position previously filled by Mr Baird leading its institutional arm.
At the royal commission last month, Mr Hagger was quizzed extensively about what the bank told the Australian Securities and Investments Commission (ASIC) about the scandal, and Mr Hagger's evidence came in for harsh criticism from the royal commission's senior counsel in their "open findings" on the superannuation round of hearings.
The submission, published late last month, took aim at Mr Hagger's evidence that in 2016 he had not given ASIC its most recent compensation estimate over the scandal, but had given the regulator the opportunity to find out more if it wanted to.
"Mr Hagger's evidence that he 'left the door open' for ASIC to ask the question reveals both a disrespect for the role of the regulator and a disregard for the gravity of the events in question," the submission said.